There's plenty to do outside of the immediate Niagara Falls viewing area. Here are some options en route to Niagara on the Lake with kids.
The whirlpool area is downstream from Niagara Falls, and is a natural whirlpool. It's not walking distance from the falls area, but you can take the WEGO bus or drive there. The whirlpool is right before a bend in the river. There are a few things to do in that area, plus an overlook.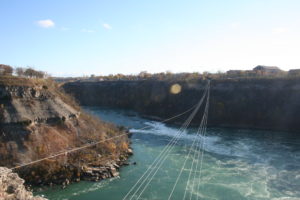 Whirlpool Jet Boat
I saw some pictures from a fellow blogger's Whirlpool Jet Boat ride, and it looked like a lot of fun. You don't see Niagara Falls on the boat ride but you get some serious air and spray from the class 5 rapids during this 45 minute boat tour. You'll get properly suited up to fully enjoy the wet experience.
Whirlpool Aero Cars
Also in the Whirlpool area, these antique whirlpool aero cable cars are suspended above the Niagara River. You move across the cable, getting a good view of the tumultuous water below. It is seasonal and was not operational when we were there in November.
[ad name="Google Adsense-1″]
Whirlpool Adventures Course
We passed this new Whirlpool Adventure Course (built by the same company as the zipline) as we stopped to look at the Whirlpool overview a short ride out of town. It will open in the spring, but looked like fun.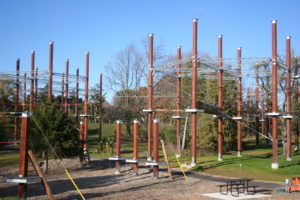 There are some walking and hiking options around here just past the pull-out, in addition to a botanic and butterfly garden on the other side of the road. We did not have time to experience these, but did pass by them on the road to Niagara by the Lake.
Niagara by the Lake
Several people recommended we go to this town, which was about a 30 minute drive from the falls. They have a winery route, and you don't even need a map to start spotting the numerous wineries on the road there. We were fortunate to drive in gorgeous fall weather, passing winery after winery in this scenic area.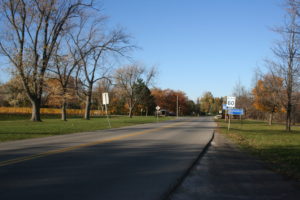 The town itself is quaint and picturesque. There were the usual fudge and ice cream shops (we counted four places to get ice cream and three for gelato). There's also a large park in the center of town, which is a good pit stop for kids with energy.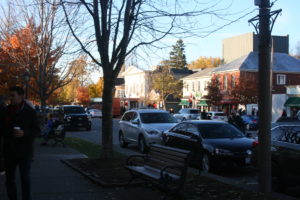 We stopped in at the gorgeous Prince of Wales Hotel at Niagara on the Lake, which you can't miss when driving into town (it's across from the park). It was decked out for Christmas.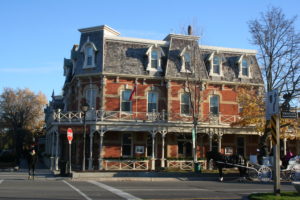 They have a great bar area, wood paneled and clubby feeling, with books everywhere. Stop and get cocktails and small bites in the cozy atmosphere. They also serve high tea in rooms that look perfect for it. We tried to get walk-in seating on a Saturday at 3, and they were booked up with reservations until 8:15 p.m. So if you're going, make advanced reservations. I was quite disappointed to miss it after seeing the inside of this gorgeous place and the lovely tea service room and presentation.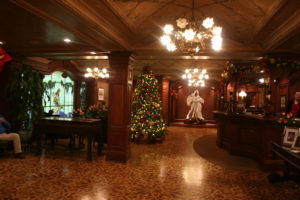 For dinner, we went to a pizza place in a house, called Pieza Pizzeria. We got 3 pizzas for the 4 of us, and they were delicious. They wood fire them, and have home-made peppers you can put on top.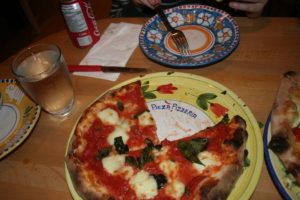 We also stopped into the Exchange Brewery on the main street, to get some locally made beer. They had locally made sodas as well, Just Craft sodas, which were flavorful (not a good option for kids who prefer traditional cola). For snacks, get the popcorn, spiced with several flavorings, like mac and cheese, or jalapeno cheese. The brewery is not aimed at kids (obviously), but they made us feel welcome. There's a stand-up tasting area downstairs – modern decor. Head upstairs for the tables.
All photos are copyrighted to Deborah Abrams Kaplan. Reprinting or using in any format is not allowed without written permission.
Here are some of our other Niagara posts:
What's a Clifton Hill Fun Pass and Should I Get One?