What's a Clifton Hill Fun Pass at Niagara Falls, and Should I Get One?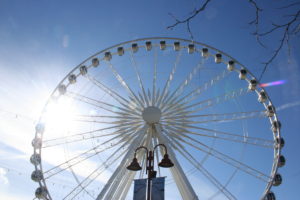 It's hard to miss the giant Skywheel on the Canadian side of Niagara Falls. Chances are, you'll want to go to get a good view of the falls from up high (and to see everything else from a bird's eye view). The Skywheel is part of the Clifton Hill complex, a touristy area a block or two from the falls, that looks like you landed in Vegas. But very family-friendly.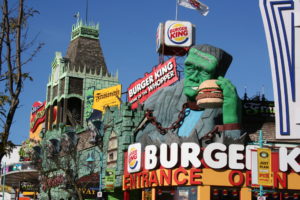 Clifton Hills gave us Fun Passes to use for review, and we spent the good part of an evening having fun with them. Here's what you get: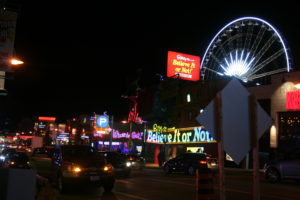 Skywheel
Given that we were there in November, I'm guessing the lines (especially for the Skywheel) weren't as long as they'd be in the summer. We decided to ride at night. The falls are lit up at night with different colors, and you can get a good view from up high (though unless you're really good with your camera, the photos will be blurry).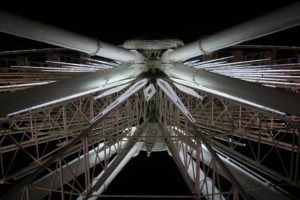 We waited probably 15 minutes to get on, and got our own car which looks like it can seat at least six people. You're supposed to get three rotations on the Skywheel (though I think we actually got four – now that I read the website, it says that Fun Pass holders get an extra spin. I think Fun Pass holders get in a separate line than other ticket holders, so maybe that's how they do it). The Skywheel goes up 175 feet and the ride is 8-12 minutes. If you get motion sick, you should be fine up there. I felt okay. The gondola doesn't really swing. And they're climate-controlled so you won't freeze in winter or boil in summer.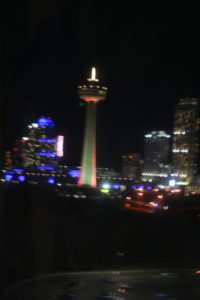 Movieland Wax Museum
I'm sure I was at a wax museum in my youth, but I haven't been in a really long time. I'm not a huge celebrity fan, so while it was entertaining to walk through the wax museum, the experience was a little lost on me.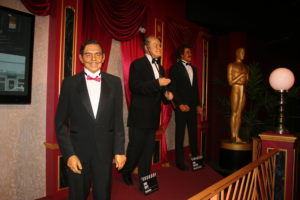 The fun parts: there's a photo opp on a Simpson's set (the Simpsons aren't wax, though, they're plastic). You can sit on the couch with Bart, Homer and Marge. They also had a really weird looking Michael Jackson (he looked so sad), but they showed the Thriller video above him, so we stayed and watched all of that.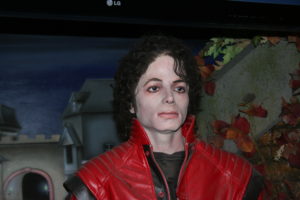 We also liked the Katy Perry videos showing behind her (her top was sinking down in the wax version). Toward the end, they had a haunted section that was optional. I dragged my son in there with me and we were scared to death. It doesn't take much for us, I guess, and I think I'll skip haunted attractions in the future. Too stressful.
[ad name="Google Adsense-1″]
Arcade
The arcade is a "bonus" feature on the card – you get five tokens. For four tokens you can play a game of air hockey. Many of the games required at least two tokens. So you can still have a little fun with the bonus tokens, and buy more if you want. Two of the other Fun Pass attractions are inside the arcade, though. (By the way, there's bathrooms in here)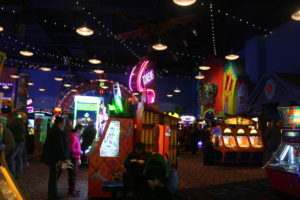 Wild West Coaster
I wasn't quite sure what this was ahead of time. After all, what is a 6D coaster? Well, it's a chair you sit in that moves around like you're on a coaster, while you wear 3D glasses and watch a movie. It's kind of hard to describe, but it was really well done. You can see some  images on the website.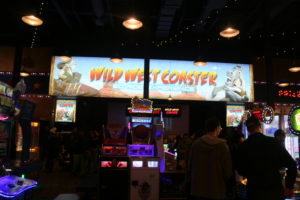 Ghost Blasters
The best way I can describe this Ghost Blasters ride is it's like Astro Blasters at Disneyland, and sort of like the Toy Story ride if you haven't been on Astro Blasters. Basically you sit in a moving cart and shoot things that light up. I love these rides because I can usually be the high scorer in my family, and I proved that again this time, with 17,000 points (my son wanted to ride with me, because he thought he would win – ha ha!). I would have gone on again and again if my Fun Pass let me. The one downside was that there weren't that many targets to hit. They need more!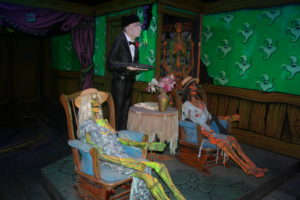 Mini Golf
Last, you get to choose between Dinosaur mini golf or Wizards' mini golf. Dino mini golf is outdoors and next to the Skywheel.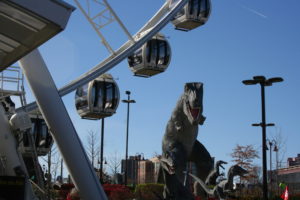 That's great if it's a beautiful day, but if it's not, you should go to the Wizards' golf. Actually, I think I would have liked the Wizard golf better anyway. This was the highlight of our night. We were very pleasantly surprised by how awesome this course was. And here's a tip: there's a coat rack right before you go downstairs to play. That would have come in handy as we dragged our coats around.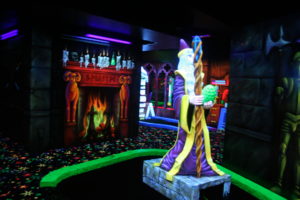 Wizard golf is done under ultraviolet light, which means your socks and teeth light up, and anything else that's white or reflective does too. The murals and other decorations were so much fun, and some of the holes had surprising twists. There was also mood music, and sometimes when your ball went in the hole, there would be special music or sounds. I would do this course again in a heartbeat – we spent so much time enjoying the scenery.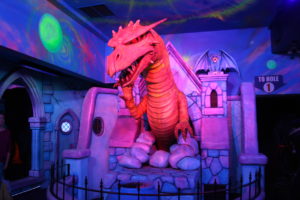 Was it worth it?
This was a great way for us to spend the evening together. If you want to do all the activities separately, it will definitely cost you more.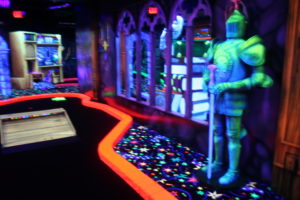 At posting time, the Fun Pass costs $26/adult (Canadian) and $20/kid. You don't have to do all the activities at one go – the card is good for a year. It has a bar code and you scan the bar code at each attraction. It was easy to figure out.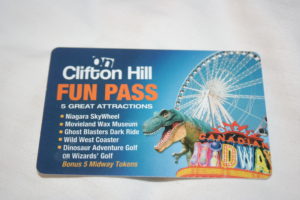 All photos are copyrighted to Deborah Abrams Kaplan and may not be reprinted or used in any way without written permission.
Here are some of our other Niagara posts:
Niagara on the Lake with Kids – and what to do on the way there