It's many kids' dream to operate that heavy equipment they see at construction site. And why not – the equipment is fun! Diggerland USA opened a year ago, in June 2014 as the country's first construction theme park. We made the trek last weekend and had an awesome time.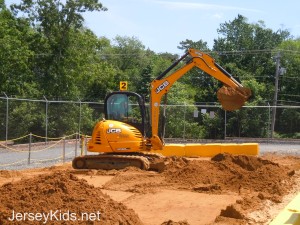 We were guests of Diggerland for this review. We brought with us two 12 year olds and a 14 year old, and they were probably the oldest kids there. Was that a problem? Nope. While the thrill of some of the rides/attractions was lower than younger kids might have, there was plenty there that kept all our attention. We stayed for four hours and still had a few things we hadn't done.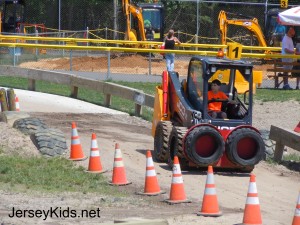 Diggerland has a variety of large equipment that's modified so that kids can drive and control them. But it's fun for adults too. When we went on a Sunday in early June, it was not crowded. Lines for the attractions usually didn't have more than 10 people. That said, waits were still kind of long for some of them because it takes time to load and unload people, plus time to explain how the controls work. Also the rides or turns are long, and there are only a limited set of equipment available. That's not a criticism, just something to keep in mind when you go.
For example, the driving course above. The had six of these tractors you could drive, though only three or four were being used at the time. It wasn't difficult to operate – you only use one of the controls, which controls speed (it goes very slowly) and direction. It was fun to go over pavement and rough dirt.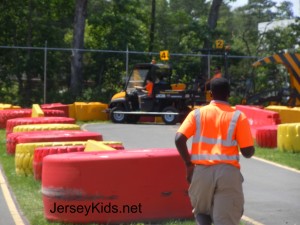 In the attraction above, you (and kids above a certain height) get to drive Workmax trucks through the course. We laughed at the kid going before us, who kept crashing into the barriers. And then it was our turn. My son and his friend crashed a few times, as did my daughter and I (my daughter was driving). I'm not looking forward to teaching her to drive in a few years! That said, you're not going fast and you're wearing seat belts. The staff was friendly and didn't get annoyed with us, though after the last crash I was asked to help my daughter through the turn.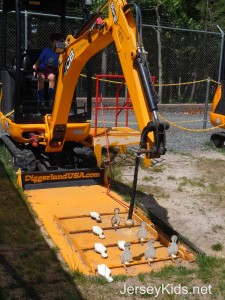 Diggerland has a large row of various diggers, each with their own purpose – a big digger, smaller digger, digger to grab wooden ducks, and the digger above. The bowling one above was my favorite. you used the machine to knock over the bowling pins with a ball attached to a rope. It's hard! But once I got the hang of it, it got easier. I would have done it a few more times if my family wasn't ready to leave!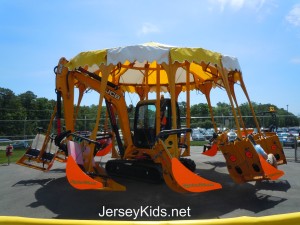 The rides all have different height requirements. Some allow only smaller kids to go on, some require that the kids be a certain size to go on. Some allow kids to drive by themselves at a certain height. Others allow kids to go on their parents laps (the kids can then help with the controls, but are supervised by the parent). You'll want to review Diggerland's height requirements before you go so there won't be any surprises for you or your kids.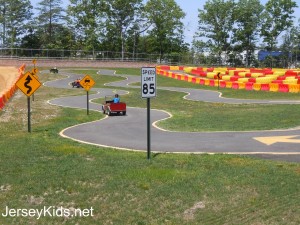 The park isn't large, and it's easy to walk around and see what there is. There's a sign with a map at the ticket area. Take a look before you go in, because we weren't given a map nor did we see one inside. It's not like you'll get lost, but just see where everything is before you go in.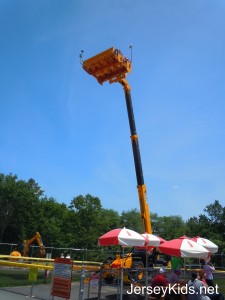 If you're afraid of heights, this probably isn't the ride for you. We didn't go on the Skyshuttle (I wanted to, but we ran out of time), but it looked like fun. Basically you just go up and up and up, and then you have time to look around.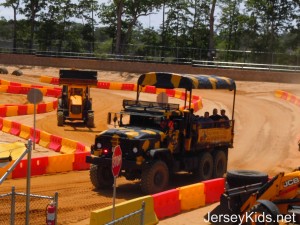 We also didn't have time for this Jeep type ride that drove around the dirt.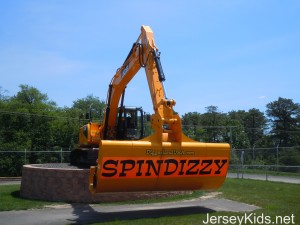 My kids and husband went on the Spindizzy, which looked horrid to me since I hate spin rides. You can fit probably eight people on the other side of this Spindizzy sign, inside the scooper, and it goes up high and then spins around and around one direction, then stopped and spun round and round the other direction. If you like spin rides, this one is the bomb. The operator sat in the cab to operate it manually, and had to spin himself. I wouldn't like that job!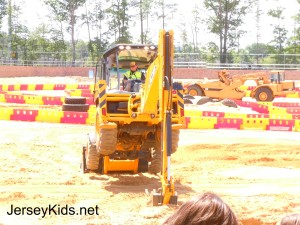 We watched a bit of the stunt show, but I think it's better for the younger crowd. We got a bit bored. In it, the machines did some "tricks" like going sideways and going back on its wheels, like above (it went much further back after we left). The stunt show is included in the ticket price, and is behind the eating pavilion.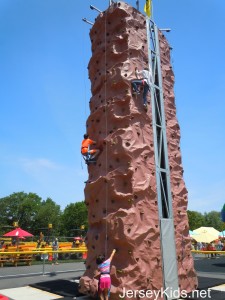 Also included in the price is this rock climbing wall. It's good for the bigger kids. My kids found it hard, which is a good thing. It's self-belaying, so you don't need someone holding your rope at the bottom. It didn't seem to have a time limit, though we didn't stay long.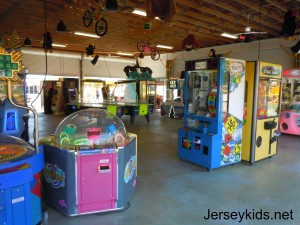 The arcade was a nice size and open/airy. We were planning to play some air hockey but left before we had the chance. Before doing the ropes course below, you have to fill out a release form in the arcade. You will need your driver's license for that. They give you an orange wristband once you have the form completed.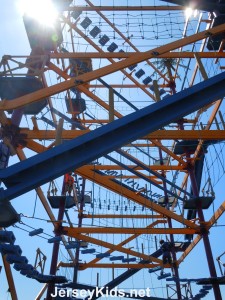 I thought this ropes type course was going to be the highlight of the day. We recently did one of the treetop extreme courses in the Adirondacks, and loved it. We went through that entire Adirondack course (except the hardest level). This one turned out to be more terrifying than we thought it would be, and we all had the same reaction. We saw plenty of people, including small kids, go all the way up to the fourth level and cross all the challenges. I climbed to the second level (they have staircases) though I was so terrified, that after crossing a few of the challenges, I had to go back to the first level, try a few more, and then all the way back down.
What made this one so much scarier? Instead of being attached with two short ropes/clips, we were attached with one longer rope. I was concerned that if I fell, I might hit something (on the extreme courses, when you fall, you don't go far). I didn't see anyone actually fall and I'm sure it would be fine, but it felt different. Also, on some of the challenges, like the ones involving balance bars or suspended steps, there was nothing to hold onto other than the one rope holding you in (no side ropes), and the steps felt a little slippery (they're made of plastic). I thought I would stay on the course longer, but my heart was racing so I got off.
Special events:
Diggerland has a number of special events you can find on the calendar, for example:
–Diggerland has special abilities nights. But you can read more about Diggerland special abilities night here.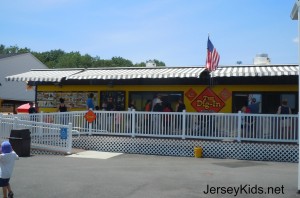 If you go:
Where: 100 Pinedge Drive, West Berlin NJ in Camden county (close to Sahara Sam's)
When: Diggerland opens daily for the season starting in June (more recently it was just weekends). Generally it's open 10-7, but check times before you go.
Tickets: It's cheaper to buy your tickets ahead of time: $29.95. Walk-ups are $34.95. If you come after 2 p.m., you'll save a few dollars as well, both walk-up and buy ahead. They have annual passes which are about the cost of 1.5-2 admissions, so if you plan to go twice, it's worth it.
Diggerland is free for nonparticipating seniors and those under 36 inches. They have a number of discounts for Diggerland available here (AAA members, Sahara Sam pass holders, military, those going during their birth month and straight A students).
Food: you can't bring outside food in, but you can leave it at your car and have a tailgate. The parking lot isn't very big so it's not a big deal to go from the park to your car. I read on Yelp that the park doesn't let you bring in drinks including water, but I saw several people walk in with water and coffee. An employee will check your bag at the gate. They have the usual types of food for sale, with prices to be expected. It's not cheap – a bucket (literally a sand bucket) of chicken strips and fries is $30. The other items seemed more reasonable, like a turkey wrap for $9. Ice cream items were around $3.50.
If you go, please let me know what you think! We really enjoyed our time at Diggerland and would go more frequently if it were closer to us and if our kids were a little younger.
All photos are copyrighted to Deborah Abrams Kaplan and may not be reproduced.