We went to the Big Apple Circus Legendarium show two years ago, and had a great time. When I thought about going back this year for Metamorphosis, I wasn't sure how different it would be. Turns out it's a completely new show, in the familiar small tent atmosphere. I brought along two teen girls, including a high school sophomore, and two tween boys.  We all loved it – and when I asked them about their favorite parts, each listed something different. I've been telling people to go to the show since I got home.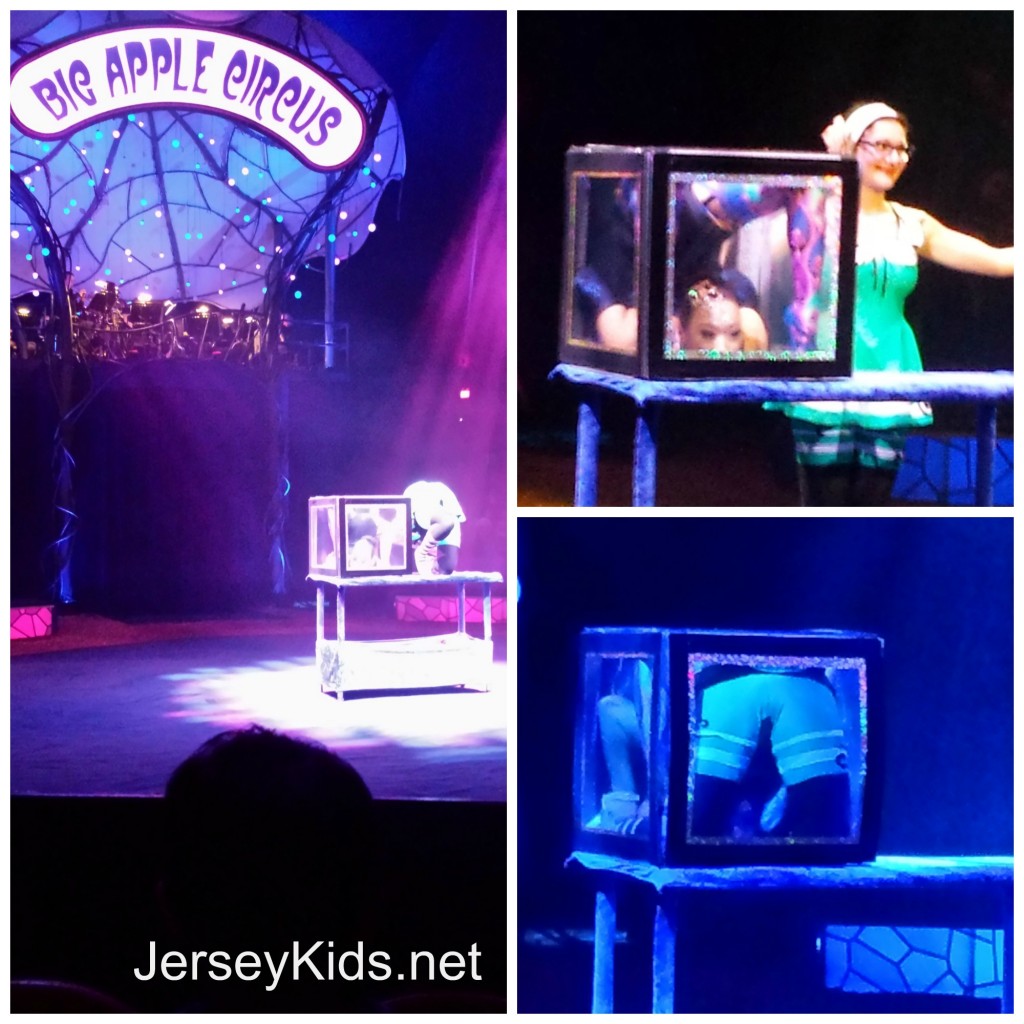 What follows are pictures of some of my favorite acts, but there were many more I didn't include here. And they're not in order. The Big Apple Circus brings in different acts each year. This year's show is Metamorphosis, which was not a theme that really carried over through the whole show (well, aside from the ringmaster's coat). There were a few references, but basically it seemed to me to be just the title. Not an issue.
As you can see above, the contortionist Odbayasakh Dorjoo (who looks like you'd expect – skinny, flexible woman with fancy outfit, not that you can see much of her!) twisted herself into a backbend and then folded herself up, crawling sideways like a spider or crab into the box. It was hard to watch (you can see a version of it here). Her assistant, Tatevik Seyranyan (Tato) then surprised us all by doing the same, and squeezing into the same box – yes, there are two women in there. Tato managed to close the box, before opening it and coming back out again. That was especially surprising because Tato looks like a normal size woman.
————————————————
[ad name="Google Adsense"]
————————————————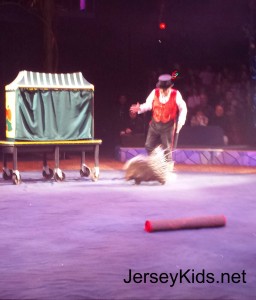 The ringmaster, John Kennedy Kane did some magic tricks, including one with the box above. At various points he pulled bunnies, ferrets and yes -a porcupine – from the box (and something larger too – I won't spoil it). Not quite sure how that happened, since the box was in the ring and we didn't see any trap doors underneath or people around it.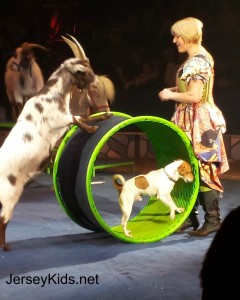 There were a couple of animal portions of the show. While Jenny (who we remember from two years ago) did have her rescue dogs do tricks (like riding a scooter), we had fun watching the goats do some as well, and watching the dogs ride around on top of the goats. The animals aren't a huge draw for me, but one of the girls in my group said this was her favorite part. The llamas even went right up to the audience to visit.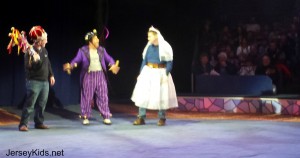 The French clown in the center, Francesco, was busy throughout the show, providing laughs and entertaining us as other parts of the show were getting set up. For one audience participation bit he chose two dads out of the audience and had them dress up and do some little skits. The guys were good sports and it was kind of funny.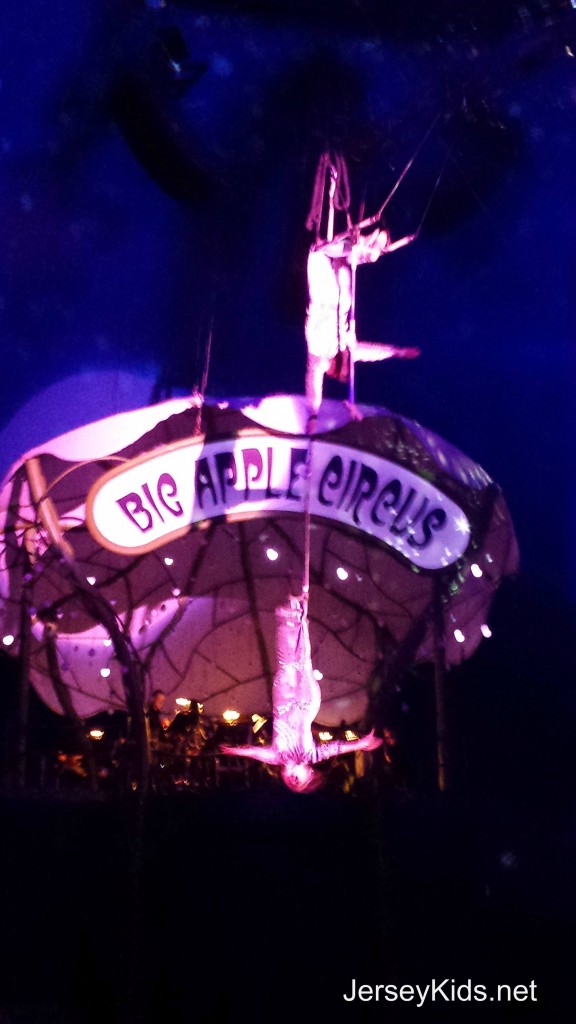 I did not get a good picture of the whole set-up here, partly because it was dark. But you can see aerialist acrobats Giovanni Anastasini and Irene Espana doing their hanging acrobatics. What you can't see is a space ship lit up opposite them, like a balance. It was a great effect, to see them circling around just like the space ship, as they hung, gyrated and spun.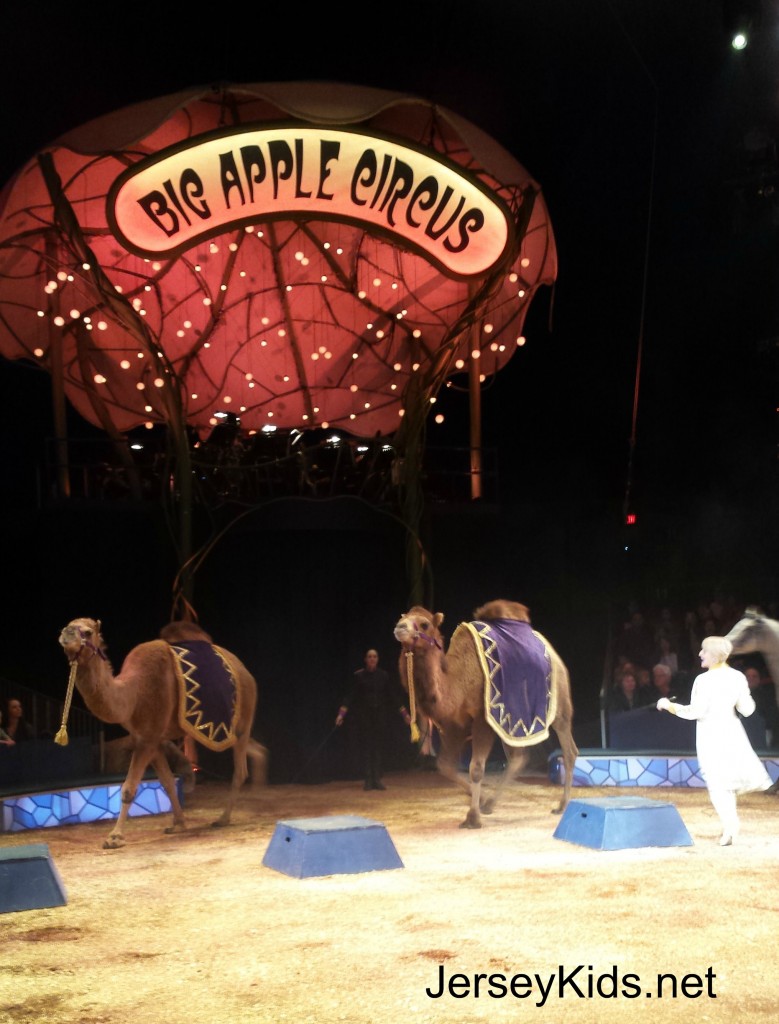 I don't think I've ever seen camels as part of a circus before. Aside from posing with two feet on the stands (not the exciting part), they did same runs around the circle in various groupings (including with horses and Shetland ponies). It was novel.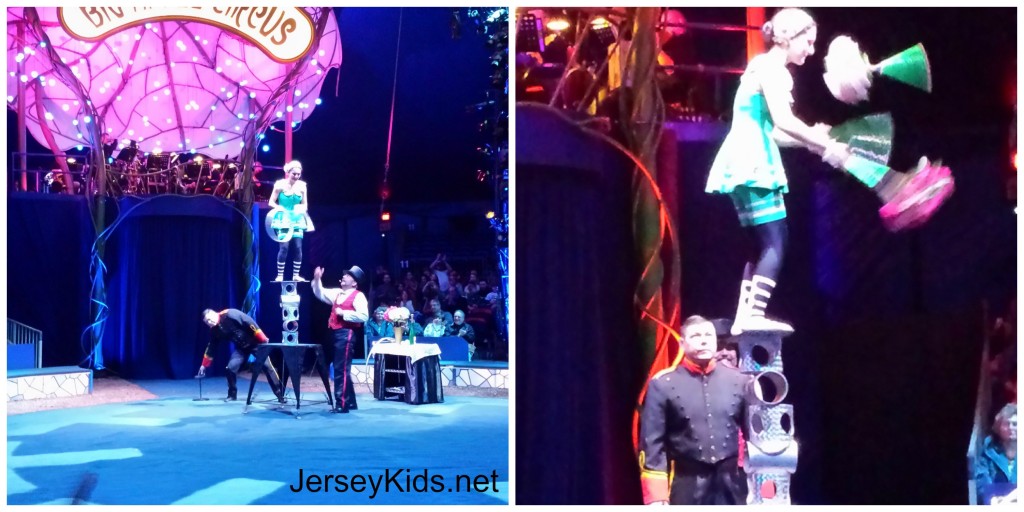 Part of the circus shtick is that Tato is an assistant, so you really don't expect much of her (especially wearing her geeky glasses). But then starts performing and you realize that it's part of the act. If you read the beautiful program (there's a fee) you can see that she IS one of the featured acts, and the contortionist who first went into the box is actually her assistant. Tato got up on these things that I think are called rola bola. You can probably tell from looking at them that they move quite easily. She got up there and juggled as well as moving hoops around her body. Then she did this on top while balanced on a tennis racquet instead of a board, while spinning a hoop on the racquet handle. You can read more about her here.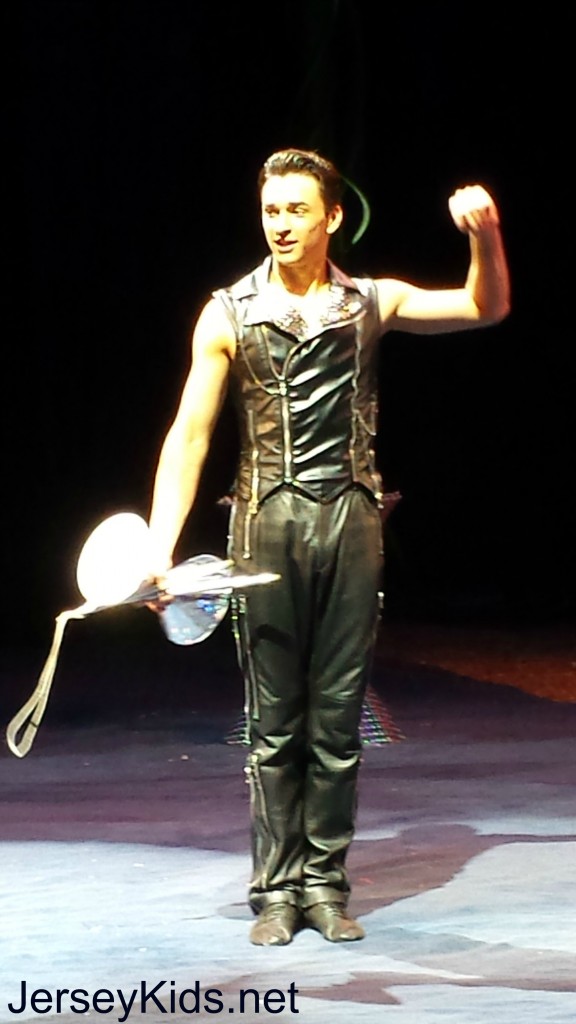 I made this picture really big because the Anastasini brothers were gorgeous and the ladies in our group had a great time looking at them. They're talented too, which is all the better. The top picture is when they performed with their parents, who are aerialists and diabolo jugglers.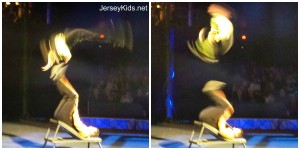 The brothers did a great act toward the end where one brother would help her other brother do various flips from his feet, and sometimes the flying one would land in a standing position on one or both of his brother's feet.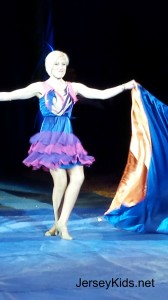 The Smirnov Duo at the end had a fast-paced illusion act where Olga (mostly Olga) would change outfits in a split second, after going into a black bag, or being covered with a cape or hoop. She changed from short dresses into long, long into short, all tight fitting, so it didn't look like she was just removing 10 layers of outfits. And where did they go? We talked about that on the way home. It was fascinating. Her partner Vladimir did a suit change as well. It was quite fun to watch.
What I'm not showing you is the awesome trapeze number at the end featuring the Anaiskin Troupe, who also did my daughter's favorite act of the day – the trampoline. The trapeze bits were a lot of fun, and very very high up. And in the end, one of the troupe members did a free dive down to the net from close to the top of the tent. What an ending!
THEY HELP KIDS
The Big Apple Circus is a nonprofit and gets a lot of funding from foundations. They have a number of charitable programs, including a Clown Care program where clowns visit kids in hospitals, a Vaudeville Caravan where clowns visit residential care facilities, and giving away tickets to economically or physically disadvantaged kids. They have autism-friendly shows coming up as well. You can see more of their programs on their Facebook page.
LOGISTICS
The show runs 2 hours with a 15 minute intermission. You can get into the tent an hour before the show. They have stroller parking, concessions and restrooms via porta-potty.
PARKING
Parking was free in the Somerset Patriots lot. Many people parked in the Target shopping center across the street. I'm not sure if the shopping center staff cares about that; the police officer directing traffic didn't seem to care. That was actually a shorter walk to the tent and that's where we parked this time, however getting out of the parking lot took forever.
If you go:
When: Wednesdays through Sundays through March 15, 2015. They have autism-friendly shows March 10-June 2, 2015.
Where: Somerset Patriots parking lot in Bridgewater, NJ. The Big Apple Circus goes to Boston March 24-May 10, and then Queens, NY from May 17-June 14.
Tickets: Tickets are $10-80 depending on the show and seating.  They have some special offers for 75 minute shows with no intermission, that are buy one get one free tickets. All seats are 50 feet or less from the stage.
Discounts: The only discounts I found when scouting around today was Retailmenot, which I didn't try so I don't know if the codes work. Post a comment below if you use them and let me know!
Groupon had some codes before the circus started. Feel free to check it out and get on their list. Use this link if you're already a Groupon user, and this one if you're new to Groupon.
Goldstar has tickets for $15-35 for the Wednesday/Thursday shows this week. Maybe they'll add more.
Disclosure: I received media tickets for review purposes. All opinions are my own.