Have you been to the Great Falls in Paterson? If not, it's worth going. We took a trip over there this summer and it was gorgeous!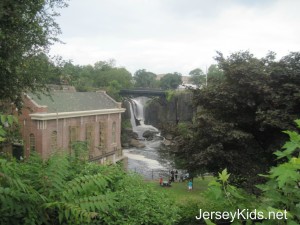 This place has a lot of history, going back to Alexander Hamilton's time, when he envisioned Paterson as the country's first planned industrial city. He wanted to use hydropower from the Passaic River's Great Falls. Hamilton and the Society for Establishing Useful Manufacturers (a real mouthful), started this in Paterson in 1792. Since then, Paterson's industry became known for fabrics (silk spinning, cotton, textile machinery, jute, weaving, dyeing, etc.). When I posted a picture of the Falls on my personal Facebook page some time back, one of my friends said her first job was working in textiles in Paterson, and she's not even old! You can read more of the history of the Great Falls here.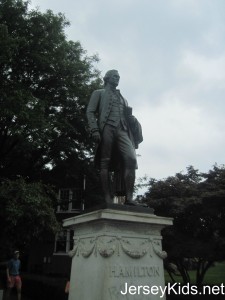 ————————————————
[ad name="Google Adsense"]
————————————————
There's a free parking lot at the overlook area(no entrance fee for the park either), and some information panels you can read. You'll see the statue above. You can catch a tour from there as well, at designated times.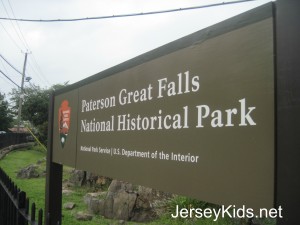 The area is a little sketchy, especially if you wander from the parking area over to the back side of the falls, Mary Ellen Kramer Park.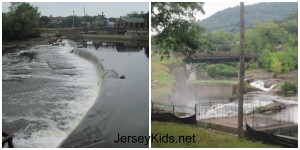 Currently the park behind the bridge is closed for landscape improvement. The bridge is closed as well, even though we saw people on it. We tried to get over there, but the access area was fenced off and there was a police officer getting people off. In spite of that, when we walked back to the front falls view, we again saw people on the bridge.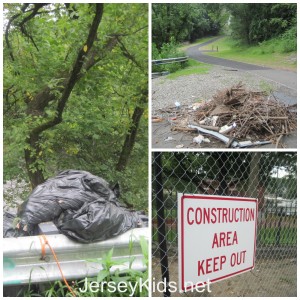 There's not much to do at the National Historic Park, other than take a tour if you're there on time. Until they open the renovated areas, the plans look nice. There's a grassy area at the viewing area where you can picnic and play, so that's a great option to spend some time there. You can also walk along the water, on a path.
While there, though, you can check out the historic downtown and their museums – there's a list on the National Park Service site.