I had one thought when walking up to the Whitney Museum, to see the Jeff Koons' retrospective. Thank God we were getting in via the corporate sponsor ticket line. That regular line snaked out the building and around the corner, and it was LONG. We only had to wait behind four people who were either members or also worked for corporate sponsors. The lesson here: if you aren't either category, expect a long line.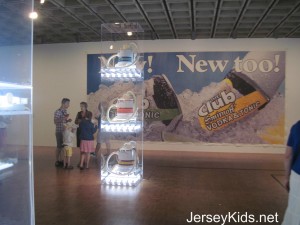 I learned a bit about Jeff Koons during my modern art history college classes, but after going through this four story retrospective, I realized just how little I actually knew. Get the free audio guide (you can listen to parts of it here) or take a tour. The signage is good too, but it's nice having a little extra information. The retrospective covers 1978 to present, with 150 objects on display.
The exhibit is broken up into sections based on his genre of work/time period. They were all quite different and diverse, and the way they organized it provides an excellent way to see his progression of art and what concepts he worked with at that time. The first section (The New) was the vacuum cleaner one – first picture on top. He was exploring the interaction between the viewer and the object, using only new vacuum cleaners that had the added anthropomorphic ability to express life/death, male/female (phallic bag/womb of suckage) etc. Not such an interesting gallery for us, I'll say.
The second (Inflatables and Pre-New) explored his use of everyday objects like sponges, and inflatable blow up toys like the flower and bunny above, mostly placed in front of and on top of mirrors. The concept explored is consumer culture and fetishes. Again, less interesting to us (especially the sponges).
In these first exhibits, Koons had been heavily influenced by Duchamp and the readymade object as art concept.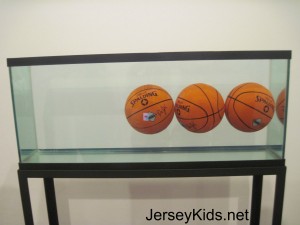 ————————————————
[ad name="Google Adsense"]
————————————————
In the Equilibrium section, you'll find three versions of the basketballs floating in water. This is one that's a good one to explore with the kids, because it involves science. The only thing in the tank aside from basketballs is water mixed with salt. How did he get the basketballs to stay in the middle? He worked with a Nobel-prize winning physicist Richard Feynman to determine the best way to do this. How? Putting the heavier water at the bottom – different mixtures of the salt and water. It won't stay like this forever. The Equilibrium exhibit also had several objects that you'd expect to be light and floaty (to save you) cast in bronze, like this life raft below and a snorkel/SCUBA life vest.
I'm skipping the Luxury and Degradation section involving liquor and advertising, which was interesting conceptually. The EasyFun section was light and fun, and the kids will like it a lot. It has a dark, carnival-like side, but on the surface it's happy and colorful. These pieces were made at a difficult time in Koons' life, so perhaps that's why he went this route.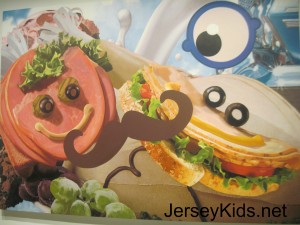 He did some paintings that were whimsical in both subject matter and style, like this one above which included lunch foods and smiley faces.
A room of mirrors in the EasyFun section were cut into different cartoon shapes and colors. Part of the idea is to deflect the attention onto the viewer. The kids will love this room.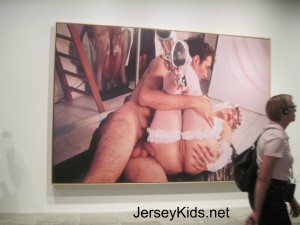 If you're with the kids, you'll likely want to skip the Made in Heaven room. There is a sign before you enter, but you'll have to be paying attention. You can avoid the room and still see the other exhibits on that floor, but you'll need do a little walking. Here Koons explores sex, self-portraiture and fame, though many decry it as pornography.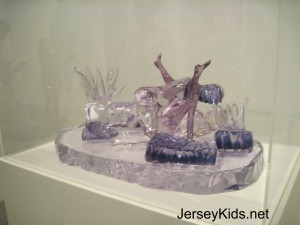 The crystal sculpture above is not something one expects to see depicted in crystal. Yes, it's a graphic sex scene.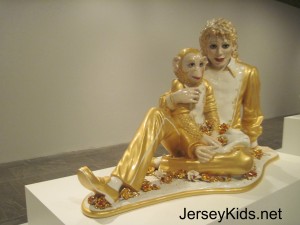 The Banality section contains one of his most famous works, the Michael Jackson and Bubbles piece. It looks at kitch and aims to get people to be less embarassed about our affection for childhood toys and trinkets on shelves. For me it had the opposite effect, since this stuff was just awful and I hate trinkets on shelves like Hummel figurines. These porcelain, gilt and polychromed wood were made by Italian and German craftsmen who normally make religious and decorative figurines.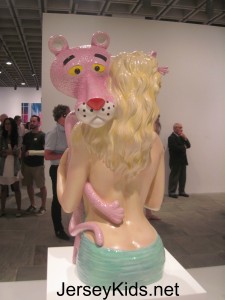 That was one of the interesting things about Koons work, and something explored throughout the exhibit – Koons' drive for technical perfection and using foundries and craftsmen who typically work on works of art of other things requiring technical precision. That was the case below with the objects in the Statuary room, which contained this stainless steel inflatable rabbit, which was indeed not inflatable but pure metal. The details down to the blow up apparatus in the back, the seams and the wording are all in place. In this room there are also other statues ranging from an ugly troll to a replica of Louis XIV. All are given the same treatment, in using the same metal, democratizing the statues regardless of their typical high or low art status.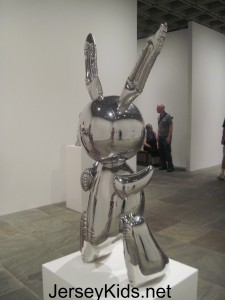 The kids will like the top floor the best, which contains the Celebration works. These were created with a  year-cycle in mind, and with his son in mind (custody battle over his son, who ended up with his mom in Europe).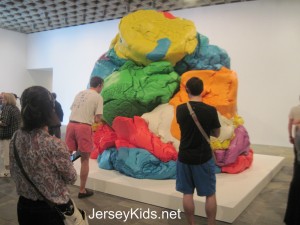 This giant playdough sculpture is made of metal, each color section cast separately and painted. It looks totally like playdough, even up front, and it took 20 years to make. He had a hard time finding a foundry that could make it. The sculpture was just completed in June, prior to the retrospective opening. Unfortunately you can't touch it.
Above is a heart ornament, one of several he did in this style, though only one is on exhibit.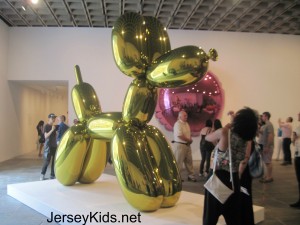 We've seen versions of the balloon dog and various balloon sculptures before, notably downtown in an office building near Broadway and West 4th, and a balloon flower outside the World Trade Center PATH station entrance. It's amazing to see close-up, and it's huge. In the background you can see a mylar balloon sculpture.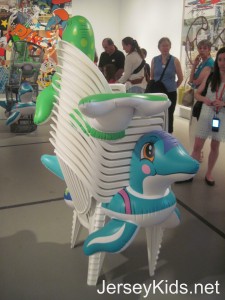 We really liked the Popeye section, mostly for the the sculptures of pool toys that were made of metal. Again, they really looked like plastic pool toys. In the background of the piece above, there are two pool toys coming out of a metal garbage can, poking through the metal spikes. It's weird to see how it does that, since you expect the pool toy to pop and deflate. He has some paintings in here as well, one with two nude women flanking a giant pool toy lobster, which references an Andy Warhol painting of Elvis, which ironically you can see in another Whitney exhibit.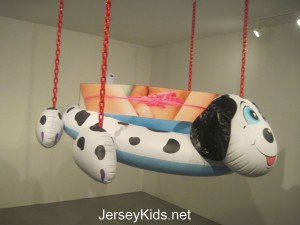 A few of the pieces in this section (namely the painting referenced above and the piece in the picture above) are a little risque for kids. The kids (depending on their age) will likely not notice much about the piece above, though maybe you want to move through that one quickly. As you might guess, this pool toy is not made of plastic.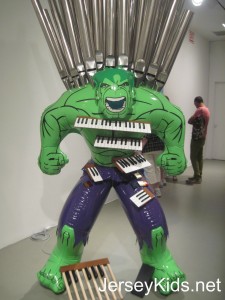 I didn't really understand the Hulk Elvis section of the museum, but the kids will be interested to know that while the organ on this Hulk is not plugged in right now, it does work and it's very loud. It was designed with the help of the person who designed the organ at Disney Hall in Los Angeles.
I skipped a few other sections of the exhibit here, but did want to note one of the items in the main floor small gift shop. Not sure what they had in the regular gift shop in the basement. You can buy a 5 piece place setting for $390 (choose from six of the Banality images), or a platter with one of the Banality series images on it for $380. Curious how many of these sell.
Should you take the kids to the Jeff Koons Retrospective at the Whitney?
I think kids will enjoy the show a lot, even if they miss some of the bigger art messages the artist is expressing. Perhaps you will miss those messages as well – my husband thought it was all a lot of BS, though he really enjoyed the technical aspect of what Koons did. You'll probably want to skip the Made in Heaven room, and be on the lookout for a few of the other pieces I mention above, if those are of concern to you.
What: the Jeff Koons retrospective is at the Whitney through October 19
Cost: General admission is $20; kids 18 and under are free. Fridays from 6-9 p.m. you pay what you want.  You can purchase advance tickets to expedite the line. There is no surcharge for this exhibit.
Open: the Whitney Museum is open Wednesdays through Sundays, though it opens Mondays from 11-6 starting 9/1, because of the popularity of this exhibit. Check the website for times, though generally it's open 11-6 (Friday until 9)
A few rules: children under age 16 must be accompanied in the galleries.
Like what you read here? Please join Jersey Kids on Facebook and Twitter, and sign up to get all Jersey Kids posts via email on the upper right part of this page.