–This is part of our series on Philadelphia with kids. For more in the series, see the bottom of the post.–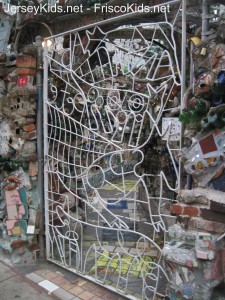 My daughter and I were very excited to see Philadelphia's Magic Gardens, a nonprofit space that artist Isaiah Zagar created in an empty row house spot. It now extends inside the adjacent row house.
Unfortunately the day we showed up, we didn't realize they were closing early for a wedding, so we had to make do with peeking through the gate, and walking around the neighborhood. The good news is  that you can still see a lot even when it's closed. And just by wandering around South Street, within a few blocks of the gardens, we could still see a lot of large scale murals. There's a list in the brochure you can get on site and probably in other tourist locations as well.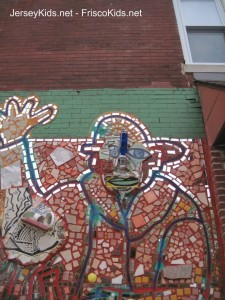 I think the biggest question for us was
who this is artist is, and why does he do what he does? While I hadn't heard of him before, I told my mother we were going. She's a art museum docent across the country, was an art major, and keeps up on these things. Turns out she had just seen a feature on him. He's made more than 100 public murals in Philadelphia. He was Philly born (but Brooklyn raised) and returned to Philly with his wife after a Peace Corp stint.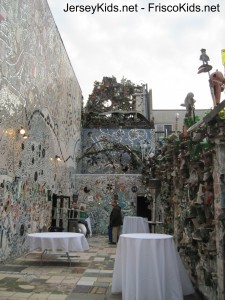 In addition to finding his work in the Philadelphia Museum of Art and Pennsylvania Academy of Fine Art (for more public art in Philadelphia, click here), it's also  in the Hirschorn Museum in Washington D.C.
While we clearly saw a lot of great mosaics, what we missed by not going inside were some areas that he dug down to create, and of course the entire interior. It's on our list to go back.
————————————————
[ad name="Google Adsense"]
————————————————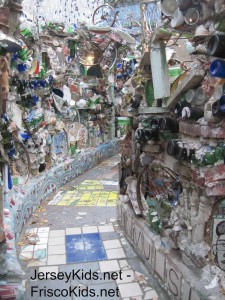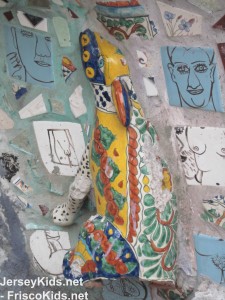 Ways to experience the Magic Garden
—Tour – The Magic Garden is open daily for self-guided tours, though you may want to check the website or call ahead to be sure. We showed up just after they closed early for a wedding, and were unable to do more than peek through the gate! They also have guided neighborhood tours. They offer weekend tours as well, of the site and the neighborhood.
—Hands-on – They offer free, monthly hands-on family activities. If you're into creating mosaics, you can take a two-day workshop (fee) led by Zagar, and you'll help create an outdoor public mosaic mural.
—Twilight in the garden concert series – monthly themed concerts with hands-on activities – ending in a summer performance-based festival.