I have to admit, I did not actually eat at Rice to Riches. It wasn't open yet (too early in the day), and we were on our way to Scott's Pizza Tours, which meets nearby. But the Rice to Riches company signage was so funny and the concept so awesome, I have to believe it would be great. So if you've eaten there, please give us the scoop.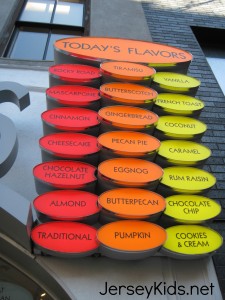 I'm not a big rice pudding fan (I also don't hate it), but I'm dying to try this place, which has been around since 2002. Check out some of their flavors: Sex, Drugs and Rocky Road, I'll Take Eggnog for $200, Alex; Fluent in French Toast…I like a place with humor. You can get a bit of background about Rice to Riches, the concept development and its quirky founder in this New York Times story. The Yelp! Rice to Riches reviews are excellent and helpful.
————————————————
[ad name="Google Adsense"]
————————————————
I want to know which flavors are the shitty ones! We peeked inside (the door was locked) and the interior looked fun and space-agey. Apparently the serving counter is supposed to be shaped like a grain of rice.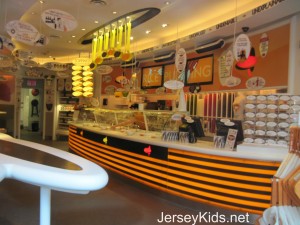 You have to love toppings that they call "Jesus droppings." You can't see it in this picture above, but it's above the hanging sign with the yellow ovals. And the interior is a design-lover's delight, with tables suspended from the ceiling (giving you room for your legs), and Tupperware looking bowls and spoons (check them out here).
They have a sign that says "we put the IPPING in ShIPPING." I'm not sure what that means, but it sounds funny. And yes, you can get it shipped to you for $65. And you can also get their pudding in Duane Reade. Go figure. I'm putting it on my list for my next visit in NYC.
Where: 37 Spring Street, Manhattan