If you haven't been to Chelsea Market, you're missing out. It's one place we bring almost all visitors who want to see New York City. But that's a whole other post.
One section of Chelsea Market has a an open area with a bunch of small vendors, mostly selling food. The Doughnuttery was new from our previous visit, and we ordered a few of their little doughnuts.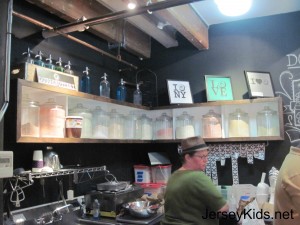 Their schtick is that they make them fresh and you choose what kind of sugar you want on them. you can see the sugars on the shelf above (and the menu is below).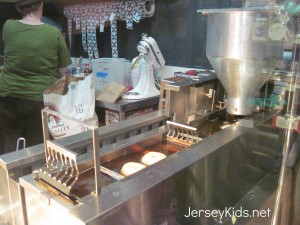 We had fun watching ours get made freshly. The machine squeezes out the batter in to the hot oil below. It cooks and moves through the machine automatically, getting flipped to the other side by the machine. When they're removed, you tell them what kind of sugar you want on yours.
————————————————
[ad name="Google Adsense"]
————————————————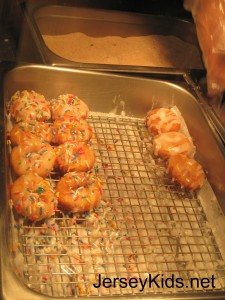 These weren't ours, but they looked good! In case you can't read the menu below (it's kind of small in the picture), they have specialty sugars like Urban Monkey (coffee, banana, coconut), Pineapple Pow (pineapple, wasabi, ginger), Mulled Green Apple Cider (green apple, orange zest, spices) and others. If you're more of a traditionalist, you can get cinnamon sugar, vanilla glaze, powdered sugar or rainbow sprinkles. They also have dipping sauces for $1, including deep dark chocolate sauce, Nutella, beer caramel sauce and others. You can see the Doughnuttery menu online here.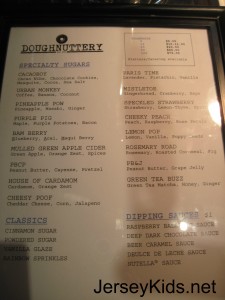 Doughnuts are 6 for $6, a dozen for $10-11, $25 for 20, and so on. They make platters and do catering as well.