I'm sure you know about Dylan's Candy Bar, and all the candy it contains. In fact, it was a Treat of the Day sometime back. However on our recent visit, my husband saw a sign outside for happy hour. What does that mean in a candy store? Well, it turns out they have an actual bar upstairs, in the same area that you can get ice cream treats. It's slightly roped off and we had to show ID to get in (though  they let our kids in with us, stamping their hands).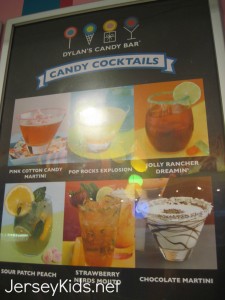 They served drinks like a S'more shot, with marshmallow vodka, whipped vodka, creme de cacao, and garnished with a graham cracker rim. Or try a Sugar Rush Shooter with different vodkas (cake, coconut, whipped cream) and a sugar rim.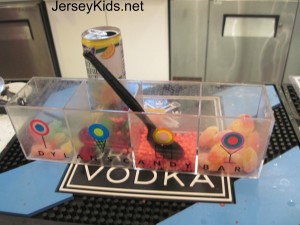 We went the cocktail route. I had a Pop-a-Rita, a standard straight-up margarita with pop rocks. You can also get a Sour Patch margarita with tequila infused with Sour Patch kids, and garnished with the candy. You can get an alcoholic Root Beer Floatini. or a Jolly Rancher (infused in the vodka), with Triple Sec  and lime juice. Garnish is a gummy cherry. The Strawberry Nerds Mojito looked quite good too.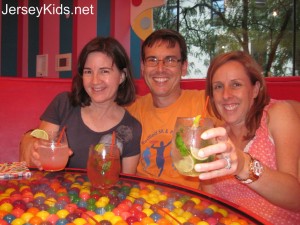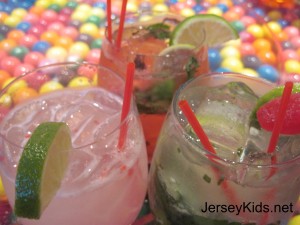 Needless to say, we enjoyed our drinks.
————————————————
[ad name="Google Adsense"]
————————————————
The bar stools were awesome. I want these in my house!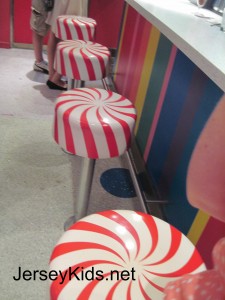 The tables were filled with gum balls.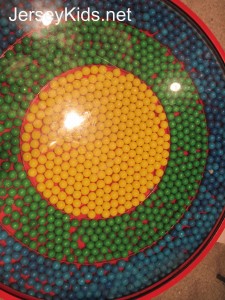 We did some perusing after our drinks – we were much more mellow with a drink in our bellies.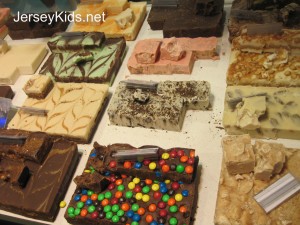 And of course a trip to the bathroom was in order before we left.