This is the first of what will probably be many ice cream posts this summer – I have a big list of places I want to go! We went to Little Scoops in Cranford on the last day of school. We won a certificate for 5 free sundaes from a tricky tray (thanks, Little Scoops!) and thought that was perfect day to cash it in. Plus it turned out to be 250 degrees outside, and Little Scoops had air conditioning. Yay!!!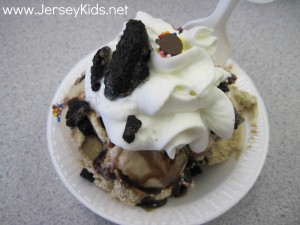 What we loved about Little Scoops wasn't the ice cream (I'll get into that later). It was the atmosphere and the staff. It looks like an old-fashioned ice cream parlor and the staff (including the owner, who came over to say hi) could not have been nicer.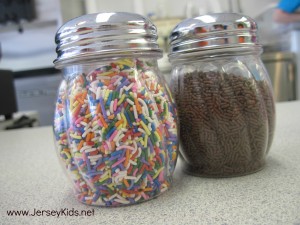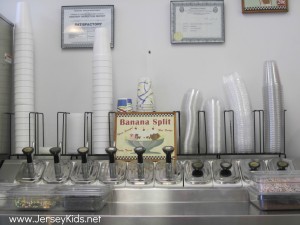 They usually let you choose 2 cups of toppings (they let us have 3, which was a huge thrill for the kids).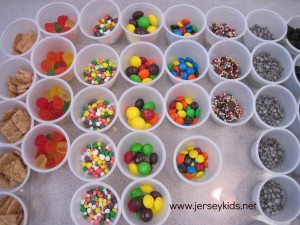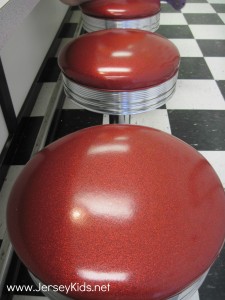 You can sit at the kid-size counter, or at regular tables. I loved the floor. And the walls are handprints of kids who celebrated their birthdays at Little Scoops.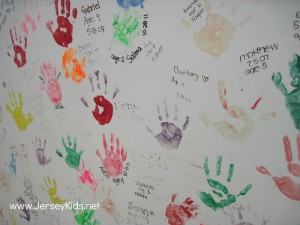 The ice cream was fine – not homemade, no unusual flavors (they do have a fat free/sugar free option). Sundaes were served in plastic bowls, which I'm not a big fan of. And they offered us chocolate sauce and caramel sauce, but no hot fudge! Maybe they have that in a different sundae that wasn't part of our package. That said, the toppings were good and they very nicely gave us an extra free sundae (the certificate was for 5, and we came in with 6).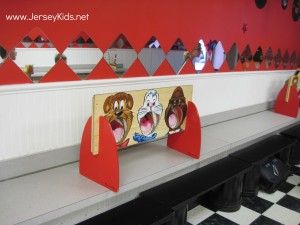 On weekends and some weekdays, Little Scoops is booked up with parties (they have a room in the back where they play games and had a stuffed animal stuffing machine). If there's not a party, you can come in to get ice cream to go, or to sit down.