Just got back from a few days in Ocean City, which gets accolades as the most family-friendly town, and best boardwalk on the shore. I don't have much to compare it to, but we had a great time and indeed, it was a great boardwalk. Thought I'd do a photo highlight of the boardwalk.  Of course it rained while we were there, so the boardwalk photo is gray.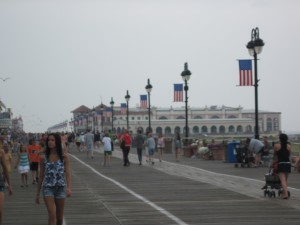 We didn't make it all the way down the 2.5 mile boardwalk, but we made a dent.
Jilly's Arcade – loved the 10 cent skeeball, and played quite a few games of air hockey (though the winner is declared after 6 points, not the 7 points I'm used to).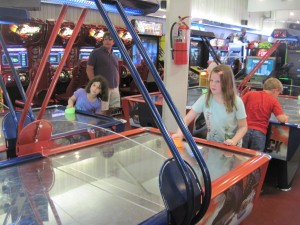 Pizza – several places had enormous pizzas. Pizzas that weigh 6.5 pounds. One place has a deal where if you eat the entire pizza in 15 minutes, you win 100 pizzas. Apparently a professional eater clocked in recently at 11 minutes. "And he was skinny," complained my daughter.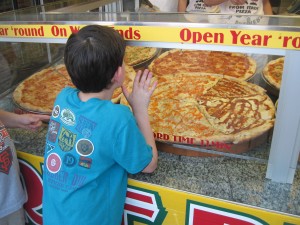 We ate up our Mack and Manco's pizza, followed by the Kohr's frozen custard. Though it's not on the menu, you can order a kid size (even for an adult), which is plenty big enough.
My daughter's constant requests for the cute hermit crab went unfulfilled, but we did end up buying a small tank with tiny frogs. Hopefully they'll last. Here are some of the colorful hermit crabs.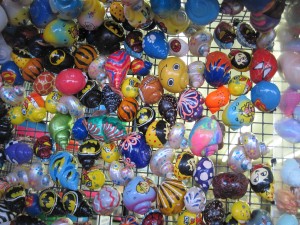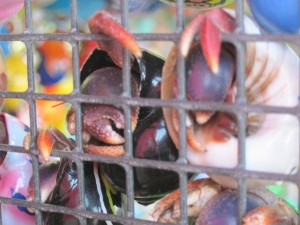 Fortunately there wasn't much of a line for the Wonder Wheel at Gillian's Wonderland Pier, and we were caged in and felt safe.
—————————
[ad name="Google Adsense"]
—————————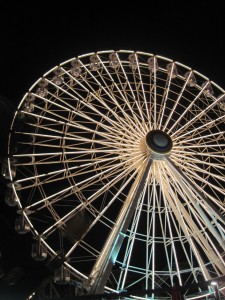 And of course the beach. Gotta love a NJ beach that doesn't charge for kids' entrance (12 and over paid $5/day or $10/week).
Fitzpatrick's Jewish Deli – this is not in Ocean City (it's in Somers Point), but we passed it on a drive. My camera battery died so unfortunately I couldn't get a shot of the sign, which had shamrocks on it. I just love the idea of a Jewish deli with an Irish name. Kind of like the party we went to at the Jewish country club, the Tam-O-Shanter.