We're excited at Jersey Kids to feature a Q&A with author Jen A. Miller, whose second edition of Explorer's Guides –  The Jersey Shore: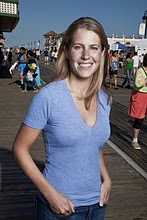 Atlantic City to Cape May, a Great Destination, just came out. Jen also keeps up with the daily shore happenings at her blog, Down the Shore with Jen. We asked her about some family-friendly Shore topics.
Q: What are the best family-friendly shore towns?
A: Ocean City is built for families. It's a completely dry town (not even BYOB!) and its boardwalk is built for people who want to stroll with a stroller or two. The ride piers cater to families, too. Sure, your teenagers will find some thrills and spills, but there's tons of stuff for the littler ones, too.
Q: What are the top 3 fun/unique places on the shore to visit with kids?
A: Take them for a ride on the Carousel at Gillian's Wonderland Pier in Ocean City. This is one of the few places where you can reach out and grab the golden ring from a carousel. It's a gorgeous piece of art, too, that you can ride!
–Silverball Pinball Museum in Asbury Park.  This place is amazing. For a flat fee, you can play the machines inside this pinball museum, which is located right on the boardwalk. VERY popular with parents, too!
-If they're up for it, I'd take them to the top of the Cape May Lighthouse. You can't get better views. And it's an easy way to have them expend some energy 🙂
Q: Any restaurants that are must-eats?
A: -Mack & Mancos in Ocean City. Walk right up to the window and get a slice. Make sure you order a birch beer, too.
-Mike's in Sea Isle. It's a BYOB seafood joint right on a dock on the bay in Sea Isle – yes with awnings. You can order cooked crabs and clean them yourself here.
–Hot Dog Tommy's in Cape May. It's a walk up hot dog window where Tommy himself dishes up dozens of types of dog combos while wearing a big hot dog hat.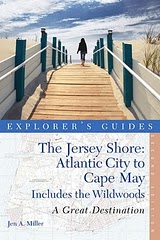 Q: How safe are the boardwalk rides? I just read about a girl falling to her death from a Ferris wheel during a school trip.
A: Very safe. From all reports about this incident, this was a complete accident that was not because of any fault or problem with the ride. The Moreys have been in business since 1969 and this is the first fatality. The Ferris wheel has been there since 1985 – this is the first incident on it. And, yes, the ride did pass inspection this year. I know the Moreys. They're not fly-by-night ride operators. Jack Morey considered building dorm housing for their summer employees because he didn't like the other rental housing options available (he couldn't get the permits, if I remember correctly). What I'd say is this: teach your kids proper ride safety, and don't let them go on rides by themselves. Use belts and latches if available, and stay in your seat if you're going on a Ferris wheel (which, according to reports from the state of NJ, this little girl did not do). It's tragic, but events like this are avoidable. I've read a lot of blog posts that instantly say the ride operator is at fault because "that's just how those people are." Not so.
Q: Where's the best place to go on the shore for a weekend getaway without the kids?
A: Cape May. It's chock full of cozy B&Bs and, in fall, is almost all couples looking to get away. It's chock full of gourmet restaurants, all coupled with Victorian architecture. Younger couples might want to check out Asbury Park. There's more of a hip vibe there with great bars and restaurants. It's still very rock and roll.
Q: We have friends coming from out of town who want to visit the shore. Is it too late to get them a reservation somewhere?
A: Not at all! You can still find spots, but they might want to act quickly. If they're coming for an entire week, there are still plenty of house rentals available. If they can, I'd suggest booking the week before Labor Day. A lot of kids are already back in school, so prices drop. The American, a motel in Wildwood, has a great deal that week.
Q: Do all the beaches charge entrance fees?
A: No. Beach tags are not required in Atlantic City, Strathmere, North Wildwood, Wildwood, Wildwood Crest, or any of the Cape May beaches that front the Delaware. I like Higbee Beach along that way. It's dog friendly!
Q: What time do we need to be on the road to avoid the traffic?
A:  If I'm driving down on a Saturday, I try my best to leave at 8 a.m. – or even 7. I've done OK leaving a little bit later, but it gets busy fast. I've sat at the corner of Asbury Ave. and 34th street in Ocean City at 9 a.m. on a Saturday watching the traffic roll in off the bridge. It gets messy fast.
Read more in Jen's book, The Jersey Shore: Atlantic City to Cape May.