How do you like to spend Halloween? The New York Botanical Garden has a haunted pumpkin garden. You can win 4 tickets to go – info at the bottom.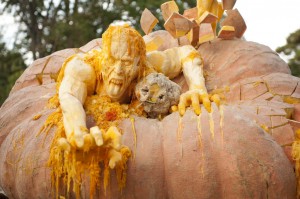 I haven't been to the New York Botanical Garden (but the rest of my family went a few years ago when I was at a conference). They loved it. And this event looks like fun. Lots of carved pumpkin sculptures.
It runs from October 6-31, and has tons of different kid-friendly activities. The Haunted Pumpkin Garden is located in the Everett Children's Adventure Garden, open daily with guided activities from 1:30 to 5:30 p.m. on weekdays and 10 a.m. to 5:30 p.m. on weekends. That might include a parade, dissecting owl pellets, potting buckwheat seeds to take home or decorating science bags for fall collections.
On other days there are pumpkin carving demonstrations, a pumpkin party, a pumpkin carving weekend, carving workshops, and spooky nighttime adventures.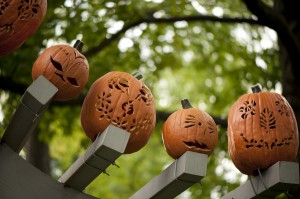 Tickets are $20-25/nonmember adults, $8-10/nonmember kids, and $15/members. Prices vary depending on the date (there's no "one price" on the website – it's a little confusing).
CONTEST
Want to win a 4-pack of tickets to use any day from October 6-31? You'll have access to the rest of the gardens as well, including a narrated tram tour and other exhibitions. Post an entry below stating your favorite Halloween tradition. Also leave me your email address, so I can let you know if you won. If you don't want to put your email address below, still leave an entry, but email me telling me which entry is yours, at blog (at) jerseykids (dot) net. Entries must be received by Saturday, September 29 at 6 p.m., and you must reply to my email within 24 hours or I'll move on to the next person. Winner will be chosen using random.org.