We'd been seeing the ads for a few months now, a Broadway musical set in high school with a woman way out of high school playing the lead. I'd heard good things, but didn't know much about it. Got tickets without doing any more research. Is Kimberly Akimbo good for kids?
The plot of Kimberly Akimbo
A 15 (going on 16) year old student named Kimberly is new in town. She has a rare disease where she ages four times as fast as normal. So at 15, she has a 60 year old body (and looks 60 as well). And yes, that means she's already been through menopause by the time she strikes up a relationship with a boy in school (don't worry, there's no MILF Manor stuff going on). She has a dysfunctional family and longs for friendship in school, finally becoming part of a friend group. The wacky aunt provides some conflict (and definitely some humor) and we see Kimberly dealing with not only her health/aging issues, but with normal teenage issues of friendships, school and family.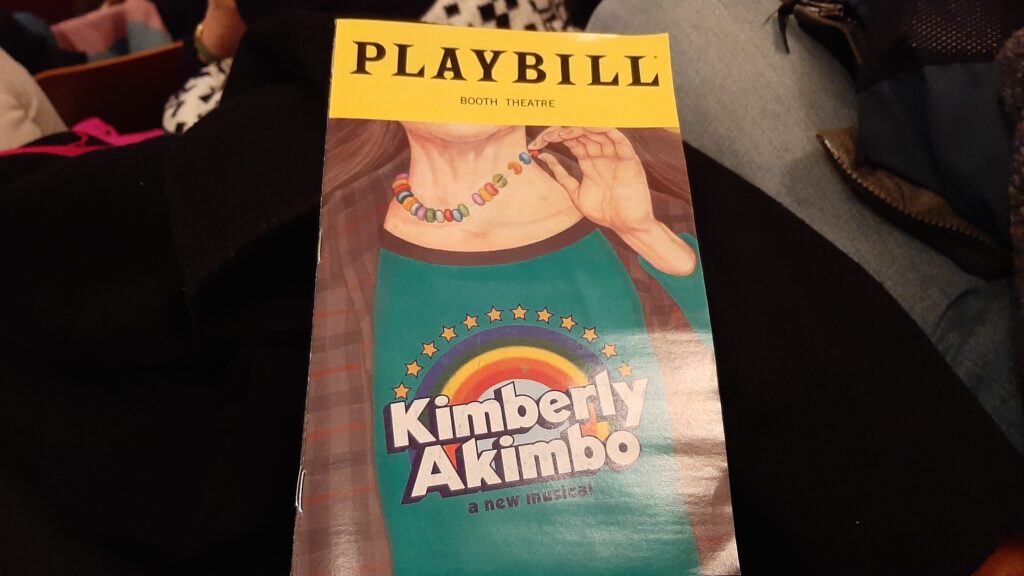 The high school kids all seemed older than high school. And it was definitely odd to have a 60-something woman playing a 15 year old, but it mostly worked. We were in the mezzanine, so it was a bit harder to see faces up close. This Washington Post article features Victoria Clark and Justin Cooley, the woman who plays Kimberly and the guy who plays her friend/love interest, talking about that age difference. You never quite forget that she's much older than high school though she tackles it well. It does seem like some kind of weird plot device that maybe wasn't needed and the story could have been rewritten for a different disease.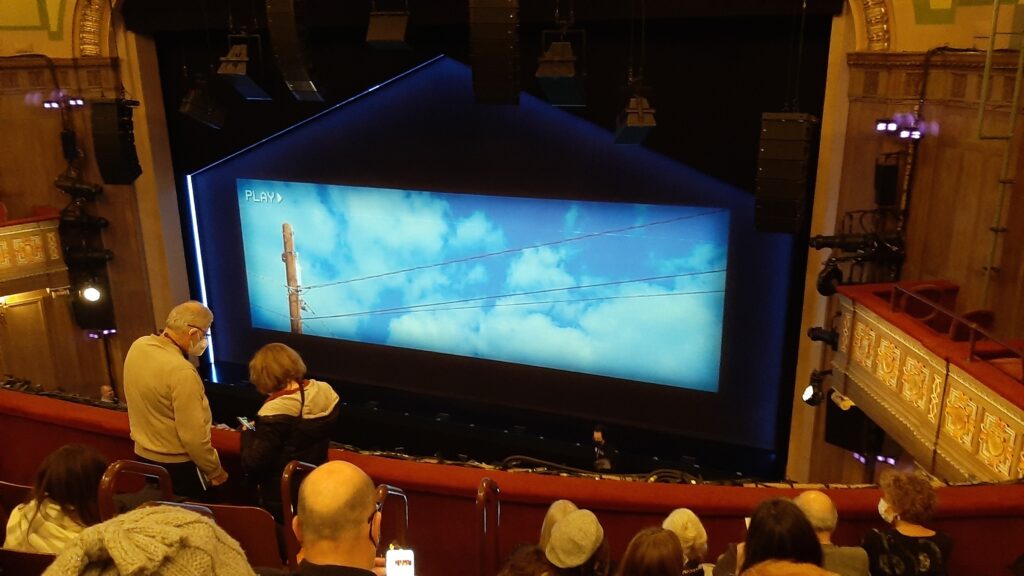 Some fun moments in Kimberly Akimbo
The show is set in Bergen County, so there are plenty of New Jersey references, definitely fun if you live in the Garden State (or have a lot of familiarity with it). That includes the opening song and a not so positive shoutout to Bruce Springsteen (which elicited a lot laughs). Also, ice skating on stage! And perhaps my favorite parts were the mom singing to the unborn baby on camera. The mom (Alli Mauzey) was awesome. The aunt (Bonnie Milligan) kind of stole the show. And the band is on the stage – sometimes it seems like they're in the attic.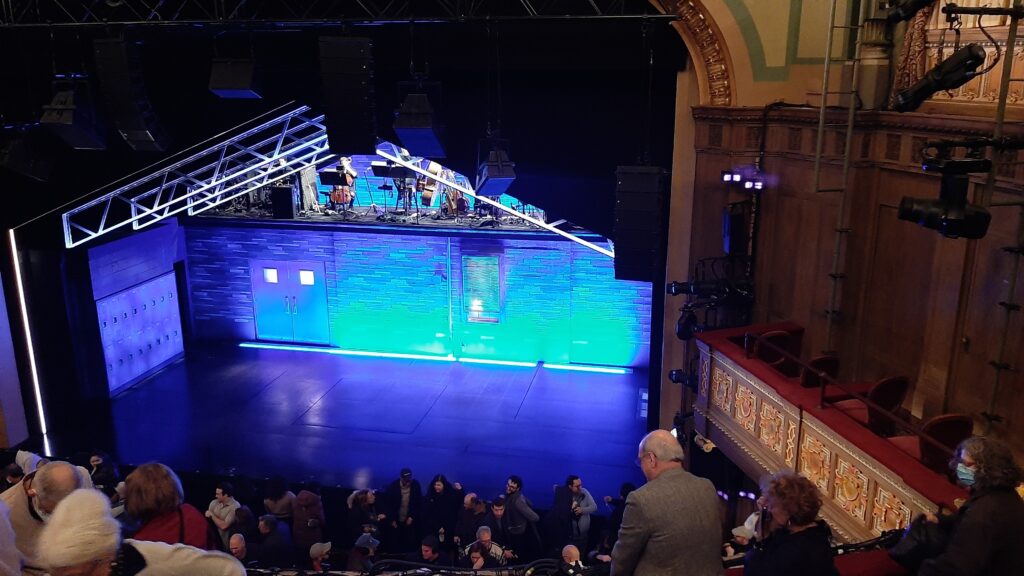 Is Kimberly Akimbo good for kids?
I'd recommend the show for middle school kids and up. One reason I would not recommend it for the younger set is language, the use of curse words. It's not used throughout the whole show, but there's enough that it's noticeable. There's some depiction and references to alcohol abuse, teen pregnancy and some illegal/fraudulent activity (though that is less concerning in this context).
Have you seen Kimberly Akimbo? Is Kimberly Akimbo good for kids? Please share your comments!
How long is Kimberly Akimbo? The show was 2 hours and 20 minutes.
Discount code for Kimberly Akimbo: Try KIMJERSEY for tickets starting at $49