I have to admit, I'm not a home shopping on TV kind of gal, (or even home shopping on the internet person). Certainly I buy things online, but I rarely browse sites just to see what they're selling, and if I'm going  to watch TV, it's not going to be a shopping show.  While I'm not alone in that, I am in QVC's demographic, of women 35-64, who are educated homeowners. BUT, I can't resist a factory tour, and the QVC tour of the studio sounded like too much fun to pass up.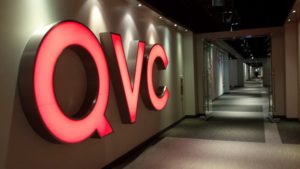 I went with my friend Michelle, who lives in QVC's headquarter and studio town of West Chester, PA, outside of Philadelphia. We were the youngest ones on the weekday tour, which I guess shouldn't be too surprising.
I'll take you along on the tour, and then share more about their company store.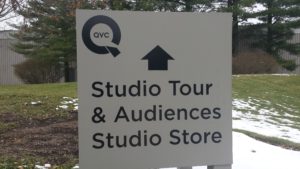 Some fun facts:
QVC runs three channels in the US:  QVC (runs live programming 24 hours a day every day but Christmas), QVC2 (live programming some of the day), and Beauty iQ (programming 24 hours a day, but not all live). Plus they were an early adopter of Facebook Live, featuring a lot of live programming each day, and they run on Roku and Direct TV.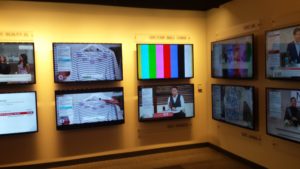 QVC has programming in China

, UK, France, Japan, Germany and Italy. 

QVC reaches 300 million households globally, and 100 million in the US
QVC stands for "quality, value, convenience"
The guy who founded QVC also founded the Franklin Mint
QVC's parent company now also owns the Home Shopping Network – that's pretty recent
Okay, so we walked around the hallway you see above, looking down into the studios a level below, one of which was filming as we went by. They have 58,000 square feet of studio space in multiple studios, including a home set, garden set, outdoor set (that's really indoors), and a beauty set. They use a bunch of cameras – 35 of them are robotic. The hosts have screens they watch while performing, with count down timers.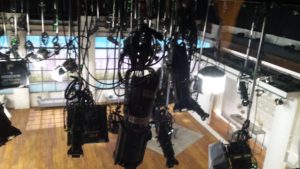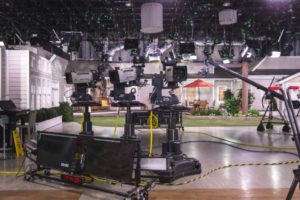 QVC has 30 "hosts" who do the selling, along with the product hosts that the seller provides. As you walk through, they have cardboard models of the hosts with some fun facts about them, like favorite movie, and the year they started hosting. You can take your picture with them. They get paid a lot of money to host, and not surprisingly, it's competitive to get the gig. They film 3-4 hours a day, and the rest of the time might be spent prepping and meeting buyers and vendors. The vendors have to provide their own talent for the show. When they come in, they go to the "talent service desk" for a one hour makeup and hair appointment.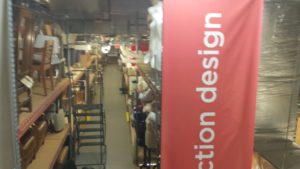 QVC sells 800 products a week from their US studios. They have a giant storage house of 350,000 items, physically picking and moving 3,500 products A DAY. These are doubles, so it's 1,700 products times two. One set is used for recorded video, and the others are used on set – multiple colors or styles, etc. The waiting items are racked for 48-60 hours, sorted according to the show name, date, time etc.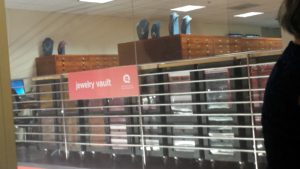 Companies don't pay to be on QVC, but there is an application process (or the buyers can "discover" a product). The product company, or vendor, doesn't have to have made the products when they initially pitch, but they need a prototype. QVC orders on consignment – so the risk is on the vendor. The vendor tells QVC what it will cost for them to sell it to QVC, and then QVC prices it. The vendor usually sends the items to QVC warehouses for storage and shipping.  I just wrote a long article about how all this works, about QVC on Supply Chain Dive, so check that out.
The line producer decides how long to keep a product on live TV, so they have to be prepared to change quickly. They have a master controller monitoring all the live shows in a control room 24 hours a day, as well as a tech director for music, graphics and taped portions.  Everyone in the control room can do each job, and they switch jobs during the day.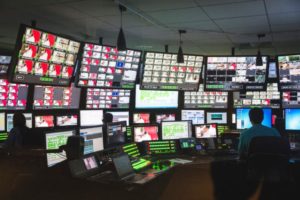 We saw one of the QVC shaking machines, which tests out all products in their shipping box for 64 minutes, to make sure the item will arrive undamaged. About 76% of packages pass the first time. The rest need to go back to the supplier to work out the kinks.
They have cooking segments on QVC, and we saw the food prep and storage area. They reuse some of the food, especially the meats. They aren't fully cooked, and they can be reused. The guide wasn't sure what happened to them otherwise. Were they eaten? Donated? Thrown out? Who knows.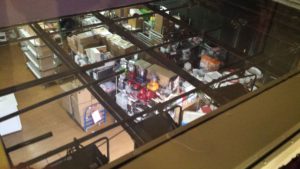 They also show you the original phone and set from the show, reminiscent of when Joy Mangano from the movie Joy was showing her wares. If you're a QVC fan, this might be very exciting. They used to have their phone banks in the studio (like you see in the movie). Now they have two off site call centers, that aren't even in Pennsylvania. They used to have four call centers outside the state, but now more people are buying online, so they closed two of them.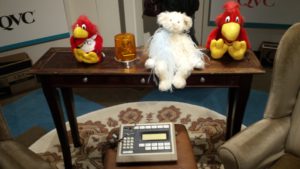 The company stores
To kill some time before the tour, we browsed their company stores. I admit I came into the studio tour having done no research. Like I said, I don't watch QVC and didn't even know they had a beauty channel. There's a large beauty store when you walk in, with a lot of makeup, skin appliances and other skin products.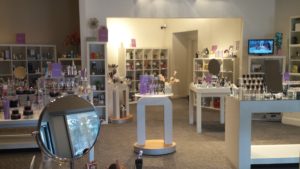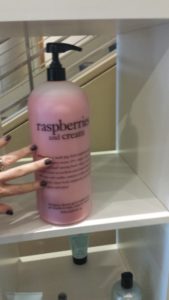 I thought that QVC sold products that the world had never seen before – discovering companies that were previously unknown. And they do some of that. But they also sell from companies that are very well known. And it turns out they don't compete on price – they compete on shopping experience and unique versions of the products, like colors, styles or additional accessories.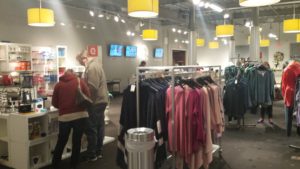 So when shopping in the store, there were no bargains. In fact, I thought everything was really expensive. They do have outlets in the area, and my friend said they have some good deals there. But I didn't have time to go. You get some coupons for both the corporate store and outlets with your ticket (along with a souvenir tape measure). I was actually tempted to buy nothing at the store.
We saw brands like Alex & Ani, Krups, Vitamix, Dooney & Burke, Joan Rivers, Isaac Mizrahi and others. Major electronics brands are sold by QVC as well.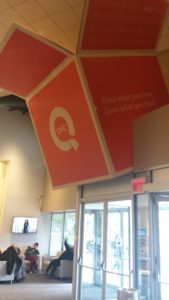 If you go:
QVC studio tours: QVC runs three studio tours a day, Monday through Saturday, for an hour. They cost $10, and $8 for kids 7-12.  that are about an hour long, and other tours that are longer (2-3 hours, I think). For that you get a tour, some coupons and a QVC branded tape measure.
They offer group tours, behind-the-scene tours (ages 18+) and all access tours (also 18+). These are 1.2 to 3.5 hours and the all access tour and group tour includes lunch, running $35 or $100. You can also be part of their QVC studio audience once or twice a month – no charge. They were recruiting last month for one of the Brooke Shields segments.