I wasn't sure what to expect for Oh, Hello on Broadway, given that I didn't know much about the show (we had relatives in town for Thanksgiving, and they chose it). And if you're wondering, is Oh, Hello on Broadway appropriate for kids, my answer is below. My one-liner about the show: it was a hilarious (partly stand-up) routine with two comedians who seemed to be having a great time on stage, right along with us.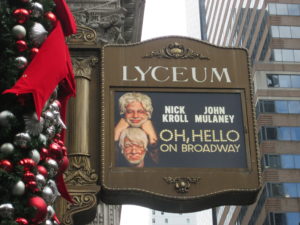 The plot:
Two 70ish grumpy old men have lived together (think Odd Couple – since they're not a romantic couple) for 40 years. Gil is an actor, George is a thrice-widowed author. They riff on themselves and each other and then perform part of a play that George wrote for Gil to star in. (To describe themselves, they say "when you walk by a travel agency and say 'what????' That's us). They perform the show within a show, but stop throughout to talk about other things, like the set they got from the Secaucus Broadway storage site, with leftovers from an August Wilson play (funny, when Gil points to a picture of his family on that wall), a stoop from the Cosby Show "we got for almost nothing" and a prop from Angels in America. There was a lot of randomness you don't normally see in a polished Broadway play. Granted, this isn't your typical Broadway show.
[ad name="Google Adsense"]
During the "talk show" portion of the show (they have a public access TV show called Too Much Tuna, where they interview someone), I was shocked to see Itzhak Perlman come out. Now if you know something about the show, that may not be a surprise (as mentioned, I went into it with no knowledge). But part of the fun is that they have different people (mostly celebrities) join them on stage for this ad libbed portion. Perlman was clearly comfortable on stage and had a great presence, though he didn't play the violin for us. We had fun after the show looking up who else had been featured.Very few people want to see the understudies (and we didn't – both Nick Kroll and John Mulaney were there), but the understudies are John Slattery and Jon Hamm, so it wouldn't have been the end of the world.
Is Oh, Hello on Broadway appropriate for kids?
Well, it depends on the age and maturity level of your kids. I wouldn't recommend it for anyone younger than 13, and even 13 may be too young. Why?
–Maturity level: It may be hard for a child, tween or young teen to really understand a lot of the jokes in the show, which make it less enjoyable for them. My 13 year-old missed a lot of the jokes and didn't get a lot of the humor, while my 15 year old (who reads the newspaper regularly and also knows the comedians) loved it.
–Language: There was relatively liberal use of the "f" word.
–Sexual content: Several references to having sex with an animal. It was a recurring bit. There were probably some other instances as well, but that's the one that stuck with me, maybe because it was just bizarre. They also referenced the male anatomy a few times.
At one point in the show, one of the actors went out into the audience and ad libbed. He basically asked a 12 year-old kid if he was understanding anything in the show. It got a good laugh, but it was a legit question!
If you go
The show: The show is about 90 minutes (ours was longer, because the talk show portion went on a bit too long), but there's no intermission. And be warned that the ladies' bathroom situation isn't good. They have 4 stalls in the basement, and maybe a couple in the mezzanine. So get there early if you need to go. The line to the ladies' room looked longer than it was – it took about 5 minutes from the top of the stairs, but you never know.
Seating: Don't get seats on the far right facing the stage (including box seats) – you'll miss part of the action (though sometimes it will be described to you by Gil – who jokes about those people being in the worst seats). They make several jokes about those sitting in the mezzanine and balcony ("you either need to buy your seats earlier or make more money") – though you can see just fine (we were in the mezzanine). It looked like the last row or two of the mezzanine may have missed a little of the view from the balcony overhang, but those seats are cheaper.
Tickets: There should be discount tickets to Oh, Hello on Broadway available, especially if you go on a weekday. TDF members can get them for $41 for certain shows. The show runs until January 15, 2017.