To be honest, I was a little nervous to go to the top of One World Trade Center. I wasn't in the East Coast on September 11, 2001 but it's impossible not to think about what a target this building is, and how high I would be, trapped if something similar happened. Okay, getting the creepy feelings out of the way early!
One World Observatory opened to the public in late May, 2015. The building opened to tenants the previous November.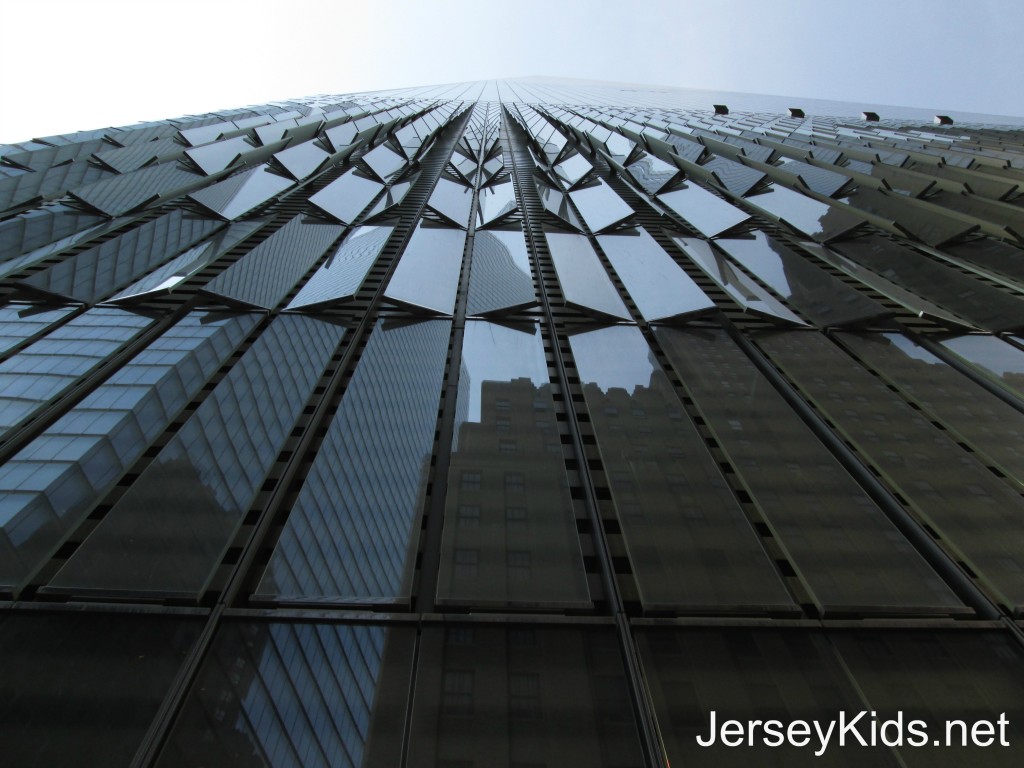 The entrance to One World Observatory is on West and Vesey Streets. If you have your ticket already (which I highly advise you to get them in advance), then walk over to Vesey, where a guard will let you into the proper line. Those who don't have tickets line on West Street, and trust me, you don't want to just wait in line. More about tickets and lines at the bottom.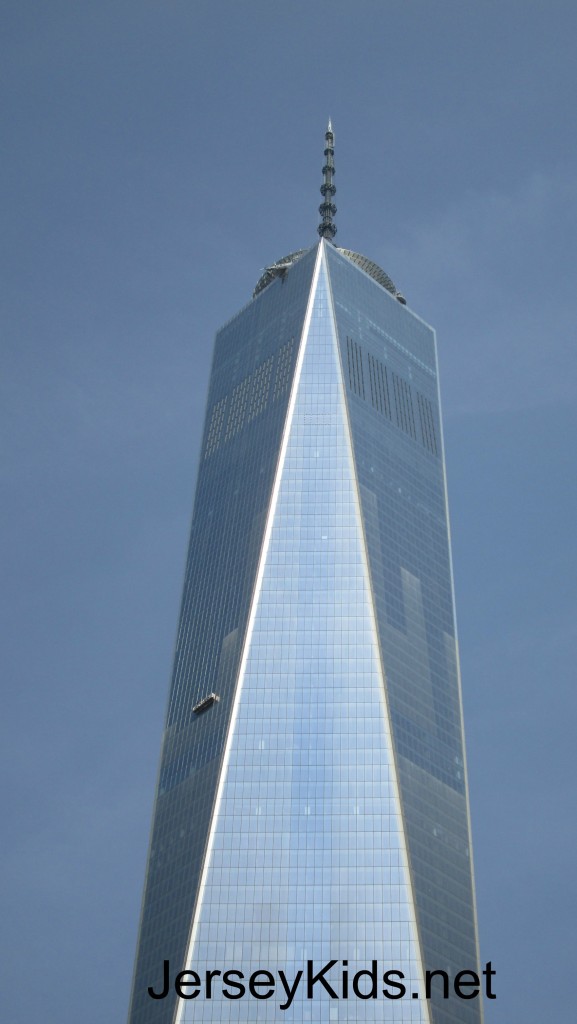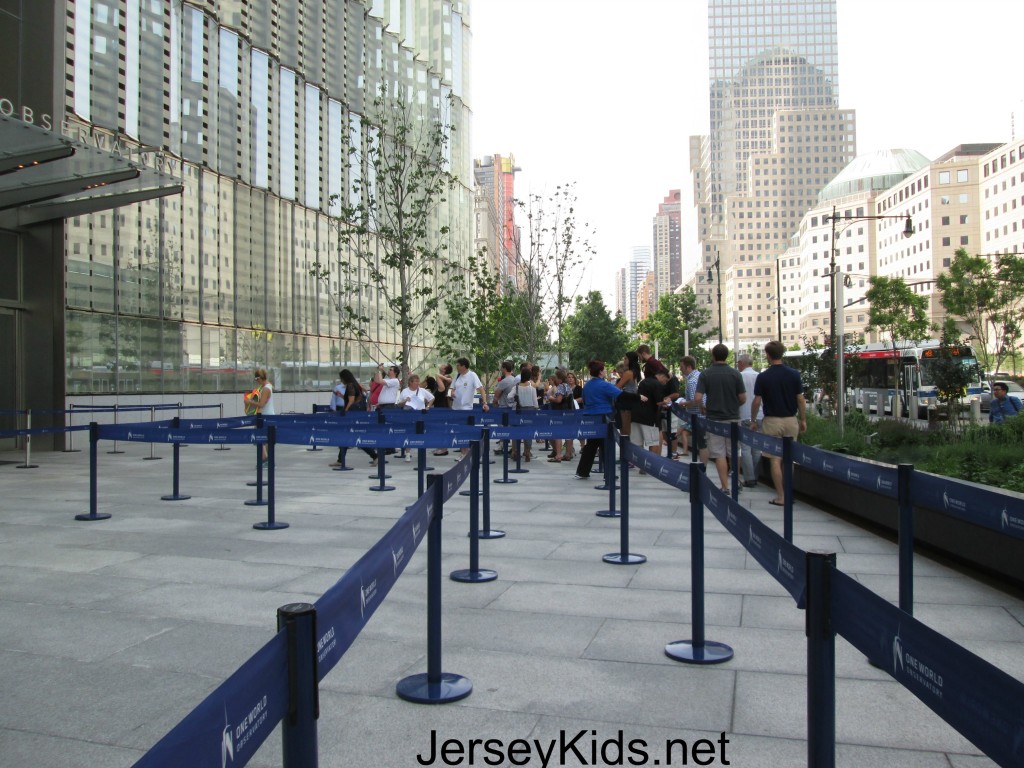 The front entrance contains a ticket office, which you'll bypass if you already have tickets. You'll go down the long escalator or stair case to wait in…another line to get through security.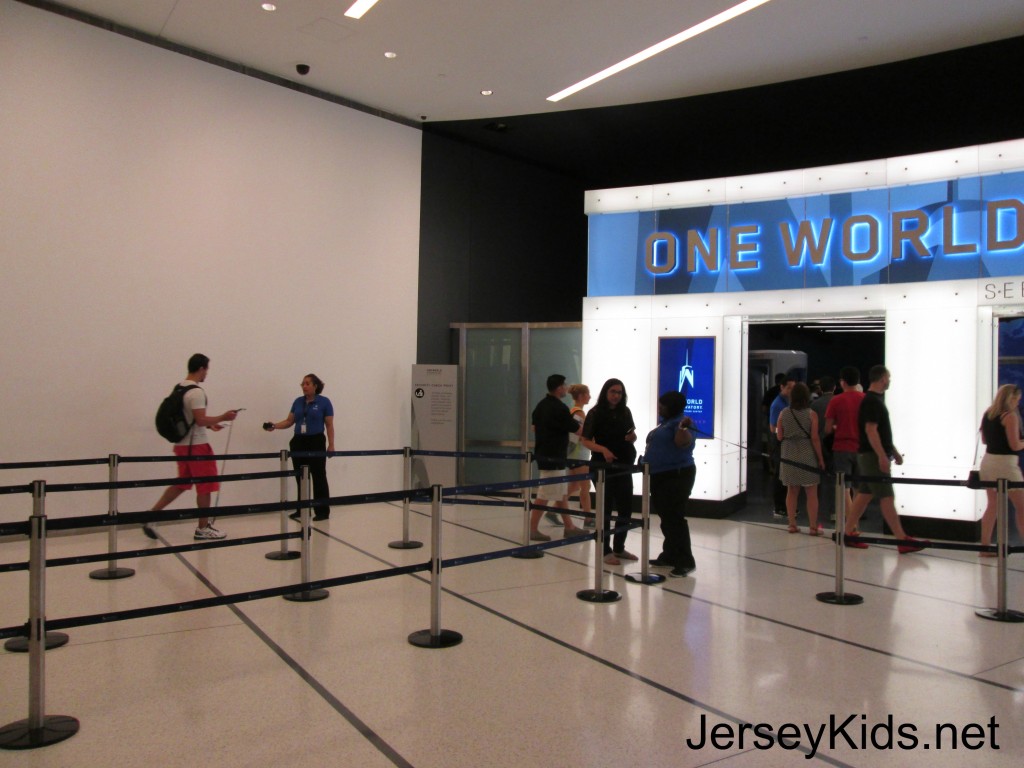 Inside the security area is a big screen that welcomes people in different languages, apparently taking data from the ticket sales.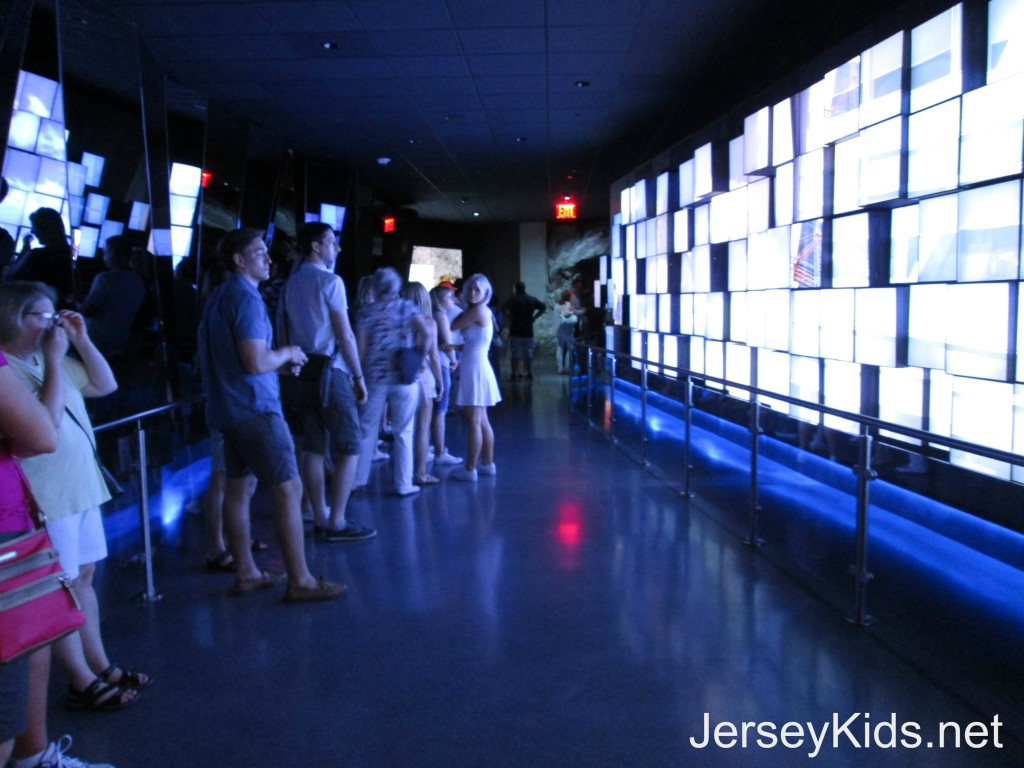 You will enter the Voices hall, which took me a minute to realize was another line. It was kind of like Disneyland, where they make the line areas interesting, which I appreciate. They told the story of what it was like for them to work on the tower. The people in front of me were so engrossed that they didn't move up and I wasn't sure whether to keep badgering them, go in front of them or just stand there like an idiot.
[ad name="Google Adsense"]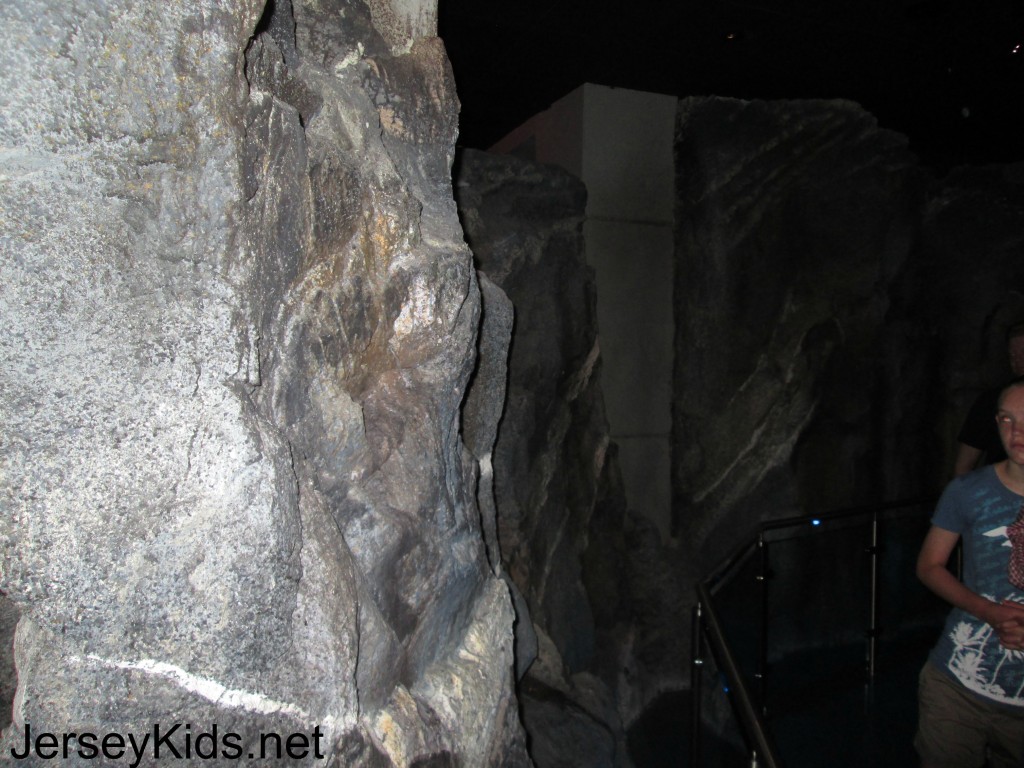 After the Voices room you to into the alleged bedrock area. They have digital lighting on the rocks explaining that this bedrock is 500 million years old. And it's fenced in, so it looks as if you're not supposed to touch it in fear of harming it. But if you knock on it, you'll realize that it's hollow and fake. Again with Disneyland! We made our way to the elevator area, where we had to wait a few more minutes to be ushered into the Sky Pod, otherwise known as an elevator. The staff was very polite.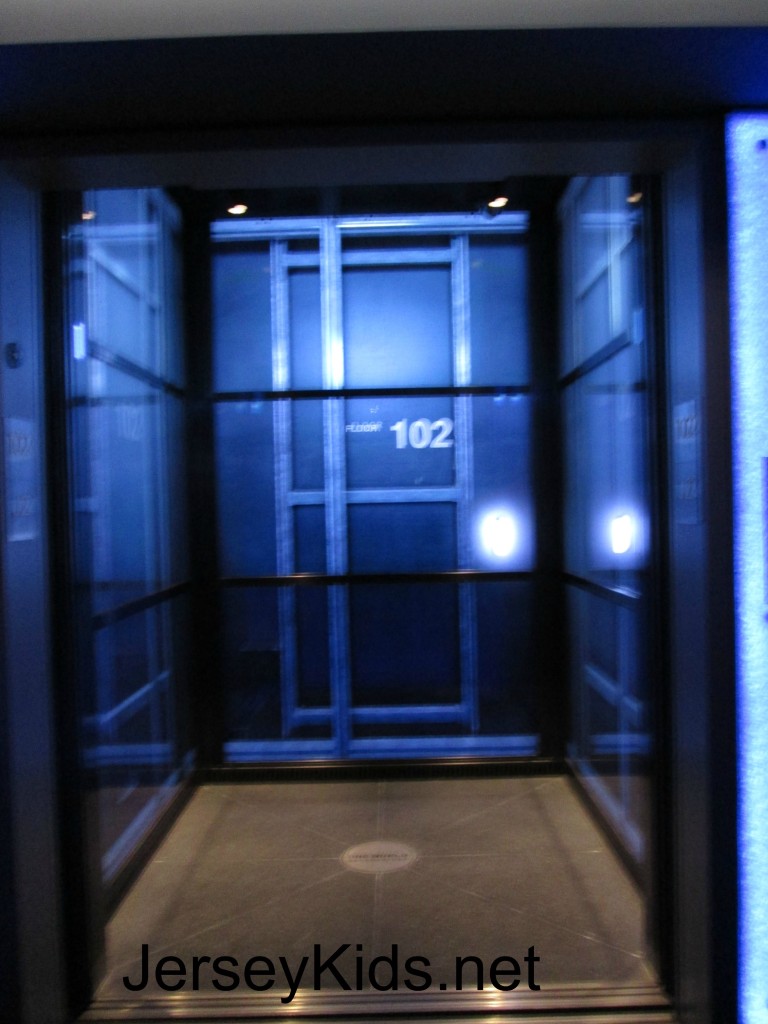 As we entered the elevator, they told us to face the back wall, which seemed like an unusual request. The elevators have a funky high tech video that plays when you go up, showing 515 years of Manhattan growth and development during the 47 second ride to the top. If you look on the right side, you can briefly see the the North Tower that later fell, as part of the history. It was a very well done video, that also showed how many floors you've climbed so far. The New York Times has a great article about the elevator ride, with video as well.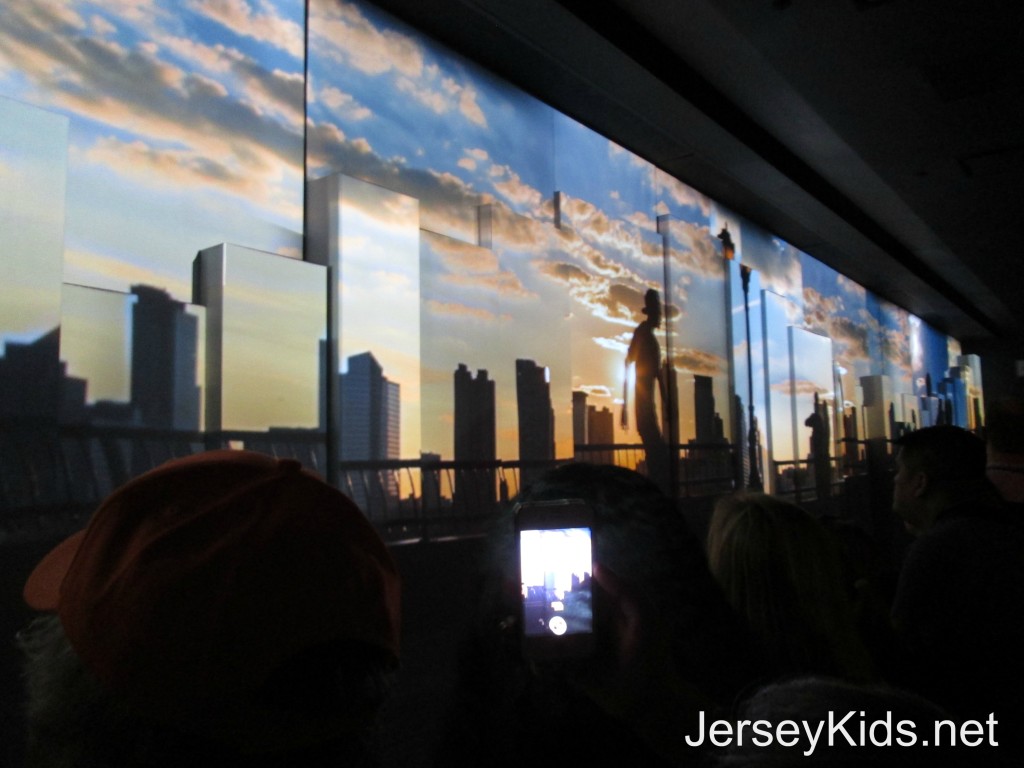 After getting off the elevator, we waited in another line with new age music playing. This was until we could enter the See Forever Theater, for a two minute video. As we filtered in, the two staff members had way too much energy, talking and being social with a group that was not into that! I appreciated the employees' energy though, and it was nice to see some friendly New Yorkers. As for the See Forever film, they had a funky screen with different shapes, and the video basically showed different scenes from New York City, like Chinatown, the Brooklyn Bridge, the subway, etc. The unfortunate part was that we were standing so close to it (a few feet away) that it was difficult to take it in visually. Also, the screen had odd geometric shapes which also made it difficult to view from close up.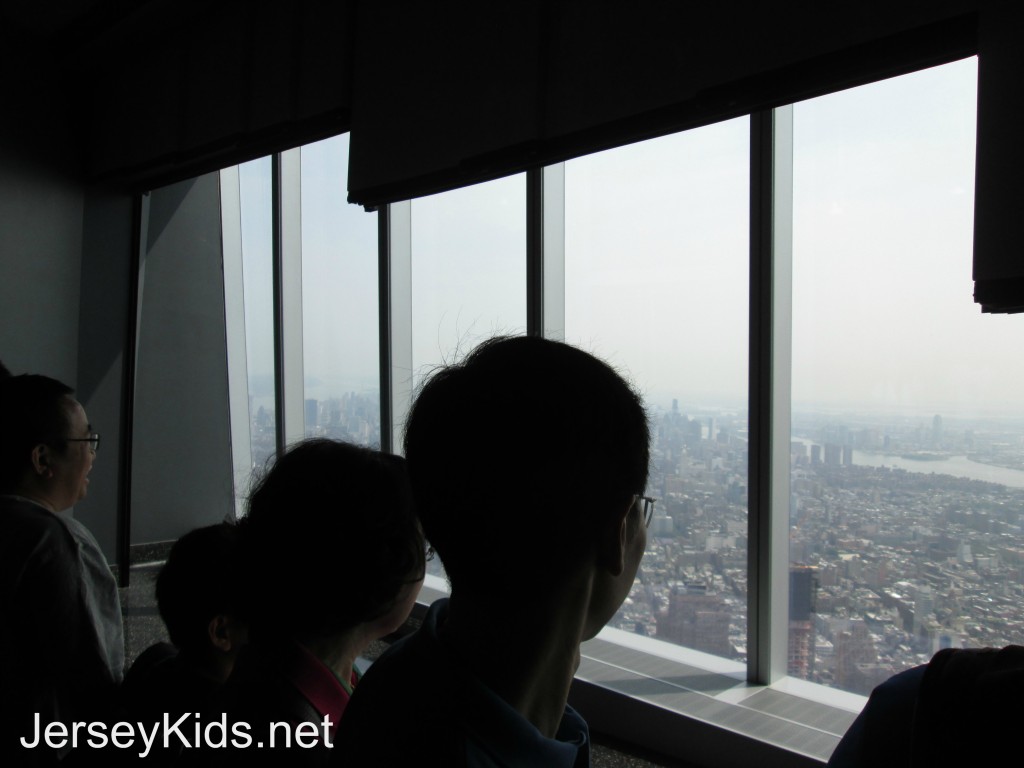 After the movie finished the screen was raised and we got our first view from the 102nd floor. It was a quick view, as more people were exiting the elevators and had to go through this as well. After we looked, the screen dropped and the room was super dark, as we made our way toward the light that was the open door at the opposite side of the room. Of course I was at the back and one of the last ones through. While I liked the screen effect of it rising, they really don't need the video and extra waiting time. I didn't think the video added anything to the experience.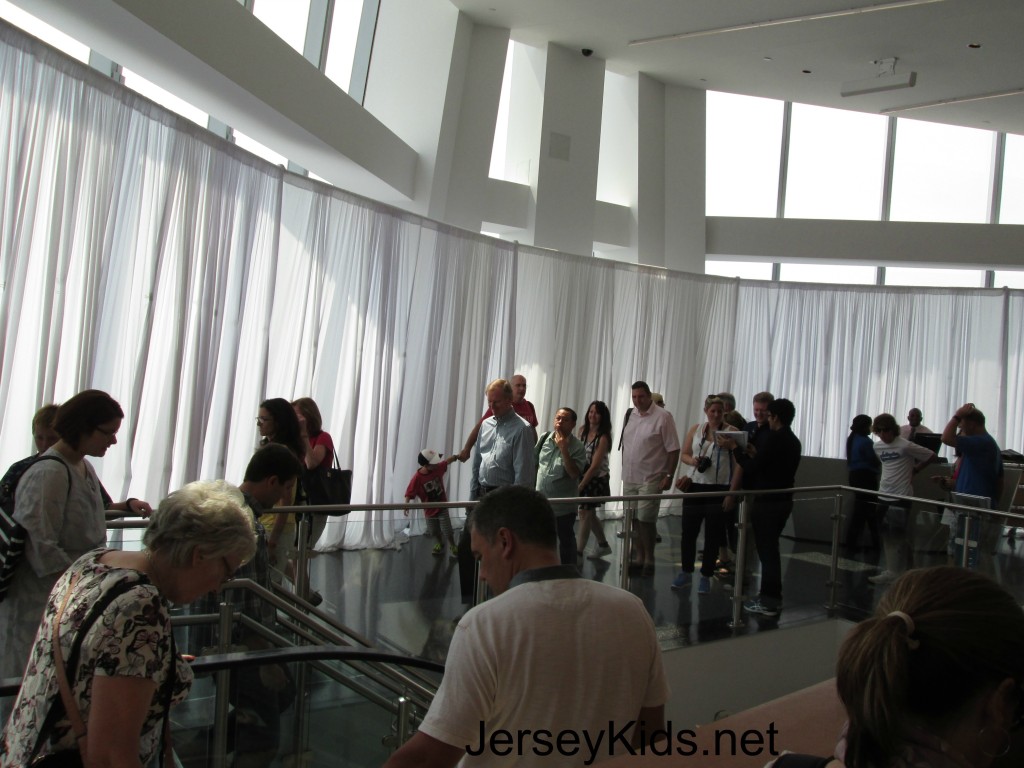 Now that we've had a glimpse, we're primed to see the rest of the observatory. NOT SO FAST! We exit the theater into a room with the curtains drawn. Huh? Then I got it. They're renting the iPads here and they make you a captive group having to walk by the rentals and various people offering you the chance to pay $15 for it. And the curtains are closed so you don't get distracted and look at the view you just paid $32+ to see. You're on the 102nd floor and you now can't look out.
As for the iPads, plenty of people were renting them (I did not). They have technology allowing you to point the iPad toward the skyline and different buildings will be identified. You can hear novelist Jay McInenery tell stories about these buildings, and with no one wearing earphones, anyone standing by them can hear it too because the volume is so loud.
By the way, if you need a restroom, this is the perfect time to go, as there's one you'll pass by on the right before the iPad sales area.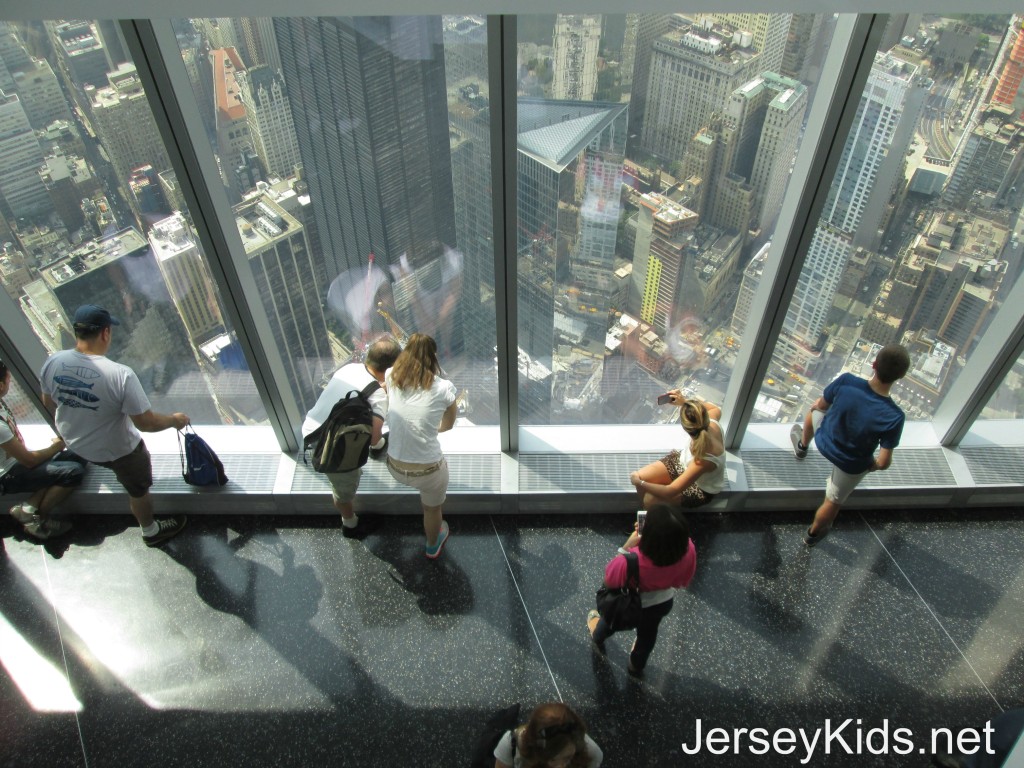 You descend the staircase (I'm sure there's an elevator to use as well if you can't do stairs) and then get the choice of going right or left. I took the path most traveled and went left, which is to see the view down – a view like the one in the picture above. If you go right, you get upsold AGAIN! They have a huge photo area where they can fit several groups at once. It's a green screen, and they have a number of backdrops like the ones you can see below.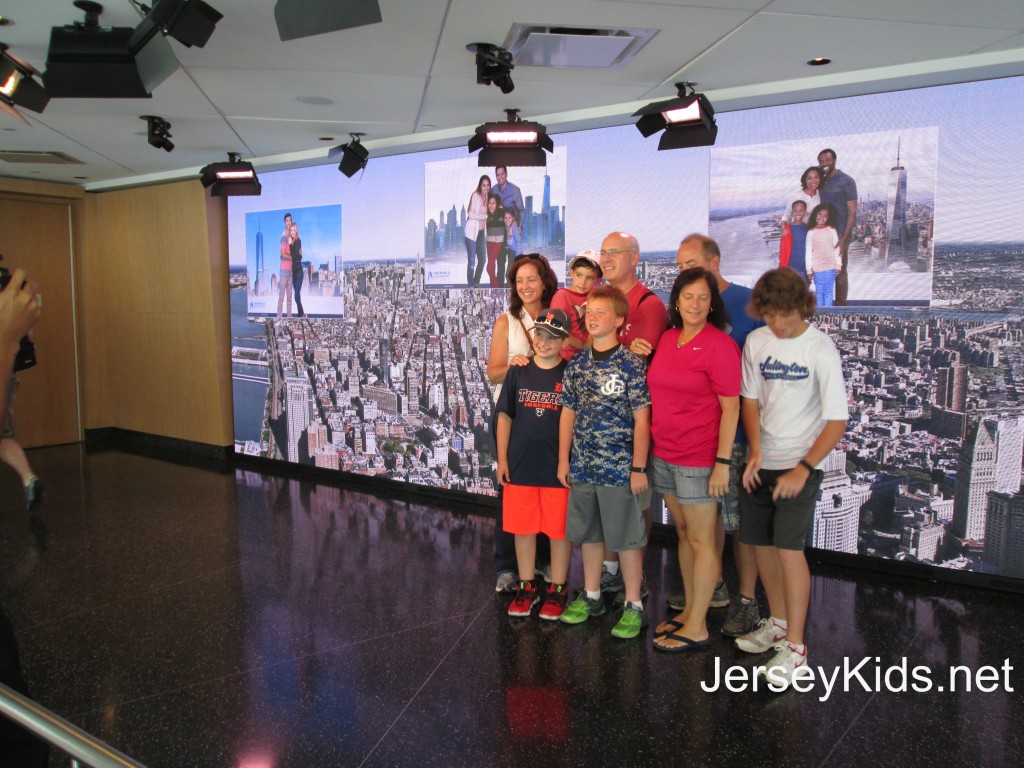 Photo packages, which you can order ahead of time or on the spot, start at $19.99. Ironically you don't get your picture in front of the actual view/window, but on a smoggy day like the one I went on, maybe that's a good thing. The photos are available after you exit the elevators at the basement level.
One interesting thing at the observatory was the City Pulse, a ring of high definition monitors that the "global ambassador" could move and select using gesture recognition technology. The two guides (there was one at the north and one at the south) spoke in an animated way, and gave a lot of interesting information about the city. They had distinct show times and it's a small enough floor that you can walk over there when it starts, to listen.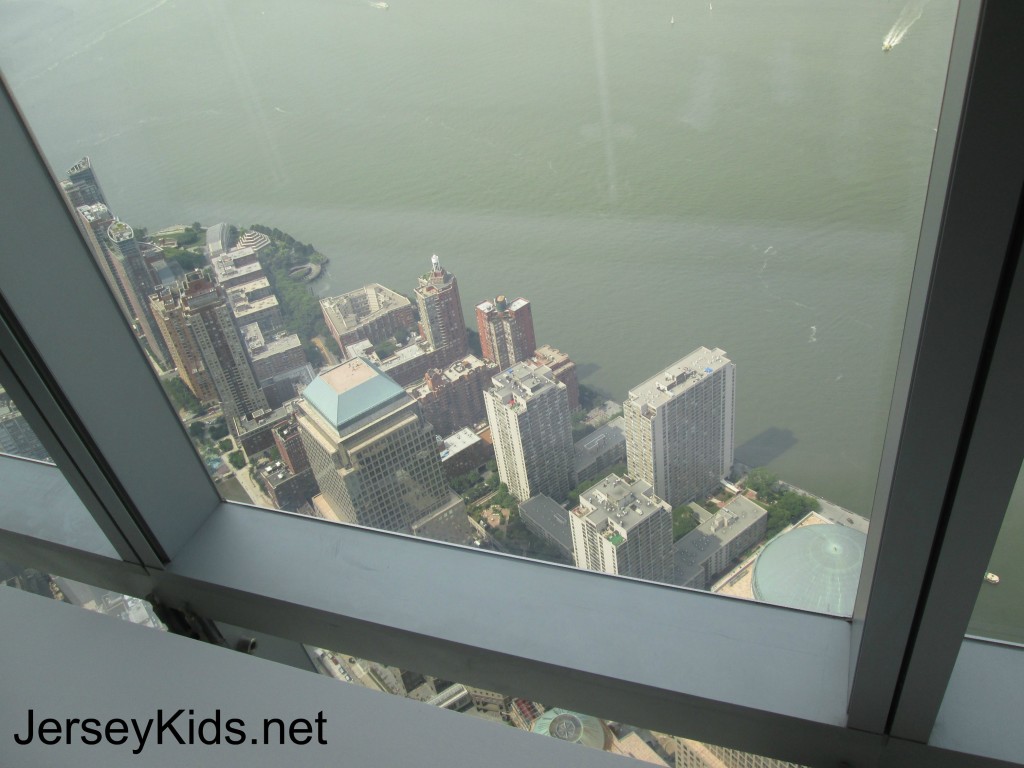 On the main observatory level, you'll find a One World Observatory souvenir shop with the usual t-shirts, postcards, golf tees and wine glasses. Really, does anyone buy wine glasses that are etched with One World Observatory? Does anyone buy the OWO logo necklaces with fake diamonds? Does anyone buy silk scarves with the logo? Coffee travel mugs? The $76 men's necklace with Swarovski crystal on it?  The $65 hoodie? The ugly $80 tapestry blanket?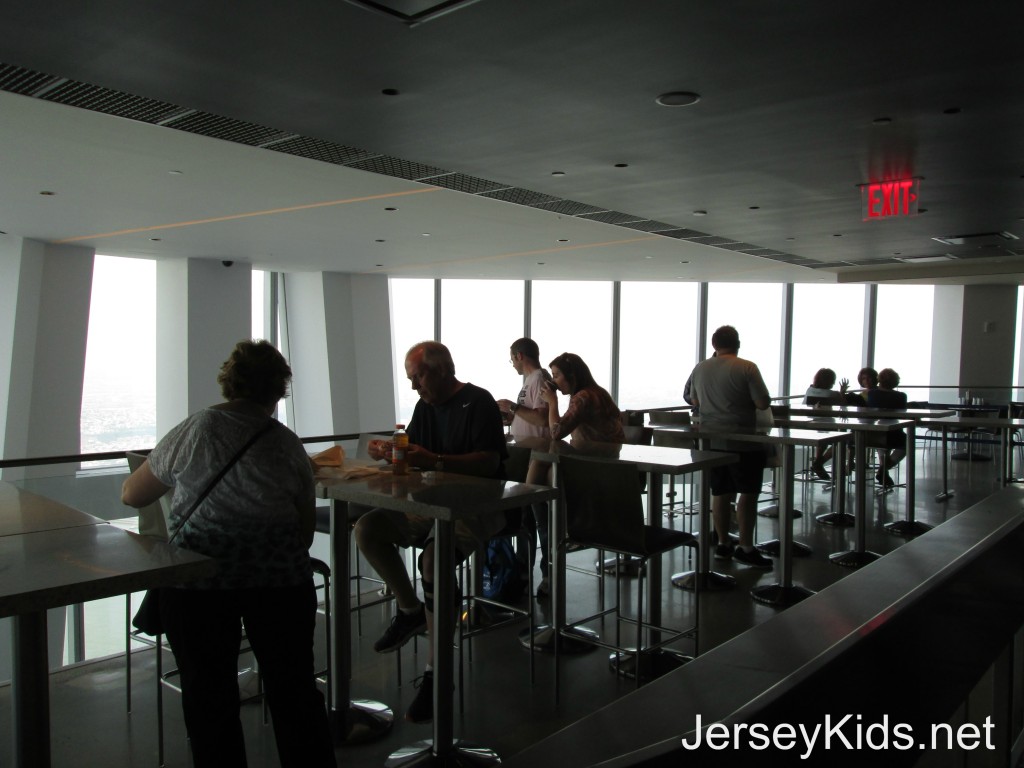 But I'm getting ahead of myself. Before you go down to the main observatory on the 100th floor, you'll pass by the three restaurants on the 101st floor (101 consists of photos, restaurants, and a view onto the 100th floor). The cafe is first, selling $9-12 salads, $5 juices, $4 yogurts, $6 hot dogs, $5 bagels (without cream cheese), muffins, pretzels, drinks and other items. You can get sandwiches further in for $12-14. They have a small plates restaurant and a full service upscale restaurant, the latter two selling alcohol as well. Total seating for the three restaurants is apparently less than 200. As you can see from the photo above, the seats have a view. The photo above is the cafe. You can't eat at any of the restaurants without buying observatory tickets. That said, if I were to come up here again, I'd go at sunset and get a drink. I'd love to see the view at night, and the sunset would be gorgeous. But if you're planning on a special dinner, know that you'll have a $32 observatory charge per person, before you even order food or drinks. I'm not sure if you'll have to wait in the same lines. Corporate types can rent out space on the 102nd floor for parties. Presumably it's not where the iPad sales area is.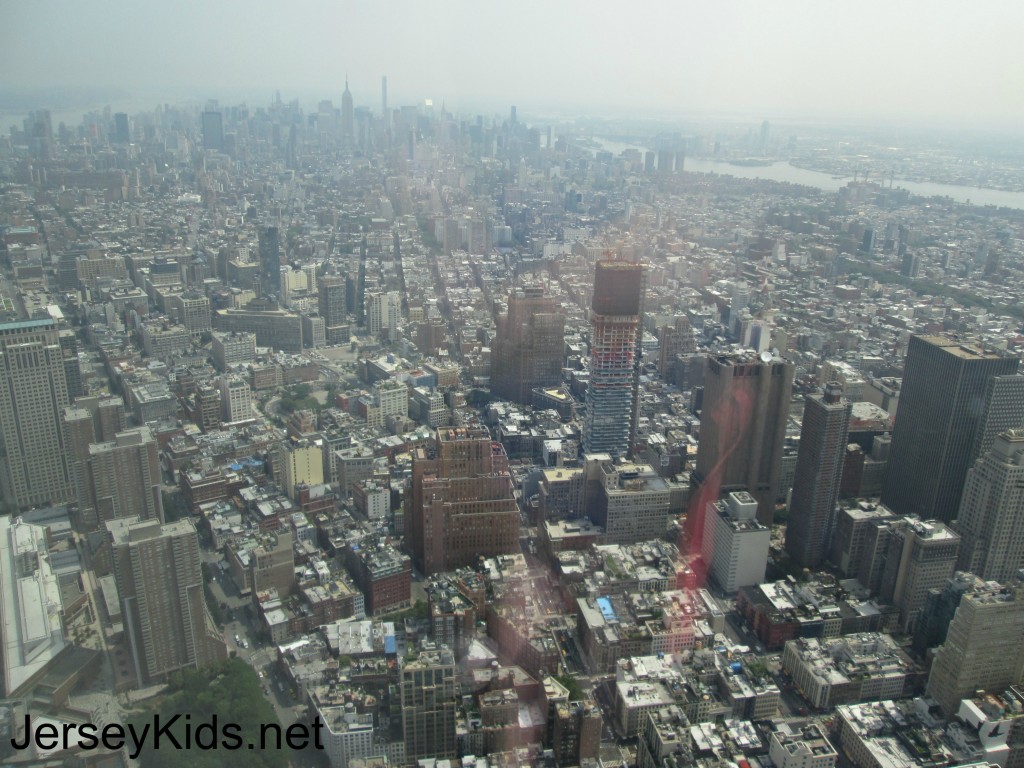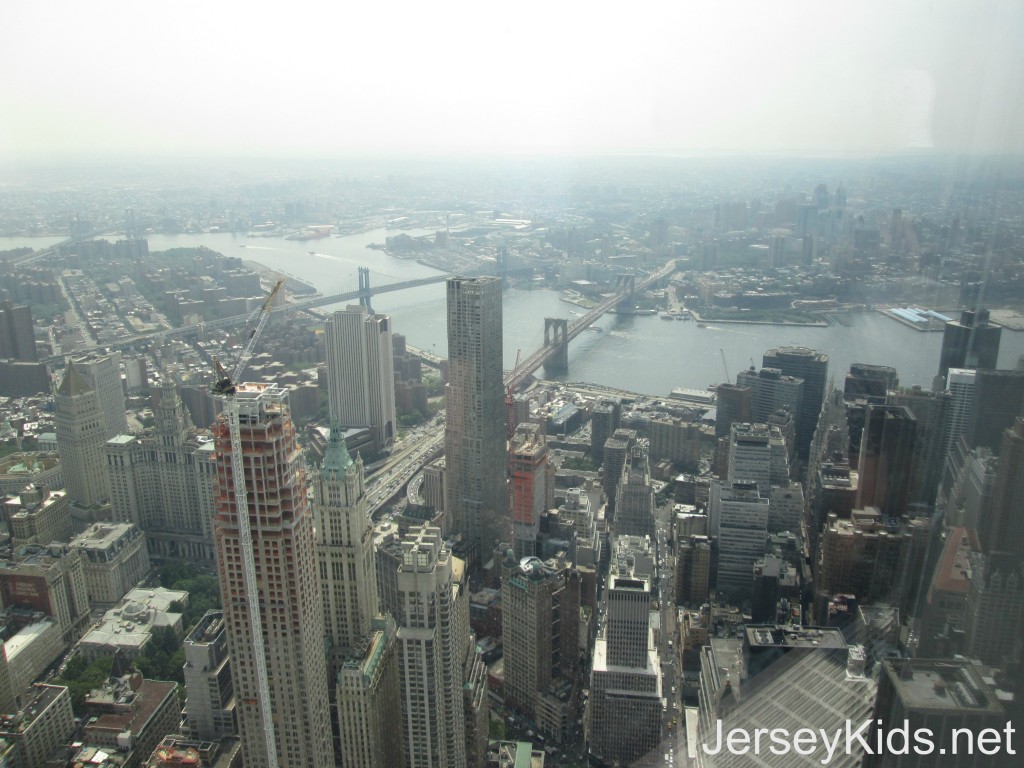 You can walk around the entire floor, 360 degree views. The views of New Jersey, both the Liberty Park area and the Jersey City waterfront buildings, were fabulous. Unfortunately the observatory had NO signs pointing out anything other than the direction (there were N, S, E and W markers on the floor in each corner). I guess they're counting on iPad rentals to give guests that information. For those of us who didn't rent an iPad, some kind of signage would have been nice.
Below you can see the Sky Portal, which didn't impress anyone there. They have high definition cameras pointed down on buildings below and show these videos in real time. The portal is 14 feet wide in a circle, and you can walk on the glass. The perspective is off and I think the view is much better from the windows.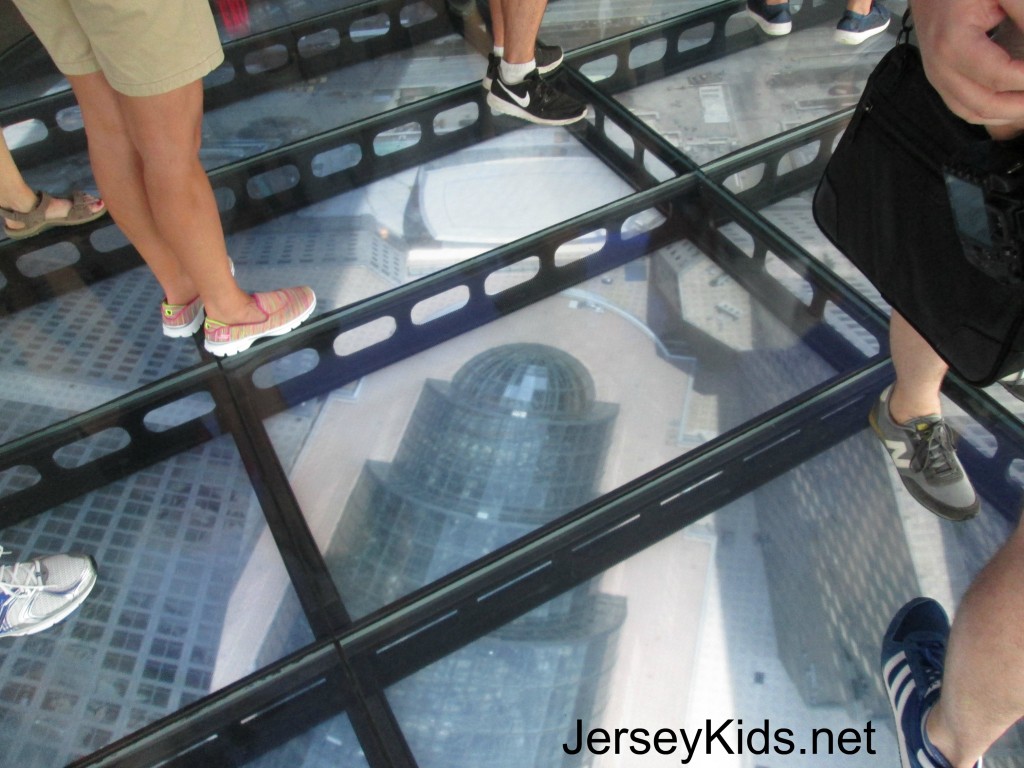 The elevator ride back down was also good. It's like you're in a helicopter zooming around the area, and then reentering back into the elevator. You can see my video of the ride down the One World Observatory elevator here.
If you go:
With kids: You can bring a stroller, but need to fold it up in the elevator, er Sky Pod.
How long will you be there? One World Observatory estimates you'll spend 45 to 60 minutes at the observatory. That was my personal experience as well, and I timed it from when I got in line after security to when I exited the elevator at the bottom. That hour time frame may be longer if you rent an iPad, and/or if you eat in the restaurants. Also you need to plan extra time for lines. While it was not as busy when I went, I expect it will be busier on weekends and as time goes on and more people know about it. You can tell that they're expecting longer lines based on the line markers. When I left the building the line had grown appreciably longer.
Tickets: One World Observatory has a long list of ticket options. Tickets start at $32/adult, $30/senior, $26/kids ages 6-12, and free under age 6. Tickets go up to $90 depending on how much priority access and flexibility you want. Tickets are timed in 15 minute increments. Free entrance is given to 9/11 family members and recovery/rescue workers, though you have to get those tickets through the 9/11 Tribute Center. Request the tickets at least one week in advance.
Tickets are not refundable and they don't give rain checks. So if the weather is bad on the day of your tickets, oh well for you. If you miss your time slot, they'll work you into the schedule based on capacity. You might be waiting awhile. They suggest you show up 15 minutes before your time slot. To minimize lines, definitely get timed tickets and avoid weekends, which will be busier.
Discount Codes for One World Observatory Tickets: They offer group rates for 20 or more, but they don't have that pricing on the website. If you're a MasterCard holder, you have a couple options for discount or priority access tickets (disclosure: I write for MasterCard but I'm not being paid for this post or link). MasterCard Mondays gives you a 20% discount if you buy your ticket online for a Monday. The priority access deal gives you an upgrade from the regular line to the priority access line (which is shorter) when you buy your ticket at the box office with certain MasterCard products. I'll post more One World Observatory ticket info here when I get it.
Disclosure: I was a guest of One World Observatory for review purposes. All opinions are my own.