We went to Hurricane Harbor last year for the first time (our Hurricane Harbor review and primer here). We went back again yesterday and had a great time, noticing and doing different things than we did before. Here are 16 things I bet you didn't know about Hurricane Harbor.
1. Going on a weekday (especially one when rain is expected and it's cloudy and in the 70s) makes a HUGE difference in line compared to the weekends. Fortunately it didn't rain on us and we only got cold once (took a break then went back out) and had a relaxing day without many lines. We waited at most 20 minutes (for the Tornado – video below) and most lines were less than 10 minutes.
2. You will get a lot of exercise. See how high those rides are? You have to climb stairs. Climbing to the top of Jurahnimo Falls is 125 steps. We got our cardio in for the day, especially since lines didn't snake down the stairs – generally you climbed almost to the top at one go, each time.
3. Jurahnimo Falls is scariest before you go on. Jurahnimo is the one in the middle. No raft, just you. It's a 76 foot drop down (your body doesn't lift off the slide, though it looks like it should) and it only takes about 3 seconds. When you stand close to the slide at the top, you cannot see the ride down, only the stopping point. I admit that this was the ride that scared me, and my heart was pounding hard even though I had time to recover from the 125 steps up, which was taxing aerobically. When you get about 2/3 of the way down, you'll hit some bigger water and it will go up your nose (no nose plugging – you're hands are behind your head in the lying down position). As you continue, the water pressure is much harder, and may feel like it's going up other parts of the female anatomy. And at the bottom, you may ricochet as your body is in the flat zone, slowing down. I went on twice, so it obviously couldn't be that bad. My kids wouldn't do it again though.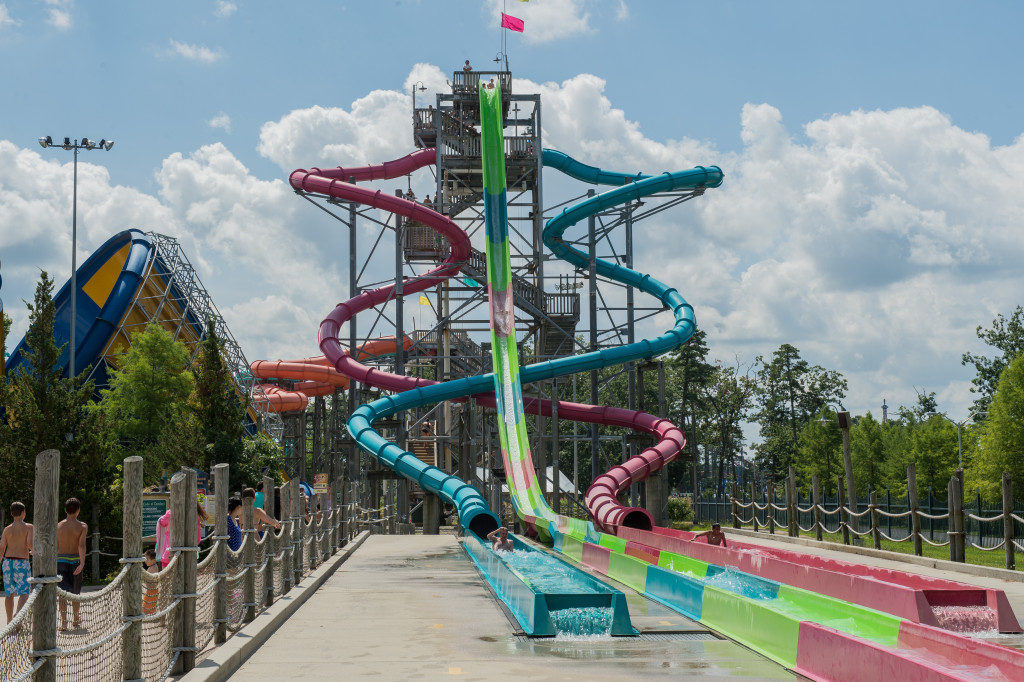 3. Cannonball Falls and Wahini Falls, on either side of Jurahnimo Falls, may look less scary by comparison, but don't be fooled. For all three rides, they may ask you to remove your swim shirt and just wear your bathing suit, as high water pressure might push your shirt up and choke you (that's what they said!). My daughter thought that this ride was the worst thing that happened ot her in her 14 years (#firstworldproblems). It's super long and curvy (about 357 feet) and you gain speed as you go down (up to 40 mpg); she felt like it would never end and she felt like she couldn't breathe. She was very happy to exit!
4, The King Cobra now has double rafts as an option. Yesterday was the first day for this option. We tried it. Not only is it fun with two, it makes the line go faster.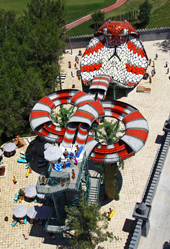 5. The Lazy River takes about 20 minutes to do the full loop. Our favorite parts: the spewing water from the rock faces (example below). If you look closely you'll see some tiki faces, and water coming out of the eyes and mouths. We love the water propulsion near the King Cobra, that really pushes you along quickly. And we enjoy seeing all the pretty flowers and landscaping, along with tiki sculptures.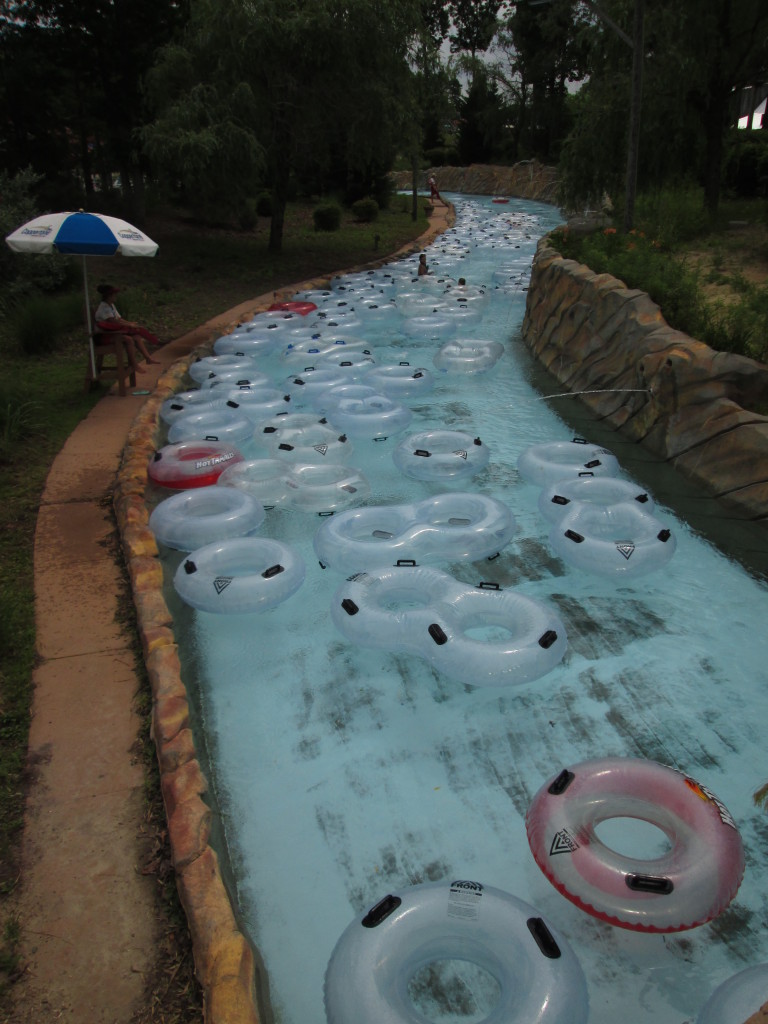 6. You'll see signs around Hurricane Harbor that they do lifeguard training daily. And it turns out they're right! While in the lazy river we saw a guy swimming with what looked like a baby, who then got rescued by a lifeguard. Turns out it was a creepy looking baby doll.
[ad name="Google Adsense"]
7. The lifeguards do a weird nodding thing. When you're in the lazy river or the Blue Lagoon (giant wave pool), take a close look at the lifeguards. They all look like robots, with whistles in their mouths, doing giant nods and sweeping movements with their heads. At first we thought they were nodding to the music, but we soon realized they weren't. They're doing a regimented water scanning routine, presumably to make sure they're looking close up as well as further out, then left to right continuously, so they don't miss anything.
8. If the lifeguard/ride attendant gives you the same instructions even though you've been on the ride 10 times in a row and they know this, just bear with them. They have to do this or they get in trouble. Everyone needs to hear the rules every time.
9. Look around for groundhogs. While I'm sure they're a huge pain for the grounds staff, they're really cute. One of the groundhogs was eating near the lazy river, and we stopped to watch for a few minutes. It was only five feet away, and ate while looking at us, so I guess they're used to the people (we saw one pop up last year near Kingda Ka at Great Adventure as well). It then went into the flowers and disappeared.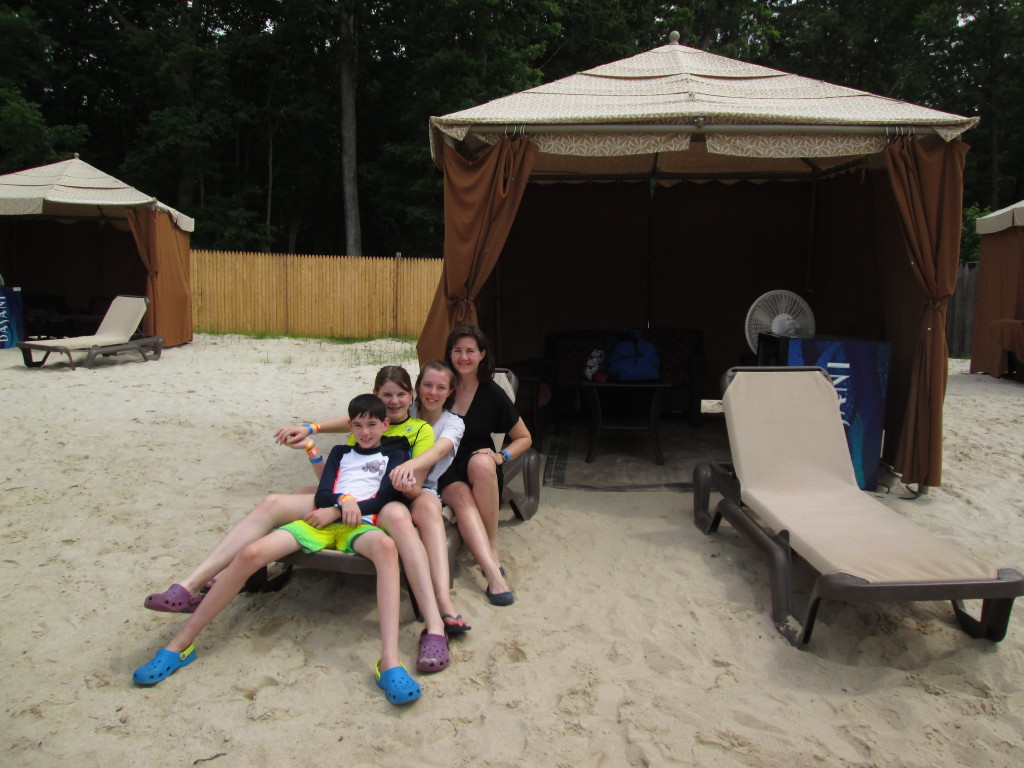 10. The cabanas are AWESOME. I'm not usually a cabana type of gal, especially since they're pricey on top of what can be an expensive day. I'd rather spend my entire day on the rides. But we got use of one of the deluxe (brown) cabanas and I've been converted. They offer different cabana deals ($150/$200) for four people (you can add on two people for an additional fee). This includes the cabana, food which might be delivered to your cabana, inside and outside lounge chairs, a refrigerator and fan, water bottles or free refill soda bottles, and tube rentals. The cabana staff members came by periodically to offer to refill our soda and ask if we needed or wanted anything. While there's a refrigerator, the only things you can cool are things you purchased at the park, since you can't bring in food or drinks. While these were roped off, we still rented a locker for our phones/wallets. The closest lockers are near the restrooms, which is a few minute walk away.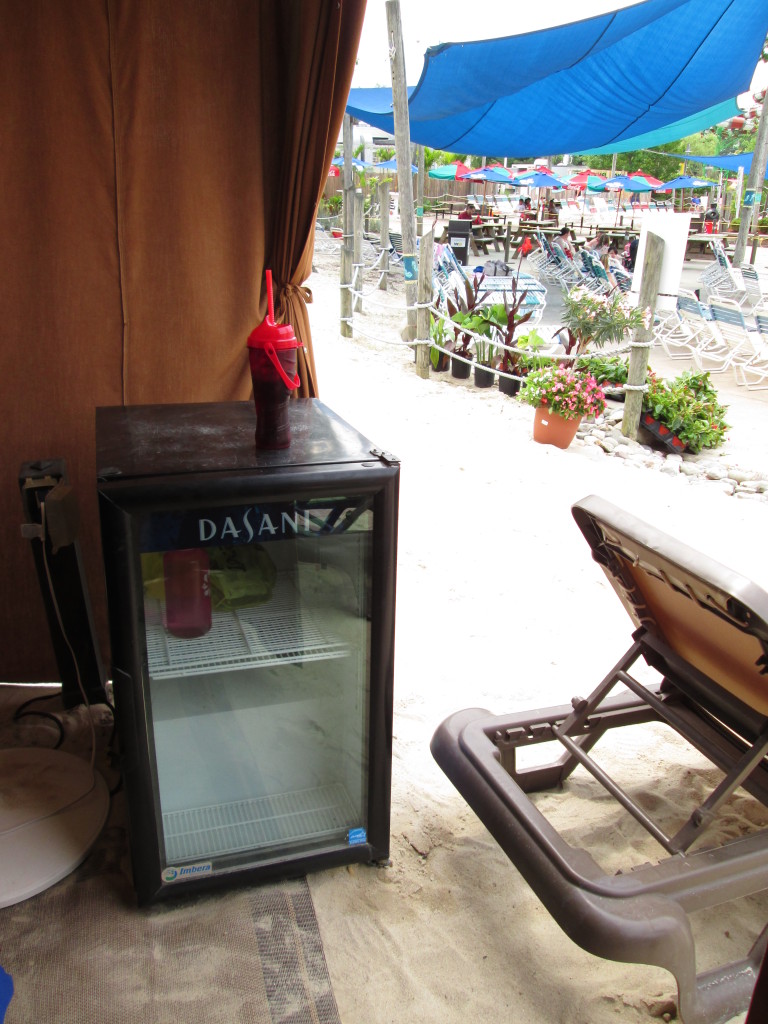 They also offer yellow cabanas, with less comfortable seating and less enclosure. Those of course are less expensive as well. If you want to make sure you have a lounge chair, you can pay for 2 VIP lounge chairs, which includes an umbrella, table and 2 waters. I had a hard time finding more detailed information on the website (like prices). I initially had a hard time finding the option on the Hurricane Harbor menu/home page for cabanas (I was able to google and find the page, but I later found it under "Plan your Visit" and then "Park Services"). When clicking on VIP chair rental, it brought me to the cabana rental's gold and platinum packages, but no chairs. Also I couldn't find information online about the yellow cabana rentals. The cabana boy told me that they have weekday specials for the brown cabanas – again not on the website and I'm not sure if the $150/200 prices are less on weekdays. That said, they were super relaxing.
11. The rushing water may damage your manicure/pedicure. I now have to redo my nails!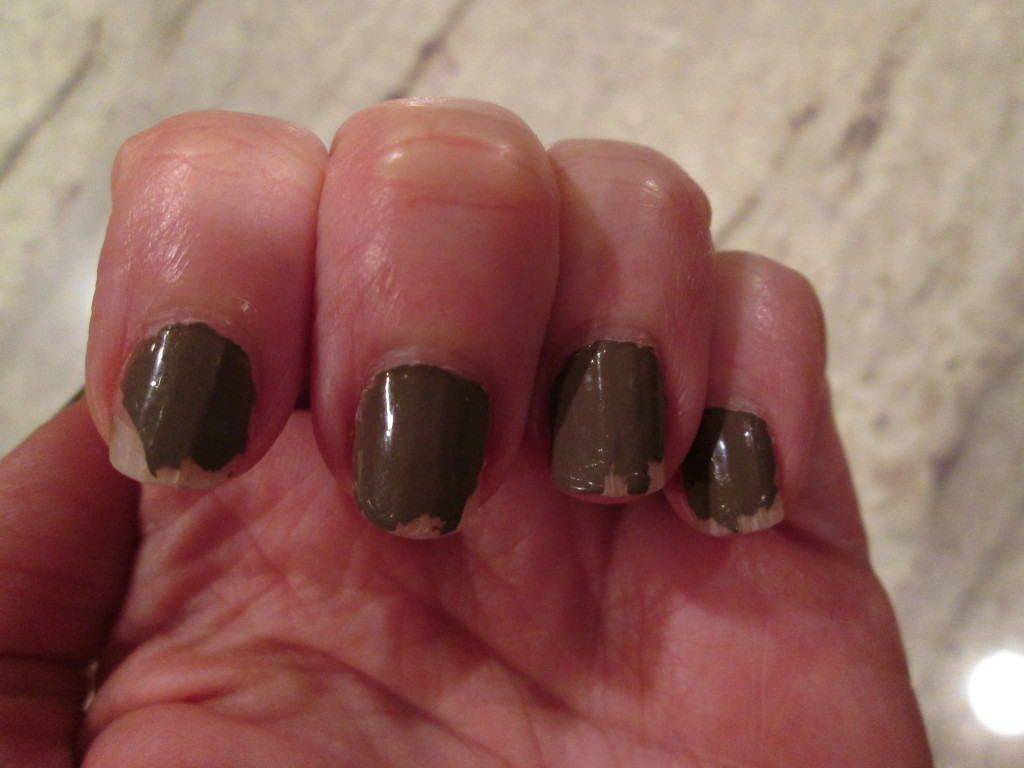 My daughter lost the polish on six of her toe nails.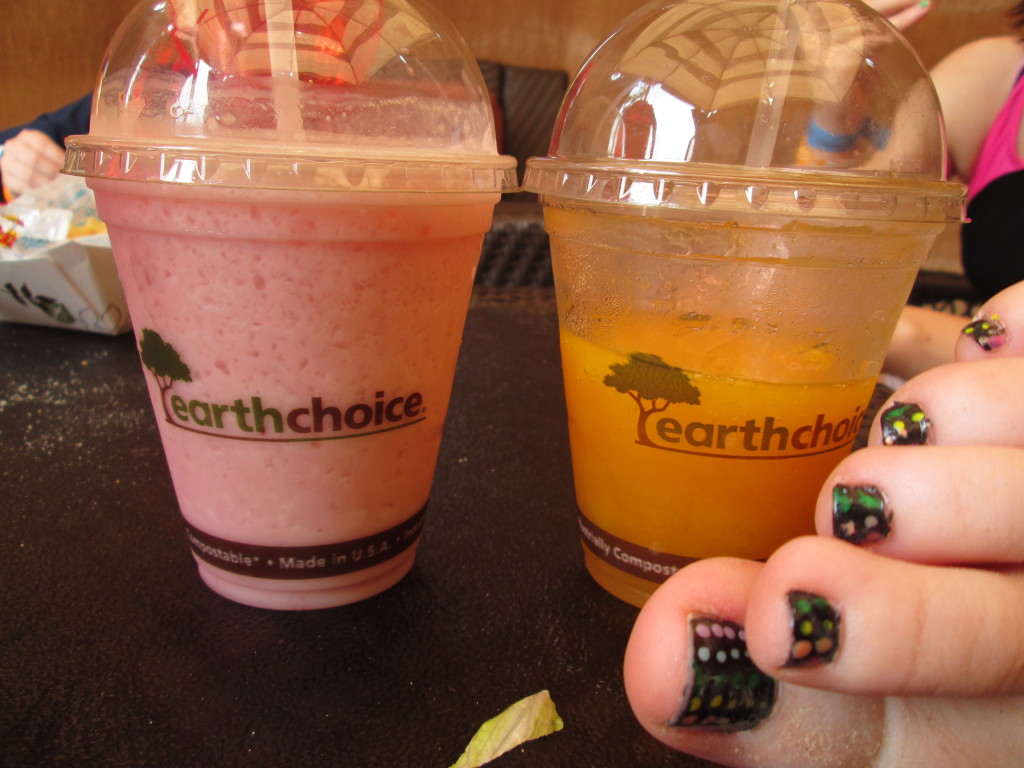 For the record, the strawberry/banana and mango "smoothies" were refreshing, very sweet and icy, but they should have been called "frozen icy drinks" as they do not appear to have any actual fruit in them.
12. There's a new grill, the Cabana Cove Bar and Grill by the Blue Lagoon. And they serve wine and beer! That said, I cannot imagine having a wine or beer and going on these rides. I'd be ill! But if sitting in the cabana relaxing after a day of rides…I could be convinced. Of course by the time you're ready to do that, the grill might be closed (we tried to get soda refills at 5:45, with a 6:30 closing time and the grill was closed, though some of the other food service windows elsewhere were open). On the menu: tri-tip steak sandwich, grilled jerk chicken Ceasar salad (our chicken was warm!), footlong hot dogs, grilled chicken sandwiches, and sides like chips, fruit cup, apple, brownie, cookie…and beer/wine.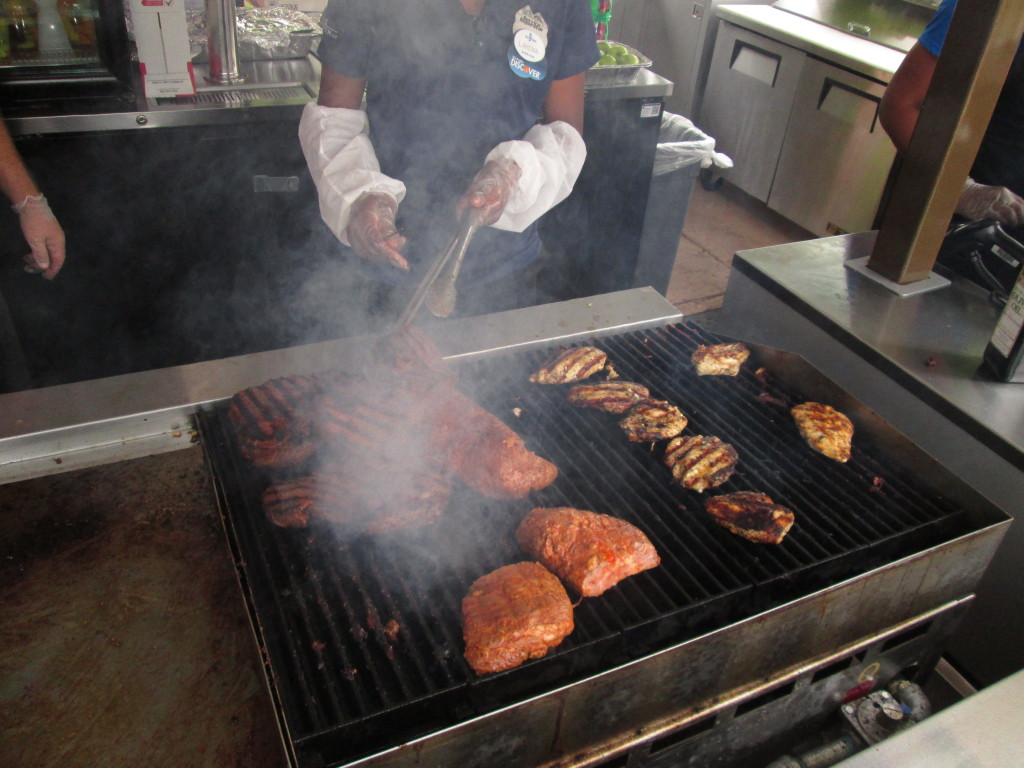 13. Your ladies' bathing suit may be up your butt crack after every ride. It was a little ridiculous how many times I had to pull my bathing suit out of my tushie when getting off the tube of each ride!
14. The photographers at Hurricane Harbor are relentless. "Smile! Give a thumbs up! Raise your hands in the air! Group hug!" Then they give you a wristband and five feet later someone else tries to get you to do the same thing. You could easily end up with an armful of wristbands.
15. If you miss exit 7A on the Turnpike, you will drive 6.2 miles up and 6.2 miles back to get off at the next exit to turn around. I should have put this on the list first. Sometimes I hate my GPS system.
16. The highlight of your day (or at least mine) will be your kids' joy at the fun they're having and their appreciation for you taking them there. And my daughter saying "I want to ride with you, Mom. You're fun." And your son saying that no, HE wanted to ride with you. And at the end of the day, your daughter saying "You're actually a really cool mom. I can't give that to you in writing and I don't want you to use that against me."
If you want details about how to plan for a day at Hurricane Harbor, read our Hurricane Harbor review here.
Thank you to Hurricane Harbor, who hosted us. All opinions are my own.