A Gentleman's Guide to Love and Murder won the 2014 Tony award for best musical. So I had super high hopes. Overall I really enjoyed the show. The downside was that I only understood 75% of it, and I wasn't alone.  My two theater companions also had difficulty understanding either the accents and the lyrics to many of the songs. We did get the gist of it, though.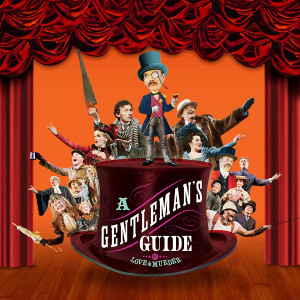 The plot
Monty Navarro is mourning the loss of his mother when a stranger tells him that his mother was a D'Ysquith (pronounced dies-quith), a well-known upper class family. If true (it is), that makes him ninth in line to become the earl of Highhurst, with all the money and prestige associated with that. While Monty doesn't start out to off the other heirs, that's exactly what happens, and this my friends, adds up to humor in the play. The drama comes from not knowing it he'll succeed, and also whether he'll get away with it (early and at the end we see Monty in prison).
Monty manages to worm his way into a stockbroker job with the D'Ysquith family, by endearing himself to Lord Asquith D'Ysquith, Sr. (try pronouncing that quickly). The murders happen quickly and humorously throughout the first act (I won't divulge any more than that).
Of course there's a love story – actually a love triangle. Monty loves Sibella Hallward, a vacuous but beautiful blonde bombshell who loves Monty but not his poverty. She ends up marrying another man who is wealthy but boring. While their affair continues despite her marital status, it's unbelievable to me that anyone can love her since all she seems to love is herself. And she's stupid. That didn't work for me. The other part of the love triangle is Phoebe D'Ysquith, the sister of an heir who dies in an unfortunate bee accident. One of the best scenes in the musical was Monty going back and forth between rooms holding these two women and trying to keep them from discovering each other. I was exhausted just watching it.
[ad name="Google Adsense"]
Yes, it's a musical. The songs were enjoyable – I don't remember any of them a month later, unfortunately. Rereading the titles in the program does bring back a hint of recognition to a few of them, like "Why are all the D'Ysquiths Dying." The ones sang by the lovely Phoebe were difficult to understand as she has an operatic voice. We would have enjoyed an operatic superscript on stage.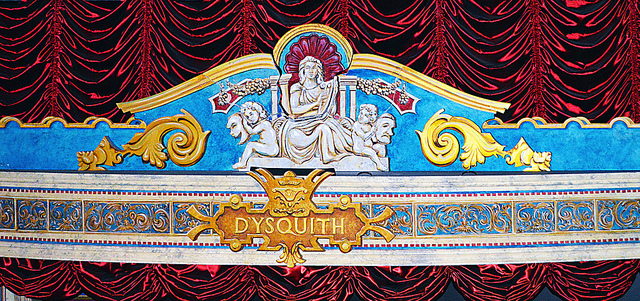 Staging
The staging of this show was delightful. The stage contains its own stage upon which most of the action takes place, with a bit more in front and on the sides at various times. The stage-within-a-stage has a delightful few tricks (Monty climbs it at one point). The deaths show creative staging as well, especially the priest's fall from the top of the church, and the ice skating scene.
The one actor I must call out is Jefferson Mays, who played eight different characters, in fact all of the D'Ysquith heirs before Monty. Think about that! He even plays two women.  He was nominated for the Tony in 2014 for Best Leading Actor in a Musical. He was hilarious and the roles are all quite different.
Is A Gentleman's Guide to Love and Murder appropriate for kids?
Overall I think it is, depending on the child's age and maturity. Small children would not appreciate the show. Older kids would get the humor more but may have difficulty understanding the songs (just like the adults!). As mentioned, there are some adult themes like adultery – and murder. However there's no sexual explicitness in the show (at most a kiss). And the murders are not violent – they're rather clever and odd. At the least, the show is entertaining in its death scenes and they'll love Jefferson Mays' roles.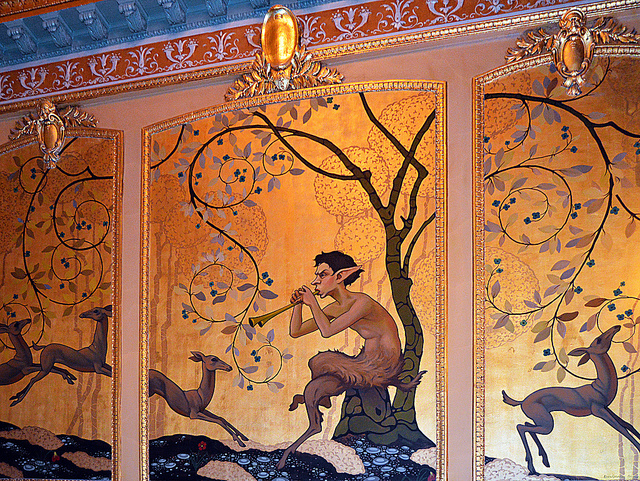 Theater: I have to comment on how tiny (but lovely) the Walter Kerr Theater is! We had front row, middle mezzanine seats, which was really nice (though with a slight obstruction of a bar). If you go for mezzanine, perhaps try second row or higher. You can't lean forward to avoid the bar or you'll block the seats behind you. The mezzanine sides were pretty empty, which said something since the theater was so small.
One advantage is that the women's restroom not only had a bunch of stalls, but at intermission they actually had an usher in there directing traffic (go right, go left) which was helpful.
Tickets: The show has been out long enough that there are discount seats available (last year I had a hard time finding them). Our Broadway page has an explanation of how to get discounted Broadway tickets.