Hand to God was one f-ed up bizarre play. Yet it was hilarious. This is not a show for children (please, please don't bring your kids, not even your teens). In fact, I'd say this is not a show for many adults. It's truly disturbing, and I say that even though I enjoyed it.
In a nutshell, this is a show about mother and son grieving the loss of their husband and dad, trying to get through the process partly by working on a church hand puppet show ("Christketeers"). While doing so, the teen son's puppet (or is it the teen?) becomes possessed by the devil (or not). And the mom isn't doing so well either. And herein lies the tension…and the jokes.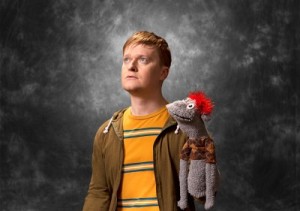 The cast of five includes Steven Boyer who plays the grieving teen Jason, and his puppet Tyrone. There were no puppeteering gigs listed in Boyer's bio. You would never know he wasn't born doing this. Not only do you forget at many points that there's only one person playing both roles (even though his mouth moves when the puppet talks), that puppet moved/acted so well that when the puppet came off, I fully expected it to get up and start moving and talking some more.
If you saw Avenue Q, you might have an idea what a puppet sex scene looks like. Trust me, that was child's play. Sarah Stiles, who plays teen Jessica (and her sexy puppet) does have Avenue Q experience, but her puppeteering role was much more limited here (albeit what role she had was expertly done).
I don't want to give anything away, but I'll say in spite of the deep, deep darkness of this show, it was countered by a ton of humor – each character had the lines and the ability to make us laugh in all the right places. The show was also truly disturbing, and I feared I would have nightmares after. Fortunately I had no nightmares last night, but I did wake up still thinking about the show.
————————————————
[ad name="Google Adsense"]
————————————————
Admittedly it was odd to have adults playing teen roles (3 of the 5 roles are teens) and it took awhile to figure out what age they were supposed to be, because it was so clear they weren't teens. The set design was well done, using two lazy Susans to make a number of different scenes.
By the end, I was actually said "I hope this is the end." I couldn't take more of the gore, the craziness and the heaviness. There was one last monologue, which I'd really like to hear again (or read) because there was a lot packed into it that I missed. If you're offended by religious themes and questioning, don't see this show. I believe there were a lot of atheists in the audience!
The play was written by Robert Askins, who won an Obie for it during an off-Broadway run last year. The writing was smart and funny.
Why is the show not for kids?
Let's start with the language. In the first 2 minutes alone, there were so many f-bombs going off, in addition to many other words, that no kid should be hearing that. There are sex scenes between adults (and puppets). They're violent. There's possession by the devil. There's blood and gore. There's some serious questioning of God. And there's other adult themes.
About seating: I was in the mezzanine, row D on the side. The seats were just fine. I didn't miss any of the action and could see well. The show was 2 hours, including intermission.
Have you seen it? What did you think about Hand to God?