Last minute! I have two family packs of tickets to give away to the red carpet scre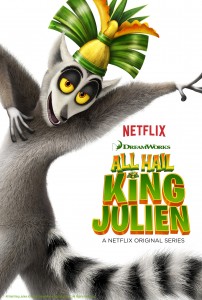 ening of All Hail King Julien, Netflix's newest original series. I need to pick two families tonight to give them to. If you're interested, leave me a comment below with the number of people in your family, and let me know how to contact you. If you don't want to leave your email address in the comment, you can email me at contest@friscokids.net, but please do put the comment down first.
At the screening, you'll see the first five episodes of All Hail King Julien. Madagascar's King Julien scored his own series! King Julien will take on the jungle's craziest adventures in the new comedy series, along with his loyal sidekicks Maurice and Mort plus a whole new cast of colorful animals.
Details about the screening (you need to be on the list to go, so don't show up unless I tell you to!)
When: Friday, December 19 from 7-9 p.m.
Where: SVA Theater – 333 W. 23rd Street