I really thought my family was going to leave me when they saw The Ride bus. I saw this "experience" advertised on Goldstar for a very low amount, and thought I should review it for my loyal readers. While I'd seen this bus in Manhattan, apparently no one else in my family had, which is probably a very good thing or they would not have agreed to go.  As a blogger and travel journalist, they've done a lot with me in the name of a review (including a fabulous ziplining experience at Mountain Creek, I reminded them). They gave me the benefit of the doubt, and boarded the bus, in spite of having to catch it by Chevy's on 42nd Street and 8th Avenue, yes the middle of the Tourist Zone, and a block from Times Square.
Let's start with a good question: What is The Ride? It's part New York City tour, part performance art, part improv comedy act and part technology entertainment. Huh? I'll be including some spoilers here, so if you don't want to know any more, you probably should stop reading. I'll explain as we go.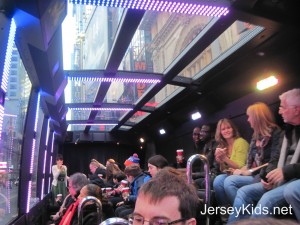 The bus is like the inside of a really tacky limo (without the booze),
and it has 40 small screens, 3,000 LED lights, and a powerful surround sound system. You're ushered onto the bus like you're being taken to theater seats. You are seated with your group, and there are two hosts for the experience – one male, one female. You can see Julie, all dolled up in a holiday dress at the far left of the photo above. They banter and give you New York facts, while introducing trivia and making you laugh. Our male guide is below.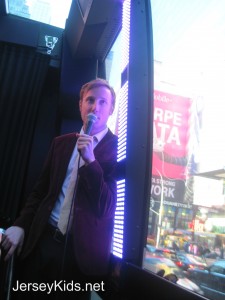 As you sit in the bus facing the road and the sidewalk, the people outside can totally see inside, and you can see out as well (duh!). I prayed I would not see anyone I knew as I sat there. I felt a bit like an animal in the cage, and being in the front row didn't help that feeling much!
————————————————
[ad name="Google Adsense"]
————————————————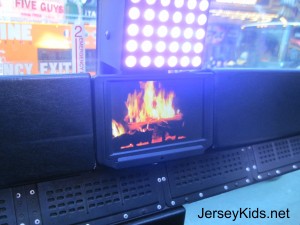 As we drove through New York City, the little screen which you can see above changed scenes, depending on where we were and what was happening in the tour. A third character (in addition to the hosts) was the voice of The Ride – a booming, deep voice which filled us in on additional facts about the city, and flashed images of NYC holiday scenes and other sights. The LED lights around us would flash excitedly when it was time for things like Ride Trivia.
The route: we took 42nd Street east, past Grand Central Terminal and the Chrysler building. We circled the Chrysler building and came back on 42nd Street, making a right to go north on 8th Avenue. We took that to Columbus Circle (and around), east on 59th below Central Park, and turning right on, I think, 7th Avenue or Broadway, into Times Square. Then we turned right on 42nd Street and ended at 8th Avenue where we started.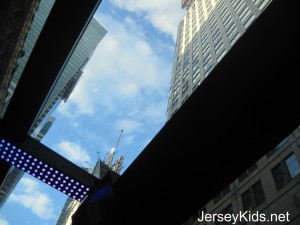 As we drove, they did point out some historic buildings and gave us info/trivia. Like you can see the Times Square ball in the photo above. They said that the building structure which holds the ball is actually empty. According to my research (uh, Wikipedia), the building is indeed empty, aside from the Walgreens at the first floor. They also said that the ball dropping is a nod to an old time-keeping technique in Times Square, where a wooden ball would drop twice a day so that people could set their watches to it. I couldn't find confirmation of that online. While The Ride did not give us the following information, it's kind of interesting to read about the crystal ball used for the ball drop (again, Wikipedia) which is made of Waterford crystal, lit by Philips lights using the same energy as 10 toasters would use.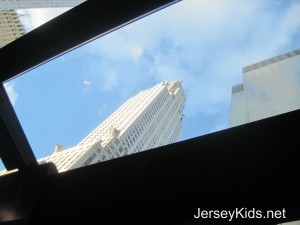 After hearing a little about Grand Central Terminal, we soon came to the Chrysler building. We were told that Chrysler actually paid for the building out of his own funds so he could pass the building down to his kids. It was headquarters for the Chrysler company for some time, but they never owned the building. The building was constructed quickly – averaging 4 floors per week (unlike the Freedom Tower, which was built at a rate of 1 floor per week). None of the workers died while building it. The gargoyles on the building were designed to look like hood ornaments. The land underneath the building was deeded by Chrysler to the Cooper Union for the Advancement of Arts and Science, and Stuart told us that the rent on the building made tuition free for many years for those attending Cooper Union. Even now, he said, the rent subsidizes 80% of the tuition.
We also passed the Socony-Mobil building built in 1956, pictured below. It was made with 7,000 plates of pressed stainless steel.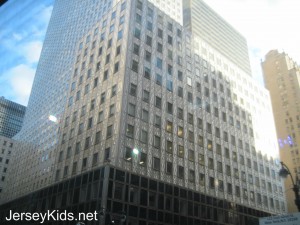 I mentioned performance art earlier. At five stops along our route, we encountered what seemed like random people on the street who then performed for us in various ways (break dancing, rapping, playing the sax/singing, and dancing). For the break dancing number, the bus played loud hip hop music and actually vibrated. Some of the performers outside were miked so we could hear them inside (and vice versa). Part of the fun was seeing if the passersby paid any attention to the person on the street as they danced or sang. Mostly they didn't (except those in the Shake Shack line who had nothing else to watch and were likely tourists, since it was the one on 8th Avenue).
It took my son a bit to figure out that it was staged. "Was this planned?" he asked. Uh, yes. Even though the hosts pretended each time that it was a total shock.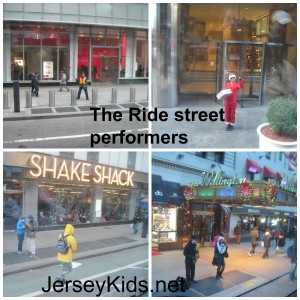 My favorite performer was the ballet dancer at Columbus Circle. The Ride blasted out music (not sure if it was also blasted outside – though maybe only the performers could hear what was going on only through a wireless device) and she proceeded to start dancing. Everyone in the circle stopped to watch and photograph her, and some guy in street clothes ended up joining her dance (yes, he was in on it). It was fun seeing someone doing ballet out there and seeing others excited to see it too. (Soon after this posting, the New York Times published a piece describing the ballet – that person couldn't hear any music, so I guess it was all wireless and no music was blasted from the bus outside).
Stuart told us that Columbus Circle was the nation's first traffic circle, a fact I was unable to confirm on the internet. Coming from New Jersey, where there are a lot of traffic circles, I hate them. Stuart said that the monument came first, and later traffic was routed to go around it.
He also talked a bit about Central Park. I already knew that it was designed by Fredrick Law Olmsted, but didn't know that it was purposefully planned without direct pathways, so that people would get lost in nature in the park. There's a good piece of trivia.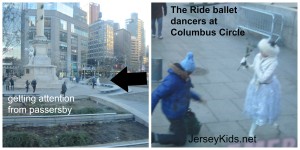 We learned some other random facts on the tour, like Madison Avenue (know for its advertising businesses) used to just be a dirt road which serviced the mansions on 5th Avenue. The LED light "spectaculars" (billboards in Times Square) have to be lit 24 hours a day by law. The AMC theater on 42nd street between 7th and 8th used to be 170 feet further down the street, but was moved (on wheels) to preserve it.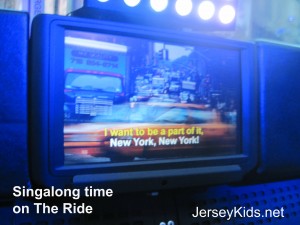 Once we made it to Times Square, we did a karaoke song – you can guess which song – New York New York. It was a little embarrassing and I admit you couldn't hear my family singing.
The Ride lasts 75 minutes. I wasn't sorry to be getting off. I asked my family what they thought. My hard-to-please tween son said "it was kind of fun," which is a stunning endorsement coming from him. My husband said, "I'm not going to kill you, but I will not ever go on a sequel, like The Ride 2." And he didn't see the point of having street entertainment. My teen daughter shrugged her shoulders. She's a typical teen, I guess.
We agreed on the  highlight for the family, which was when The Ride did a subway imitation, with sound effects and crazy driving/stopping. It was actually quite good.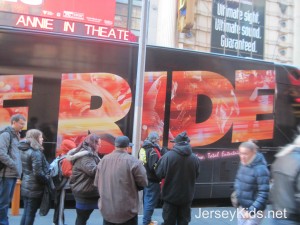 As for me, it was an experience. I learned some new facts about New York. I'm super glad I didn't see anyone I recognized on the streets. I'm still embarrassed that as a local, I went on this. And I'm glad I didn't pay much (thank you Goldstar!). That said, the hosts were entertaining and the bus was warm. I don't think it's meant to be a general tour for those new to New York.
Is The Ride appropriate for kids? Yes. There weren't any bad words used, nor any sexual innuendo. Kids would have to be able to sit still for 75 minutes without eating/drinking/needing the bathroom. I think the youngest kids in our tour bus were maybe 8 or 9.
Even though you can't eat/drink on The Ride, easily half on the tour brought Starbuck's cups and they were allowed to bring them on, and the hosts even joked about it, and said not to spill because they have to clean the bus each night with a toothbrush.
Tickets: The rack rate for a ticket is $64/matinee, $74/evening. You can buy them online or at the box office. They offer group rates as well.
Discount The Ride tickets: On Goldstar, you can get holiday The Ride tickets (through January 4) for $45 (matinee) or $52 (evening) plus a convenience fee. Or for the same rates, you can get regular The Ride tickets on Goldstar (the only thing that changes is the time of year, and probably some of the holiday motifs of the experience).
Just a note, that if you get tickets through Goldstar, you'll have to bring your Goldstar vouchers to the ticket office (inside Madame Toussaud's half a block away) before you get on the bus, because you need an actual ticket. And you'll need your voucher number when you make your reservation.
Have you been on The Ride? If so, share your experience in the comments.