We've long wanted to try Ninety Acres, a culinary center located in a restored carriage house. My in-laws came to visit, and offered to take us for our birthdays. Ninety Acres is part of the Natirar (Raritan spelled backwards) resort in Somerset County. They have a private club, event/meeting spaces, celebration spaces, a farm, a park…quite beautiful and refined.
Ninety Acres offers locally grown and sourced foods when possible, When you eat at Ninety Acres, you choose between a regular menu and the "Bring Me Food" (BMF) menu, which was the source of much confusion for our family. With BMF you will not get a menu at all (well I got one, but that's because I was taking notes, and they felt bad for me. So they brought one but made me promise not to look at it until the end).
They will present you with a list of ingredients and you let your server know if you can't or won't eat any of them. For example, I don't eat pork, so they substituted beef for one dish. My father-in-law doesn't eat cooked carrots, but they made sure he'd eat them pureed in a soup. Once you approve the ingredient list, they begin your service. They have a meal already mapped out, but will substitute based on your needs. They'll also do a wine pairing for an additional fee.
————————————————
[ad name="Google Adsense"]
————————————————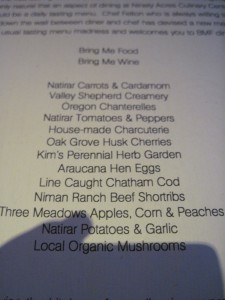 If you want the BMF menu, you must get reservations in the 30 person BMF room. You can eat in that room and order off the regular menu, but if you want the BMF menu, your entire party must choose that. If you just want the regular menu, the 70 seat main dining room is your place. They're both gorgeous spaces. Each course of the BMF meal is explained by the chef at your table.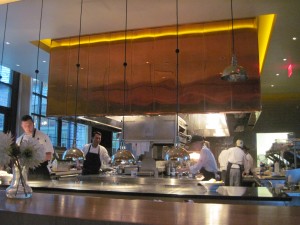 The cocktail list was a lot of fun. I chose the NatiRaz mojito (dark rum, fresh raspberries from the farm, ginger syrup, lime and fresh mint). They also offered a Picklet (home-infused pickled spirit with fresh lime juice and simple syrup), Lime in the Coconut (gin, coconut water, curry syrup, green tea and fresh lime juice), and Solstice Mango Flower Cosmo (vodka, mango puree, orange liquor, and fresh basil).
We had a bread basket, however the lavosh was way too salty.
1. Carrot soup with peaches, fennel pollen, red shiso and cardamom ice cream
The ice cream was an interesting mix for a first course, and definitely yummy – combined with a hot soup.
2. House made lomo (tenderloin), gala apple, herb mustard and chive flowers
We loved this dish. Two in our group had the pork, and my husband and I shared the beef (below), which is air cured for 100 days and is rib-eye dry aged American raised Kobe beef.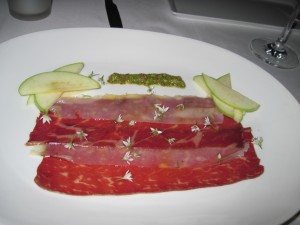 3. Fried Natirar egg, tomatoes, herb roasted potato with green garlic aoli, cherry tomato and basil.
One of our favorite dishes. The egg was unreal, it was so good, as was the flavoring of everything else. Our plates were wiped clean.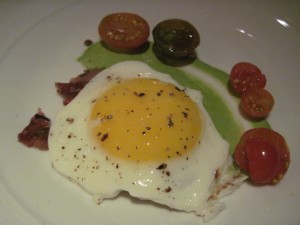 4. Chatham cod, local corn, chantrelles, lemon oyster mushrooms, coriander and Thai basil.
Eh. Didn't love it. Not as flavorful as I'd hoped. But it was a big piece of fish.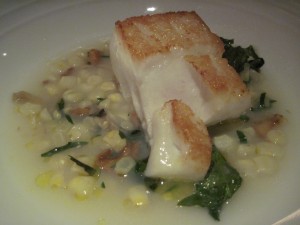 5. Short ribs with longhot peppers, watermelon, ancho and lemon basil
The short ribs were cooked 36 hours, but they were tough and chewy, so disappointing. I liked the watermelon combo – the peppers were very spicy.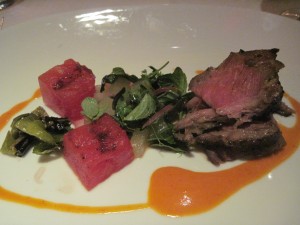 6. Crema de blue, ground husk cherries, white chocolate and Thai basil
You can't go wrong with cheese. This was a nice pairing. The cherries were interesting (not red!) and the white chocolate sauce was good.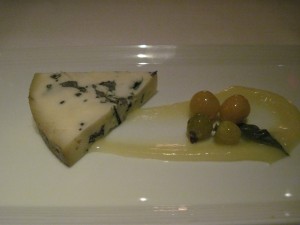 7. Local corn, olive oil and fennel
This dessert was so interesting. It was a corn cake but not sweet. The olive oil (on top of the cake) was foamy and mixed with egg white and salt. There was an addition of popcorn covered in ancho chili and chocolate powder – fabulous, my favorite part.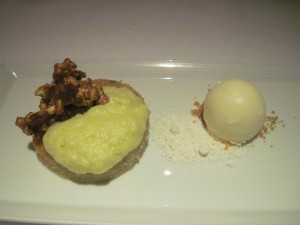 With coffee, they brought hot foamed milk in very cute little milk bottles. And just when we thought we couldn't eat any more, they brought out truffles and macaroons.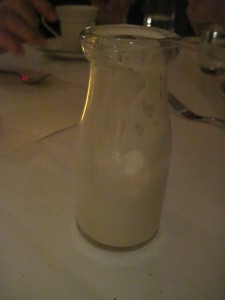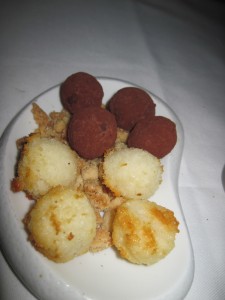 If you want to host a small private party there, the room for that was beautiful.
Cost: The cost for the Bring Me Food meal was $85, I believe. The wine pairings was an additional $50, or you can choose your own accompanying beverages a la carte. They have an extensive wine list.
Bar: There is also a lovely bar and food in there – another option.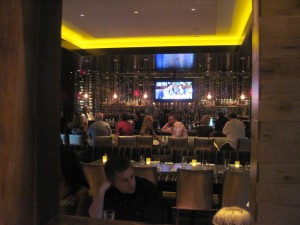 Appropriate for Kids? It depends on your kids. This is a long, leisurely meal full of foods that many kids won't touch. If your kids are adventurous eaters and can easily sit at the table for a long, fine dining experience, then bring them.
Parking: they offer free valet parking, which is much easier than trudging up the lot up the hill that you'd have to walk to – in heels.