When we returned from our Disney Cruise, our friends had a lot of questions, the main one being, "should we book one too?" The answer to that question is of course, individual. In this 3-part series on the Disney Cruise, I'll give an overview (here), then go into specifics about the cruise (activities, food, kids' club, entertainment, etc.). Part 3 is special Hidden Mickey photos.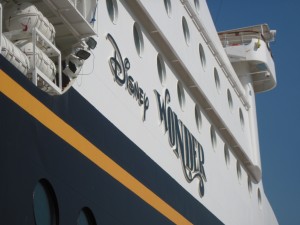 We had a fabulous time on our Disney cruise, and went with an extended family group on the Disney Wonder. Our 7 night cruise was the Mexican Riviera itinerary, going into and out of Los Angeles, with port calls in Cabo San Lucas and Puerto Vallarta (the Mazatlan stop was cancelled ahead of time due to violence there). Disney will add New York City as a starting/ending port, in 2012, which is the talk of everyone at school. They have will Canada and New England coast trips, as well as visiting the Bahamas and going to Disney World in Florida. This was our second cruise (the first was an Alaskan cruise when my daughter was a toddler, and Disney didn't do Alaska then).
What I really appreciated about the cruise was the level of detail. The ship had so many fun touches, like the pool's slide, the cute gingerbread house, the dining room that changed colors as the evening went on (photo below).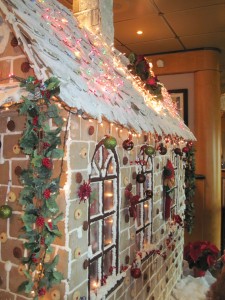 the gingerbread house smelled SO good. copyright deborah abrams kaplan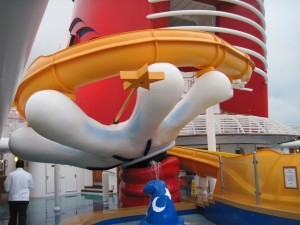 And that it's so family oriented. I didn't have to worry about some drunk person baring too much cleavage at the pool or yelling obscenities. There were no drunk people (and don't worry, I didn't bare too much cleavage). The kids felt safe on board, even if they went somewhere without us. They cater to the kids in a lot of ways, but there is still enough to do if you're an adult and don't want all-kids, all the time.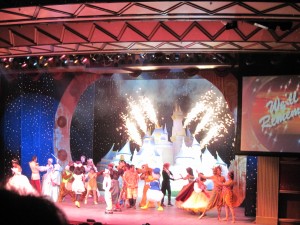 The entertainment was fabulous (both Disney shows and the entertainers they brought on board), and there were plenty of movies and activities to do, though you could just as easily sit back, playing cards. Overall, they don't nickel and dime you on board (aside from a few tacky offerings, like trying to get you to buy a case of bottled water for your room). There's free soda (on some ships they charge $2-4 a glass).The service was excellent, and meals sometimes had a bit of entertainment.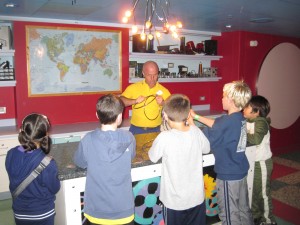 The kids clubs were amazing, with tons of activities, like active games, baking cookies, science experiments, character visits, movies, Wii tournaments,crafts,  and a show at the end called Friendship Rocks. The show itself was a little dorky, but the kids all got matching t-shirts, danced on stage with Mickey, and then we saw a slideshow of what the kids did that week, with photos of the kids.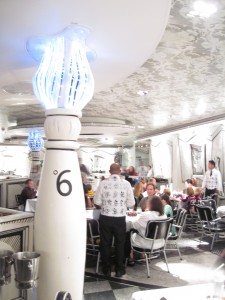 They really try to accommodate the guests. For example, one night we went for an adult dinner, and the kids were going to eat in the kids' clubs. My daughter wanted to eat with her new friend's family, though dinner details seem set in stone. When we called guest services, they said "Of course! It's Disney! We'll set an extra place for her."
Next in the series:
–In-depth review of the Disney Wonder Mexican Riviera cruise
-Hidden Mickeys on the Disney Wonder
All photos are copyrighted and may not be used in any form without written permission from Deborah Abrams Kaplan. Find Jersey Kids on Facebook.