Let's just say that preparing to go to the White House is worse than flying a plane these days. Not that our president should be unsafe, but…
If you're planning a trip to Washington D.C., you probably want to go to the White House. It's free, historical and exclusive! It's hard to get in.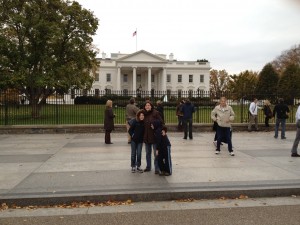 I thought my kids would be SO excited to go into the White House. In the end, they were bored. BORED! What's wrong with them? When we entered, they gave us a Junior Ranger activity guide, which the kids promptly handed to me and made me hold. But it was interesting.
Tour: When I was a kid, we took an actual tour. Now it's self-guided. You walk through the ground floor, peeking into the library, Vermeilrom and China room (which holds…White House china designed for the various presidents.). You then go upstairs into the East Room, the largest in the White House. It was used to hang laundry during the Adams administration, but has held weddings (Alice Roosevelt, Luci Johnson) This room holds performances and a painting of George Washington that was saved from the fire that burned down the White House in 1814.
We went through the Green, Blue and Red room, so creatively named. Though there are no tour guides, the guards are quite informed and share their knowledge with you. About the wallpaper. About who redecorated, when and who paid for it. About furniture that was sold and then repurchased later from across the country.
The last major room is the State Dining Room, where they can seat 140, at round tables. According to this map, the family dining room is just behind it! Lots of famous people have eaten here. From there it's into a hall, and out the door you go.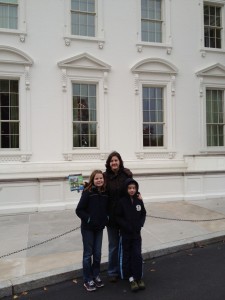 What the kids thought: they thought they'd get see the president's bowling alley and movie theater. They thought everything was really old and not interesting. They were bummed they didn't get to see Bo the dog.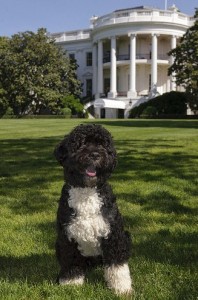 I tried to get them interested in White House facts, like:
-it has 26 fireplaces and 3 elevators
-there are 15 bedrooms and 35 restrooms.
-There's even a dental office and medical clinic
-There are 4 dining rooms (state, family, president and staff)
-There's no front or back, only a north and south side.
White House Visitor's Center: This is located across the street in the National Press Building, not in the park area. I went in without the kids. The kids would have been BORED. There is a coloring area and some kid books on the White House. They have a fun little gift shop.
Souvenir photos: There's a souvenir store across the street from the White House called White House Gifts, where you can get your picture taken for free in a fake Oval office or at a presidential podium used for press conferences. That's free with a $5 purchase. It's at 701 15th Street NW.
Getting tickets:  You should contact your senator or member of congress for tickets the second you book your flight or trip. We went in November and managed to get tickets in less than 2 months. But in the summer? You're looking at 6 months. Our senator said he needed a minimum of 40 days. Be prepared to provide social security numbers and other information.
Details: there's a lengthy list of what you cannot bring into the White House – or even into the security area. That includes food, water, backpacks, fanny packs, purses (handbags/pocketbooks included), cameras, explosive devices, firearms, strollers, etc. You can bring a phone that takes pictures, but if you take a picture or answer the phone, they will kill you. Just kidding. They may take your phone away, which to some is akin to death. They have no lockers, so be prepared to go without much that day (other than a wallet that fits in your pocket and a phone). I ended up making a trip back to the hotel to get my backpack for the rest of the day.
Security: you will go through hefty security, reminiscent of getting into the Statue of Liberty.
See the whole series on Washington D.C. with kids.  And join us on Facebook.