The Macy's Thanksgiving Day Parade is celebrating its 88th year. If you haven't already g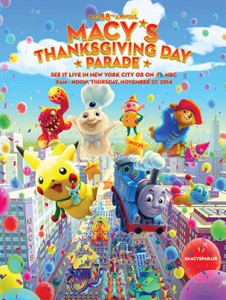 one, maybe now's the time. You'll join 3.5 million people watching from the streets and windows, and an estimated 50 million sitting in front of the TV. As for participants? A whopping 8,000 are marching, wielding balloon strings or on floats. Look for some fun stats toward the bottom.
The parade is on Thanksgiving morning, this year it's November 27 at 9 a.m. It takes about 90 minutes for the parade to make it from the start to the finish. Navigating the parade with kids isn't that hard if you're prepared. And that's what we're here for – your family guide to the Macy's Thanksgiving Day Parade!
Balloon Inflation
Even if you can't go for the parade, the giant balloon inflation is open to the public the Wednesday before the parade, on November 26th. Head over to the Museum of Natural History, entering the inflation area at 79th Street and Columbus Avenue. The inflation goes from 3-10 p.m. Here's a behind the scenes guide to the making of the Macy's Thanksgiving Day Parade balloons.
What time should you get to the parade and where to stand?
The early birds arrive between 6 and 6:30 a.m., parking themselves on the west side of Central Park West Street, from 59th to 75th Streets. If you're going, I'd recommend abiding by that (we arrived an hour later and the kids couldn't see behind the crowds in front of us, making their parade memories all about the jerk with the Smurf hat on in front of us). The parade comes through that section from 9-10:30 a.m.
If that's too early for you, head further down the route on 6th Avenue, between 59th and 38th Streets. The parade starts coming through there around 9:30 a.m. Macy's cautions that there's limited viewing in front of  Macy's Herald Square and 6th Avenue between 34-38th Streets, due to television broadcasting.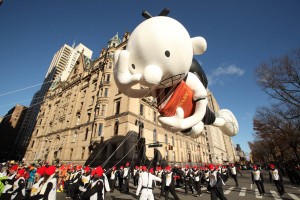 Bathrooms
One of my biggest questions when going to the parade was where we'd find bathrooms! Surprisingly, Macy's doesn't bring in public porta potties, and wearing a diaper only works for the little ones. Fortunately we got the key to a cousin's apartment nearby. Sorry, but I can't share that with you!
What's the route?
The parade starts at 77th Street and Central Park West, turning east at Columbus Circle onto Central Park South. Then it turns south onto 6th Avenue, staying there until 34th Street, where it goes west, ending at Macy's Herald Square.
What balloons and floats should you look out for?
The balloons (including the oddly named balloonicles and balloonheads) are a fun mix, including Paddington Bear, the Pillsbury Doughboy, Thomas the Tank Engine, Pikachu, Elf on the Shelf, Diary of a Wimpy Kid, SpongeBob SquarePants, Hello Kitty, Papa Smurf, the Kool Aid man, Snoopy and Woodstock and more. Read our behind-the-scenes guide to the Macy's Thanksgiving Day Parade balloons here.
As for floats, there's a combination of new and returning floats. For new floats, look for GoldieBlox's The Girl-Powered Spinning Machine, Pirate Booty's Treasure Hunt, Cracker Jack's At the Ball Game, Dora's Aventuras Fantasticas, and the Sino-American Friendship Association's Beauty of Bejing. Returning floats include ones from Cirque du Soleil, Sesame Street, Lindt Chocolate, Teenage Mutant Ninja Turtles and Goldfish.
See our behind-the-scenes look at the new Macy's Thanksgiving Day Parade floats here!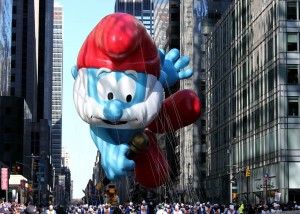 What celebrities will be there?
Sometimes it helps to know what celebrities to look for on the floats. A few include Hilary Duff, Nick Jonas, KISS, the Madden brothers, Idina Menzel, the cast of the Muppets (they should be easier to spot), Sting, Meghan Trainor and Quvenzhané Wallis.
What restaurants are nearby?
You're bound to get hungry. Bring some treats to eat while you wait, but certainly head out for brunch after! Restaurant selections vary by where you'll be standing during the parade, but we were surprised how many places were open. Check Mommy Nearest to find out what's close by.
Assuming you're not planning to eat Thanksgiving dinner out, you'll probably be looking for something more casual. Many coffee shops, from Starbuck's to diners, are open. A fun option is the Rock Center Café, overlooking the famous skating rink at Rockefeller Center. The line for skating might be long, but you can watch the skaters as you eat. Make reservations online before you go.
Open Table listed 206 Manhattan restaurants with brunch or lunch reservations available on Thanksgiving morning, including family favorites like Sarabeth's (multiple locations). One of my favorites places, Chelsea Market will be open until 3 on Thanksgiving, with lots of food stands and casual dining inside.
Additional information
Don't forget to dress warmly and in layers, so you don't freeze while you're waiting. That includes gloves and hats! If you have some folding chairs, bring those if you're worried that the kids can't stand for several hours. Sitting on the city streets is kind of gross (speaking from experience).
Consider downloading the Macy's Thanksgiving Day Parade app before you go, which will give some helpful info before the parade, and as it passes by.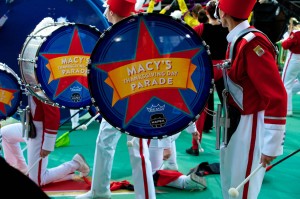 Parade by the numbers:
Character balloons: 16
Novelty/ornament balloons: 33
Floats: 27
Cheerleaders/dancers: 1,300
Clowns: 1,000
Marching bands: 12
Little League World Series Teams: 1 (Philadelphia's Taney Dragons – leading the procession)
Parade route in miles: 2.5
Original parade route in miles: 5.5
I wrote this article originally for MommyNearest.