I admit I've only been to Queens once, on a trip to the New York Hall of Science. Before going, I asked for restaurant advice from my friend Alison Lowenstein, author of City Kid New York. She steered us to Tortilleria Nixtamel, a cozy spot not far away, where we had delicious tacos, tamales, agua fresca and some other items. We later hit the Lemon Ice King of Corona, which a Jersey Kids Treat of the Day, for a cold dessert.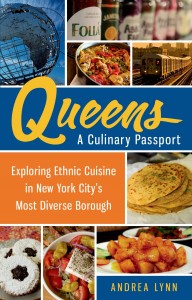 While these were excellent dining spots, when I go in the future, I will consult my new book, Queens a Culinary Passport: Exploring Ethnic Cuisine in New York City's Most Diverse Borough by food writer Andrea Lynn.
In the book which was just released this week, Andrea shares detailed info on more than 40 restaurants and food stands – including cuisines like Pakistani, Greek, Italian, Romanian, Hungarian, Korean, Thai, Mexican, Uzbekistanian, Kosher deli, Slovak Chech…you get the idea. And by the way, Tortilleria Nixtamel and Lemon Ice King of Corona are both included.
But this is not just a book of restaurants, though restaurants are featured in detail. In it, you'll find interviews with the restaurant owners and historical background about some of the food items featured there. There's also interviews with other foodies like Serious Eats editor Max Falkowitz, on Queens memories and favorite food spots, and Famous Fat Dave, NYC Food Tour guide.
You'll find food stores like the U.S. Supermarket, an Asian emporium, and Titan Foods, the largest Greek specialty store in the country.
You'll find a lot of recipes. First one I'm trying is the Greek Frappe, something I enjoyed during my Mediterranean excursions without good replication at home. Some recipes are inspired by the dishes that featured restaurants serve (not all restaurants want to share their secret sauce), and some are adapted. I appreciate that Andrea spells that out.
And you'll find self-guided walking tours for each neighborhood (the book is divided by neighborhood) with specific food spots to hit.
The book is lovely, designed with a mosaic motif reminiscent of the MTA subway stops. And there are lots of color photos and maps to illustrate it.
Even if you're not going to Queens any time soon, it's a fascinating book to read, to get a diverse cultural and food history. And if you venture to Queens at all, you must buy it.