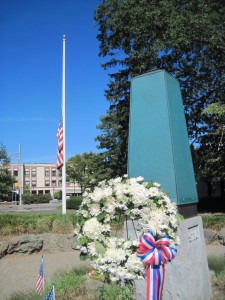 This year, the 10th anniversary of September 11, falls on a Sunday. Given that the kids won't be in school, it's a good chance for the family to reflect on what happened, its impact on our lives, remember those whose lives were lost, and join with with the community. I posted some events here which you can consider attending. NYC.gov has a list of activities on its calendar.
9/11 Memorial Site – official opening is on 9/11/11 for families who lost someone in the attacks.  The ceremony for family members starts at 8:30 a.m. and all the names of those lost will be read after the city-wide moment of silence at 8:46 a.m. There will be a second city-wide moment of silence at 9:03 a.m. and then affected families will be allowed to access the memorial to see their loved one's names in the bronze plaques. 
Jewish Community Center in Manhattan – Day of Service from 10 a.m. to 2 p.m. Breakfast at 10, then leave for service projects at 11 (including serving food at a senior center, cleaning up part of Riverside Park, sending messages to military members, creating welcome kids for kids in hospitals, preparing meals for the homeless, reorganizing a public school library, painting a not-for-profit thrift shop…). Sign up in advance by calling (646) 505-5708. Starts at 334 Amsterdam Avenue (@76th)
Story Hour at the New York Historical Society: Come  from 11:30-12:30, and hear firefighter Vin Panaro and museum educator Katie Fuller read Fireboat by Maira Kalman. The book's subtitle is The Heroic Adventures of the John H. Harvey, and it tells the story of 9/11 in an age-appropriate way. The book is recommended for ages 5+.
Alice Austen House Museum – Remembrance of 9/11 – Co-sponsored with the Fire Department Retirees of Staten Island, this is an annual remembrance of the firefighters who lost their lives in the Twin Towers. The ceremony runs from 5-9 p.m., including a NYC fire boat water display and free food. 2 Hylan Blvd, Staten Island
The New York Botanical Garden is offering free admission on 9/11/11 from 10 a.m. to noon for quiet contemplation and reflection.
Historic Richmond Town in Staten Island will host a video exhibition focusing on the 10 years that passed. It runs from 10 a.m. to 5 p.m.
Embodied Light 9/11 in 2011 – a special memorial exhibit and installation by Tobi Kahn, on display September 8 through November 23 at 197 E. Broadway, 9 a.m. to 6 p.m.
Irondale Community 9/11 Memorial Concert – Brooklyn from 4-6 p.m. This free concert remembers the volunteers and those lost in the 9/11 attacks. Performing are the String Orchestra of Brooklyn, Noel Pointer Foundation, Spoke the Hub, and pianist Anton Batagov. 85 South Oxford Street, Fort Greene, Brooklyn.
International Center of Photography – Remembering 9/11. The exhibit focuses on the aftermath through photography and visual installations. Free for kids under age 12. 1133 Avenue of the Americas (@43rd).
The Museum at Eldridge Street – Reflect and listen to recorded music at the museum's 1887 Landmark Eldridge Street Synagogue. Fee. 12 Eldridge Street, Manhattan.
Memorial Concert by Grace and Spiritus Chorale of Brooklyn at St. Ann's Church, Brooklyn, 157 Montague Street, Brooklyn Heights. Free, from 4-6 p.m.
Memorial Concert at St. Patrick's Cathedral, Manhattan. Featuring the Young People's Chorus of New York, New York Choral Society, and the Cathedral Choir of St. Patrick's. Free, from 7-8:30 p.m. 5th Avenue (@50th).
Please post about other memorials or ideas for the day, in the comments sections, or on the Jersey Kids page on Facebook.