I have to admit, it was fun going into the Paper Mill Playhouse to see The Other Josh Cohen and knowing nothing about it. So if you want to do the same, skip the review, but know that it's a really fun show.
We went on press night, though we were not there as official press (we bid on our tickets at a silent auction). Paper Mill Playhouse – please put me on your press list! And I have a few recommendations for Paper Mill, but I'll put those at the bottom.
The plot
The musical is about a NYC man named Josh Cohen who is trying to get his life together. He's underemployed, loveless, poor and feels the world is out to get him, but he's also a mensch. In a quirky twist, the narrator is an older version of Josh Cohen (and it's not the OTHER Josh Cohen). Josh Cohen gets a big check from a mysterious person, possibly a relative, possibly a mistake. What will he do with the check? I won't spoil that for you.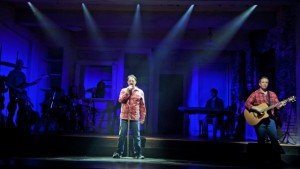 Why it's unique Continue reading "Review: The Other Josh Cohen"