When my 9 year old daughter and I planned a girls' day in New York City, we wanted to see a show. We've already seen Mary Poppins (we loved it), and do want to see Lion King and Wicked (still too expensive). I looked off-Broadway and found ImaginOcean, which just celebrated its 100th show.
ImaginOcean is created by John Tartaglia, best known as the creator (and Tony nominee) of Rod and Princeton in Avenue Q. I love, love, love that show (and the music), but it is NOT appropriate for kids. Like Avenue Q, ImaginOcean also uses puppets and is a musical (though you can't actually see the puppeteers during the show). ImaginOcean started as a cruise ship show, and was expanded to the current off-Broadway production.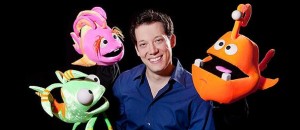 The show revolves around three fish friends, Tank, Dorsal and Bubbles (with an octopus, seahorse, and jellyfish thrown in as well). With the help of a treasure map, they're trying to work together to find a treasure (spoiler: they're rubber bracelets that you can buy in the gift shop after the show) and realize the value of friendship. Dorsal is a neurotic, fearful and annoying fish who is probably channeling children's fear of failure and the unknown. The plot was a bit boring for adults, but the kids loved the whole thing.