The Harry Potter store opened in NYC in June, and I'm guessing it's still as busy now as it was when it opened. We went last weekend (mid-December) on a Sunday, which is probably one of the busiest times we could have gone. To find out more about the virtual queue system, scroll to the bottom. Getting INTO the 21,000 foot store is an ordeal. What to Expect at the Harry Potter Store in NYC? Read on.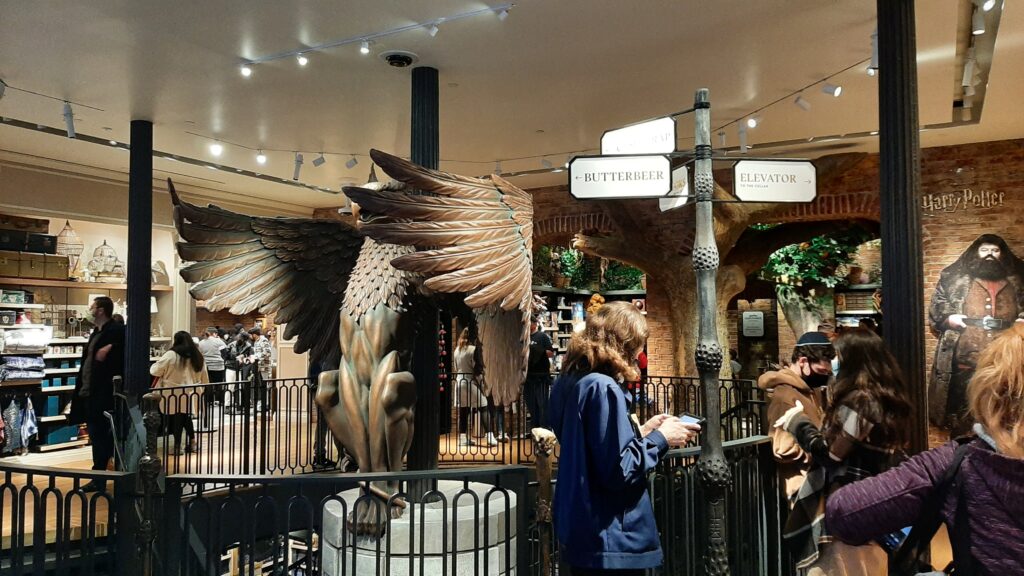 Not surprisingly, the store was very well done, and very crowded. I can't imagine what it would be like if they just let people in without queuing. Masks are required. The store is divided up into different sections, with the first one on your right being merchandise from the four houses. They also have several wand areas on the main level if you go straight in through the first room. They have videos going on several of the walls, and a separate wand display to purchase house wands. There's also a glass-domed wand display where you can apparently try out the magic with wands that are permanently affixed, but I couldn't really figure out how it was supposed to work. There are additional wands downstairs in the personalization area.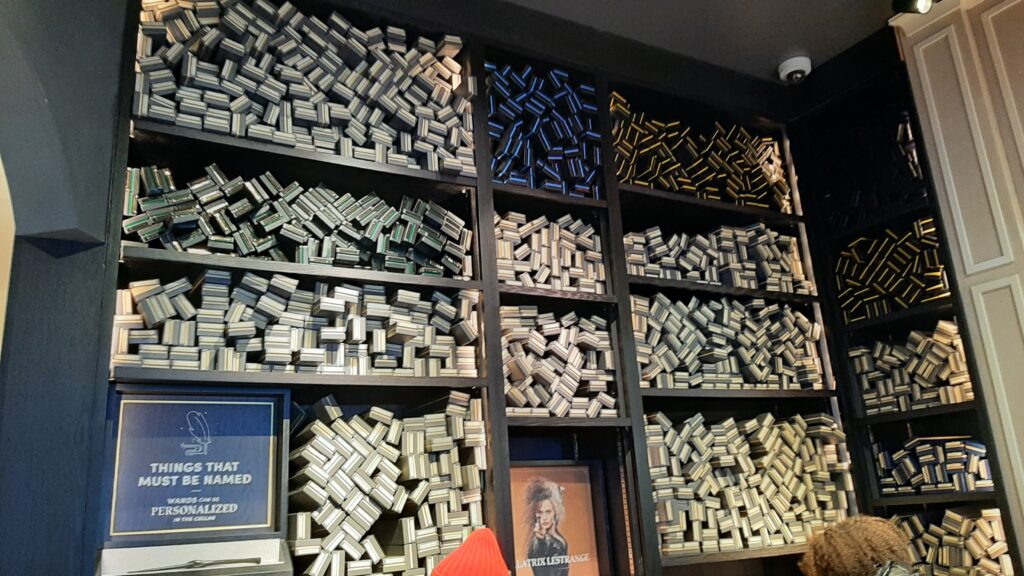 The Ministry Phone Booth was a great picture spot, along with the wall of wanted posters. There is plenty to take photos of and with (including posing in Hagrid's shoes with him on the wall behind you). Store staff was nice about taking pictures for people.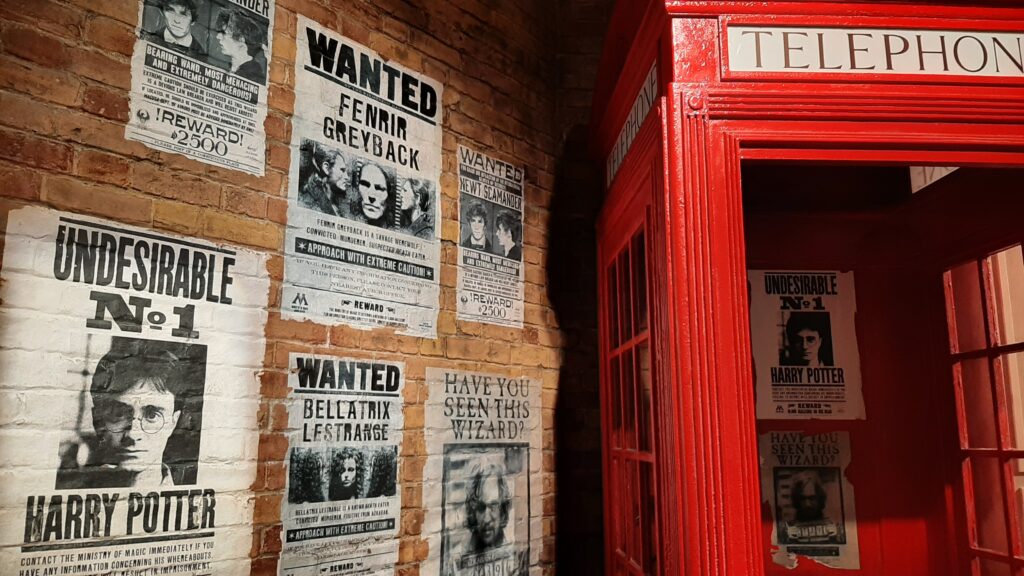 The elevator is cleverly set up as the Floo Network, with a different color inside and fireplace look outside.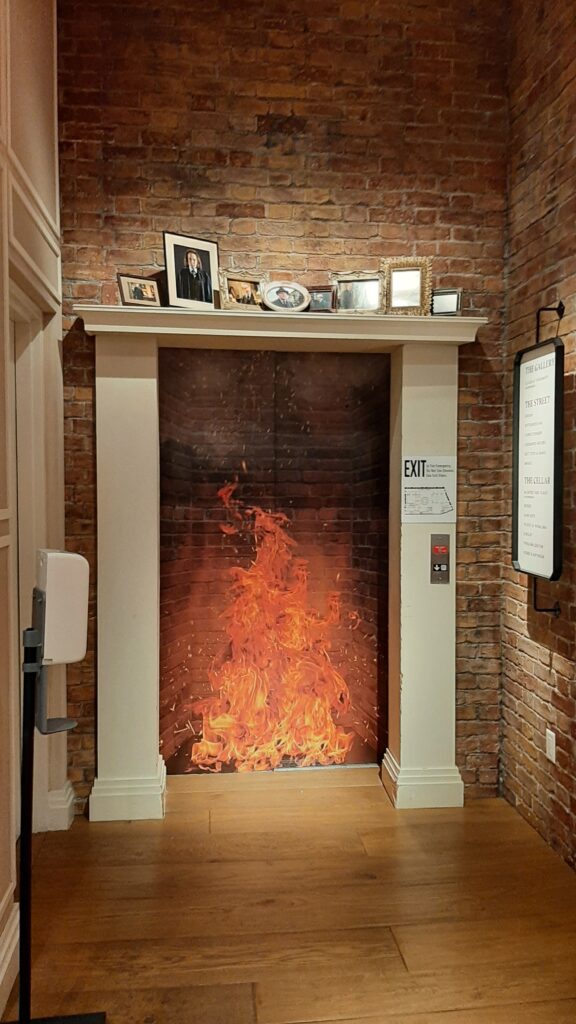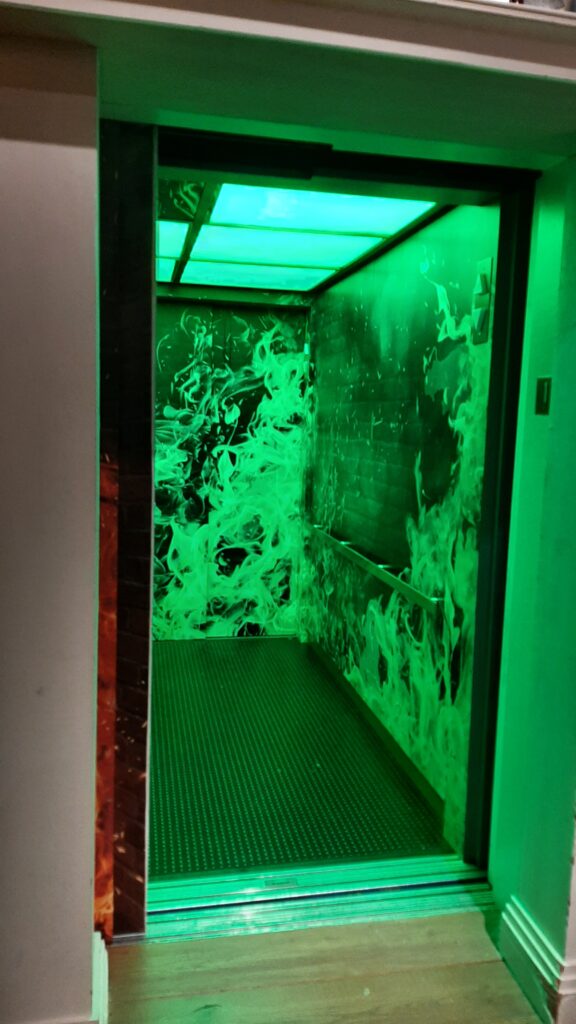 Check out the plants and creatures in this side room , with a Dirigible Plum tree which has Bowtruckles inside. Lots of stuffed animals and collectibles in here. You can see the entrance to one of the VR experiences in the middle. It is roped off, so you can't go in unless you have a ticket.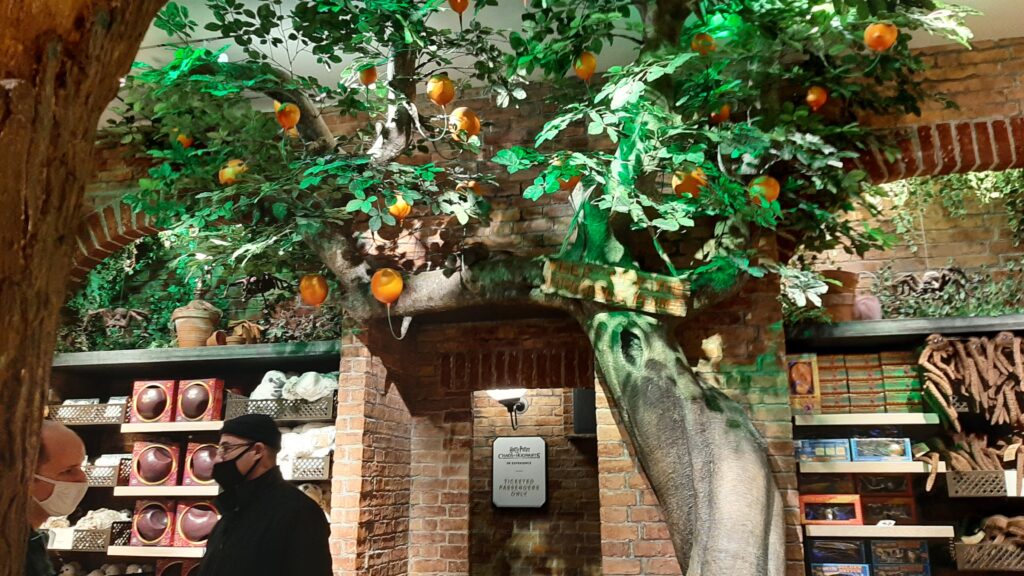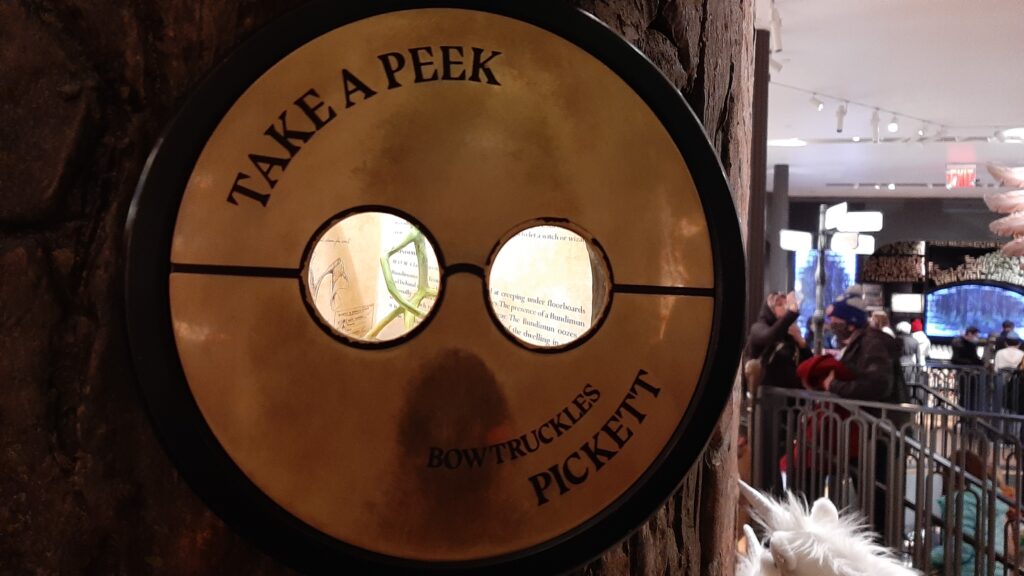 You can buy journals, luggage tags and letters welcoming you to Hogwart's, and get them personalized in the store.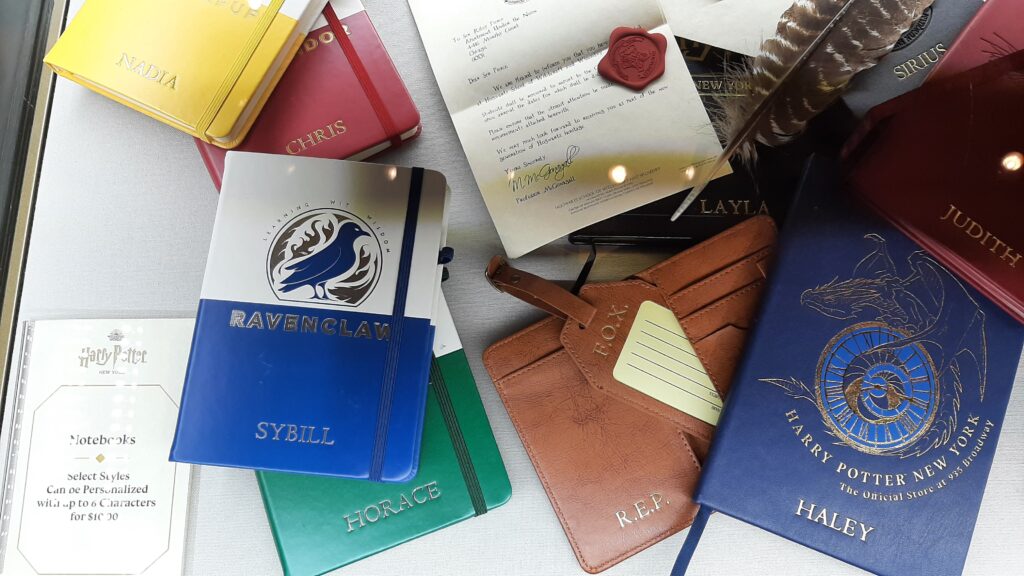 Honeydukes sells lots of chocolate frogs and all the other treats, in this cute store. You can also buy butterbeer in the bottle ($6).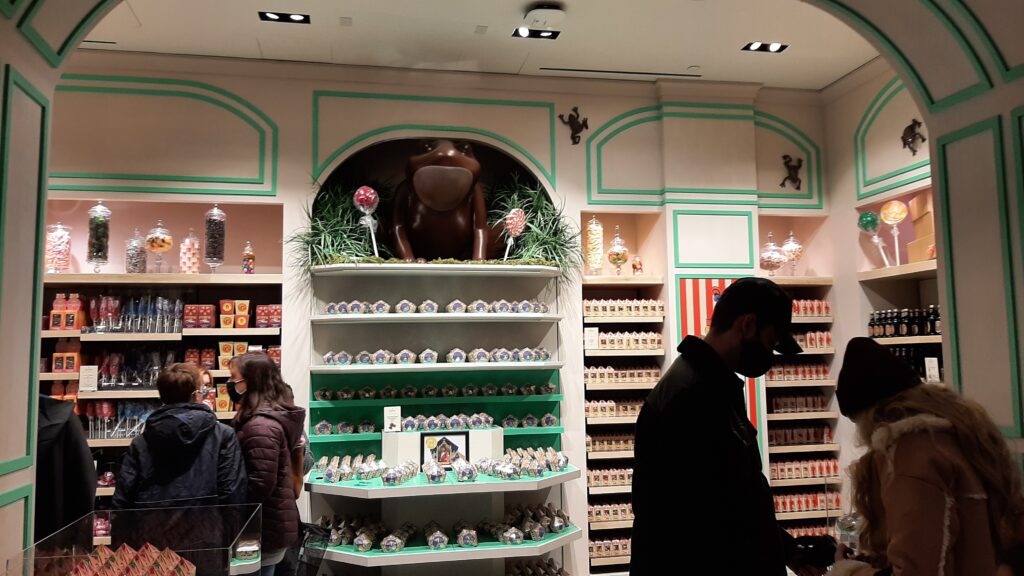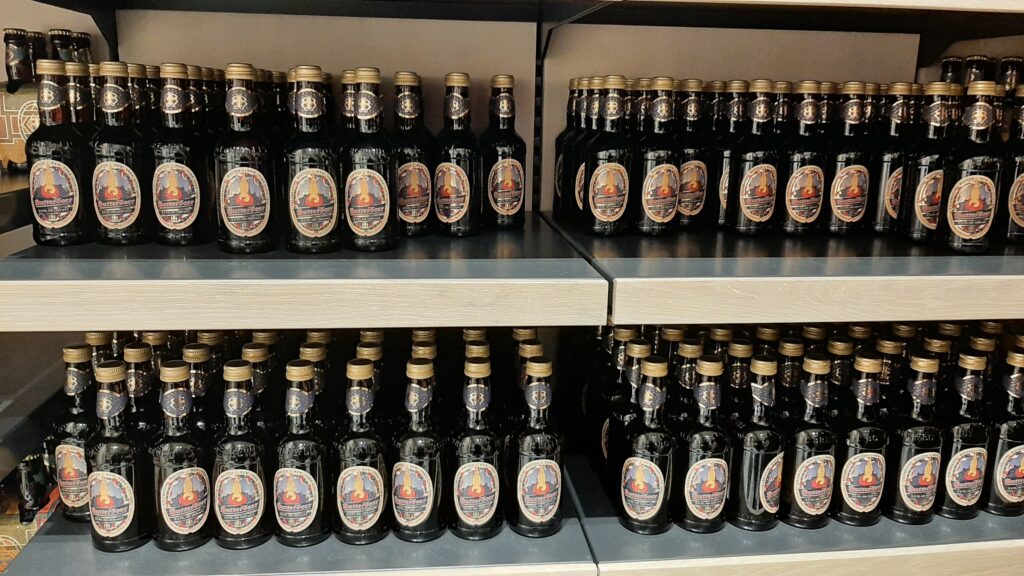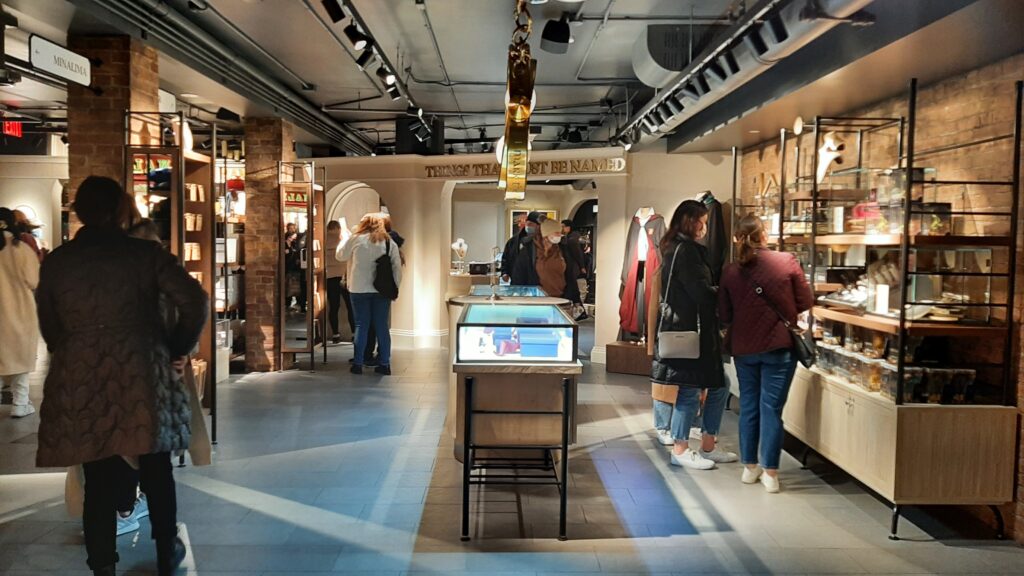 Downstairs, after taking the Floo Network elevator or a fancy staircase, you'll find even more to delight. Above, you'll see cases with some jewelry and other collectibles – and in the background is the Things That Must Be Named – personalization area.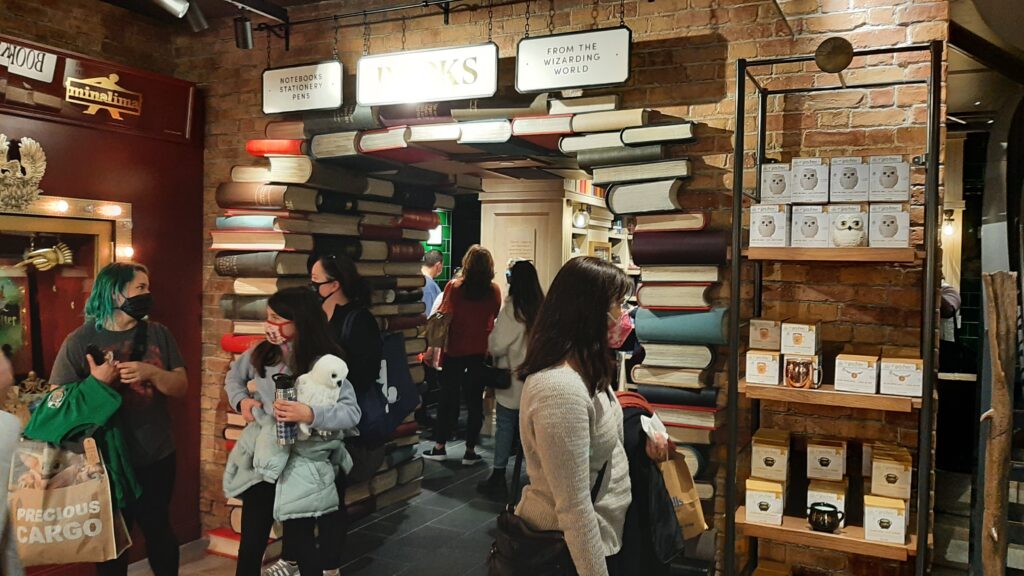 The MinaLima area was one of our favorites, containing drawings, cards and even wallpaper based on Harry Potter movies, from the graphic design studio that created designs.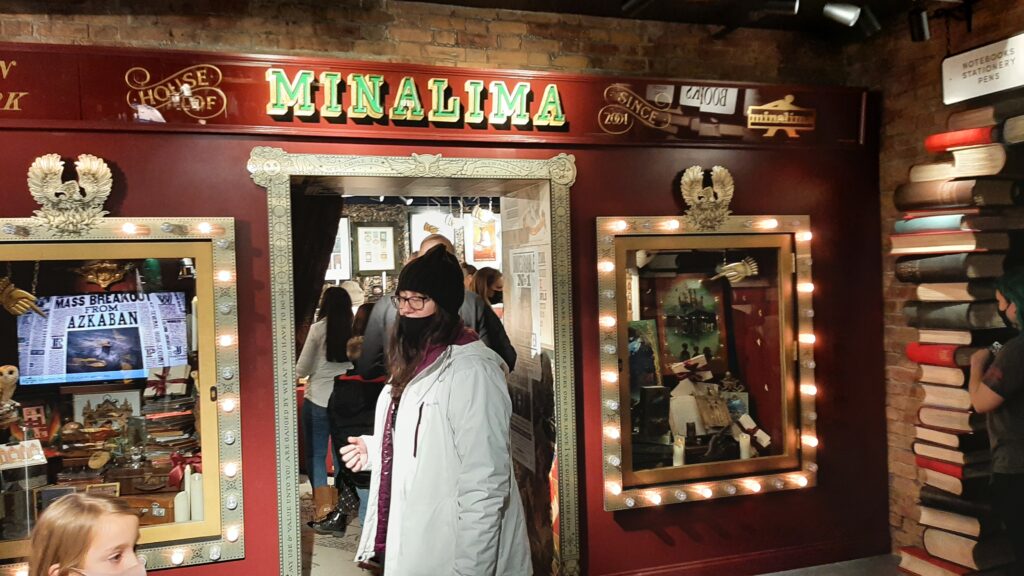 The MinaLima room is based on their London shop.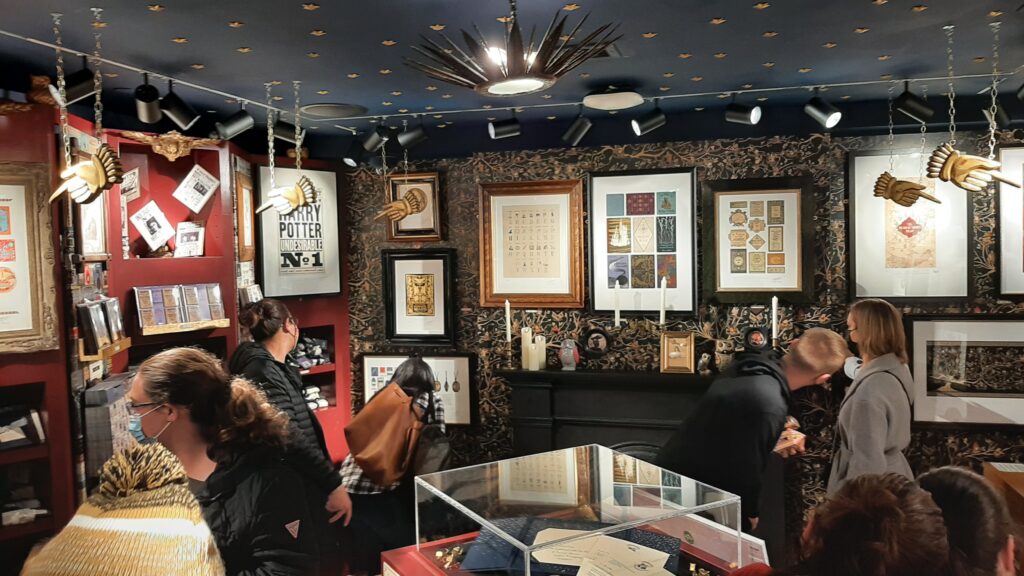 The wallpaper, based on Harry Potter characters, is actually for sale.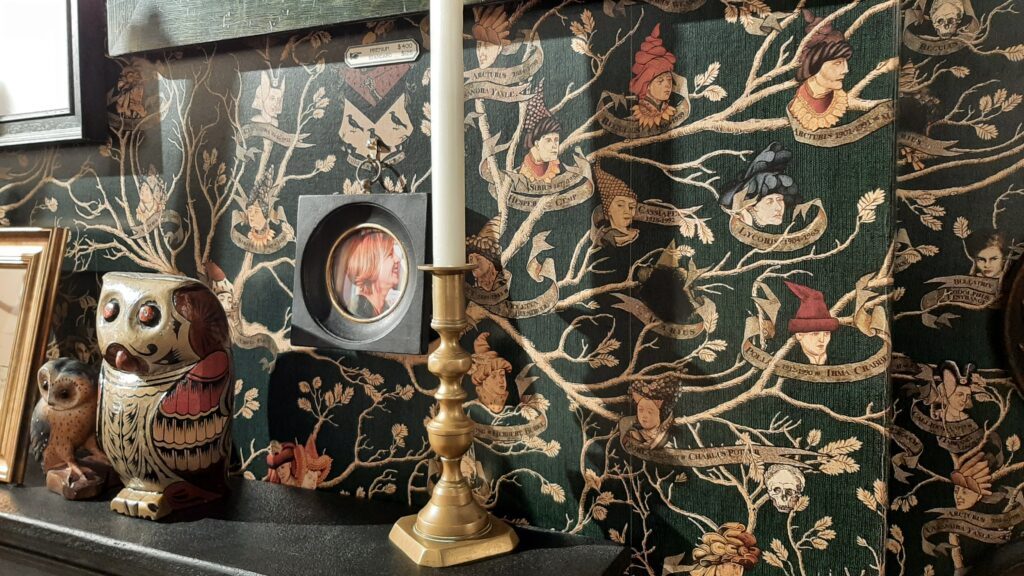 We loved the fireplace in MinaLima.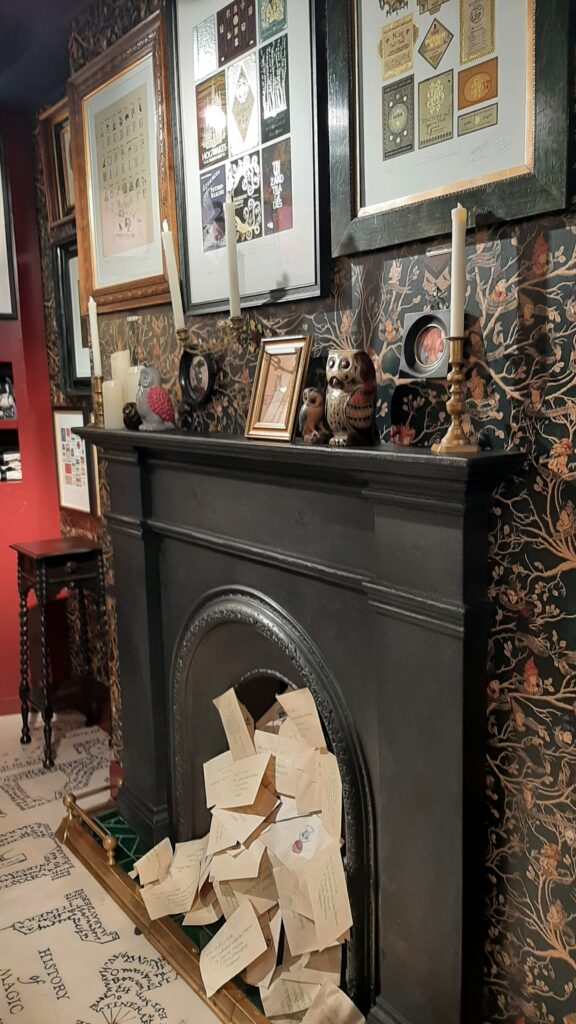 Spread throughout the store (though maybe just on the bottom floor?) were actual props used in the movie, like this Firebolt.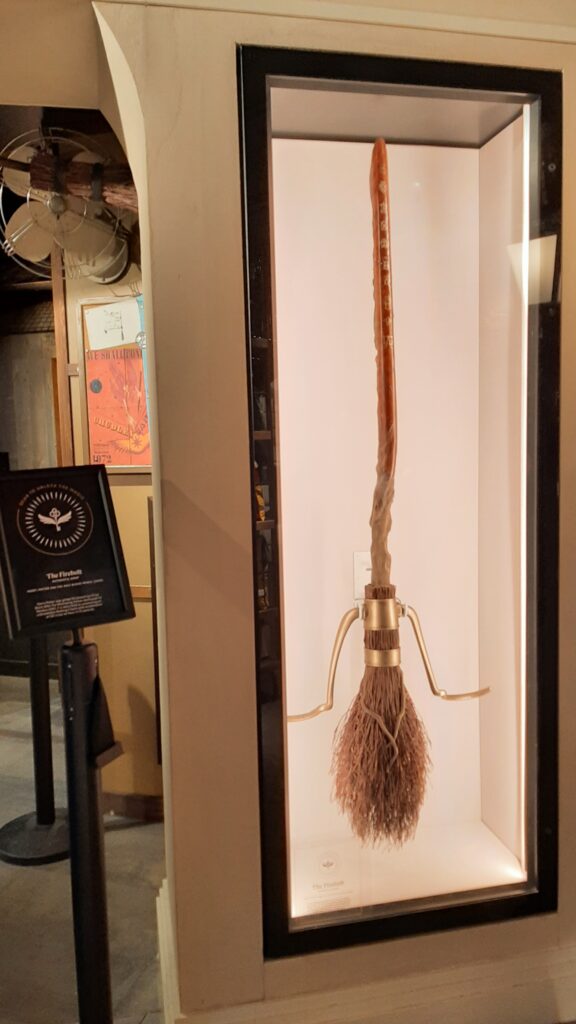 The books below, hanging from the ceiling, looked like they were flying, as the pages moved and the books flapped.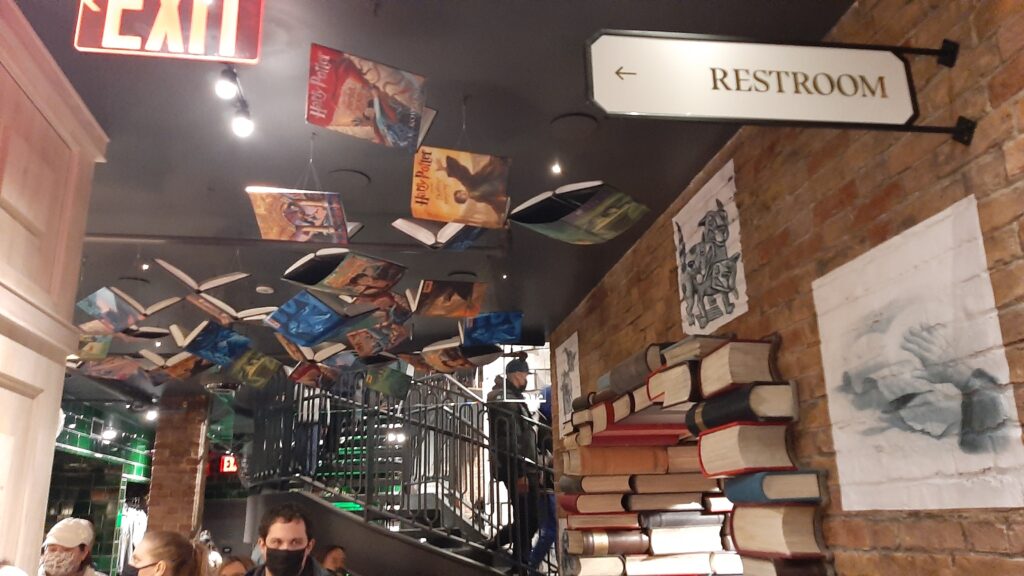 This is the line to the restrooms, and it did not appear to be moving very quickly. It is downstairs. If you really have to go, maybe do so before going into the store.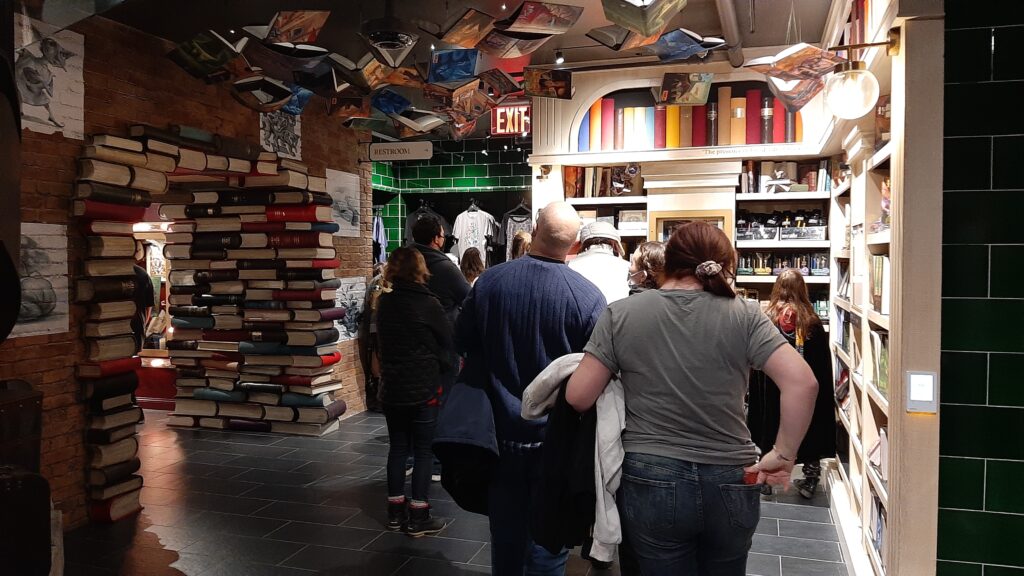 Harry Potter Virtual Reality Experiences at the Harry Potter Store in NYC
There are two Harry Potter virtual reality experiences. If you book a VR experience, you don't have to wait in the virtual queue. One VR experience, Wizards Take Flight, is downstairs near MinaLima. I saw another on the main floor in the mandrake room. How much does it cost for Harry Potter virtual reality experiences? The tickets are $34. They are only available through the website. They are 30-minute experiences. Here's what you can expect at the Harry Potter virtual reality experiences. And here is one person's experience, with even better video.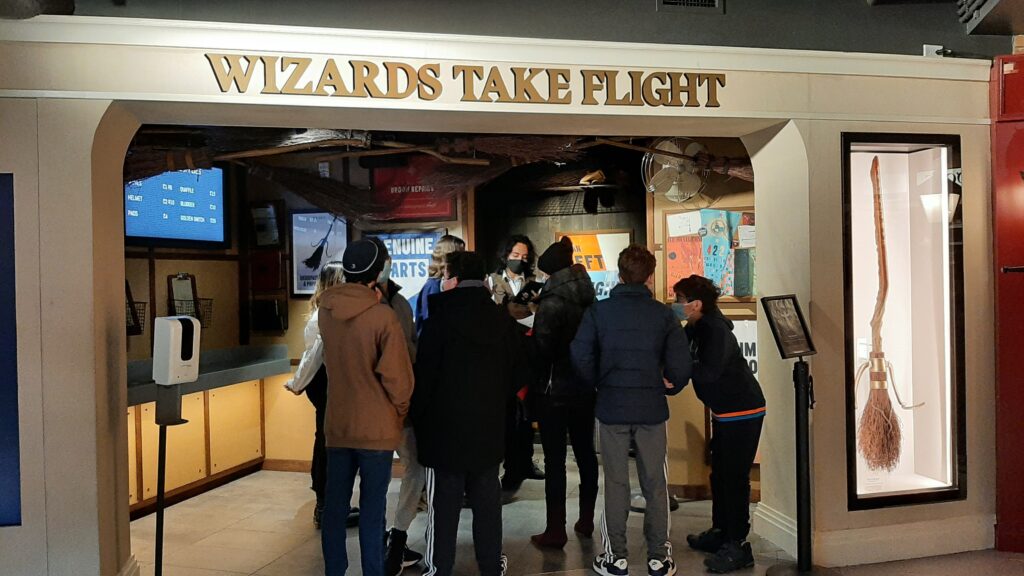 The store asks you to arrive 30 minutes before the VR experience, so you can check in and select your avatar. If you are late, they may not be able to accommodate you. If you want to do both VR experiences, allow at least 60 minutes between start times, and know that you can't book them at the same time – you have to book one and then go back in to book the other.
Most of the Harry Potter merchandise made sense: clothing, notebooks, candy, stuffed animals, wands. But Le Crueset? I thought that was weird. Also, Deathly Hallows make-up brushes? They had nail polish as well, themed to go with the house colors.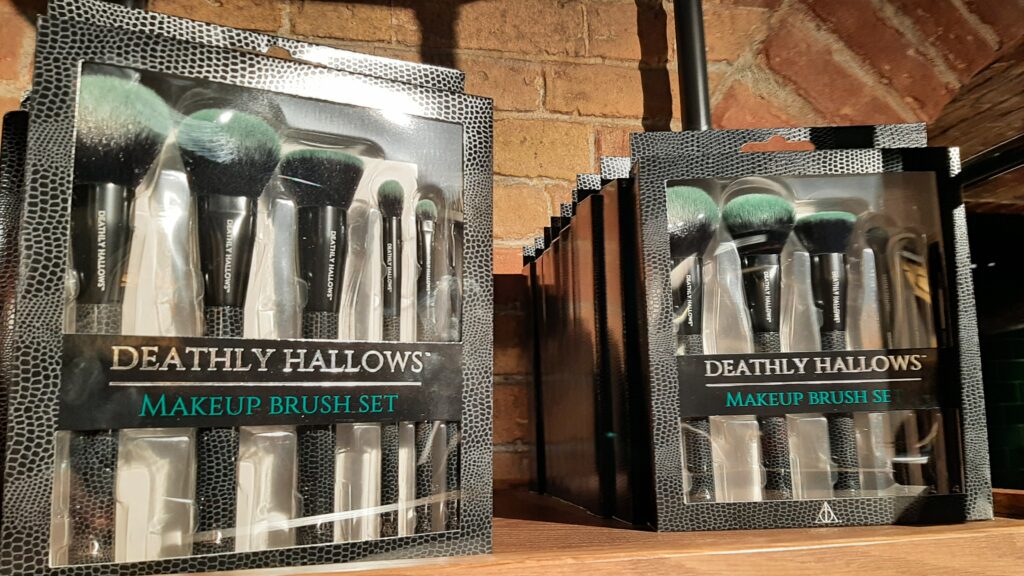 Here's another prop from the movies – the golden snitch. They also had Death Eater masks.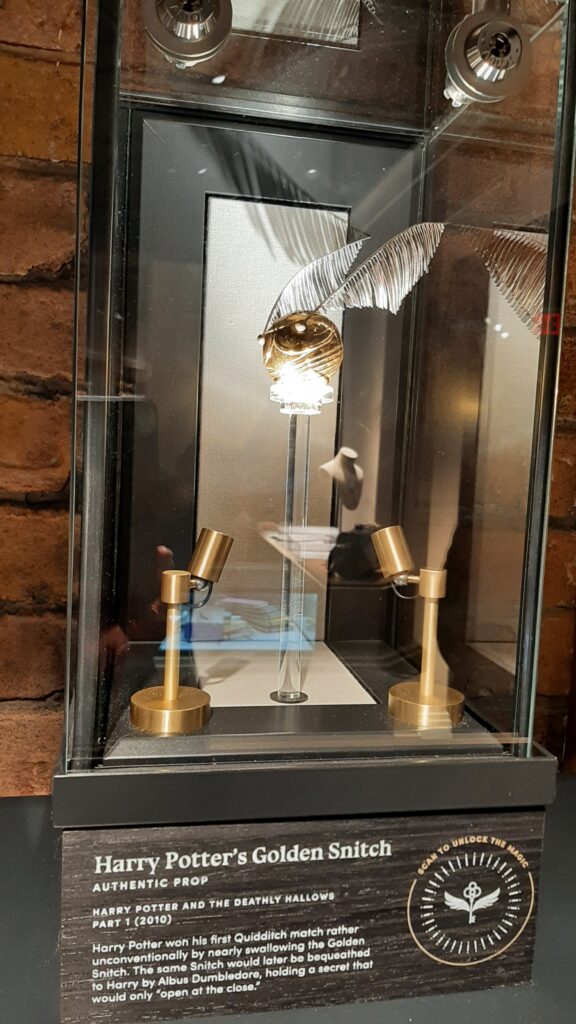 The photo below is a little blurry, but it's the Floo Network's destination. What I really liked, though, was the snake coming down from the ceiling in this Slytherin section.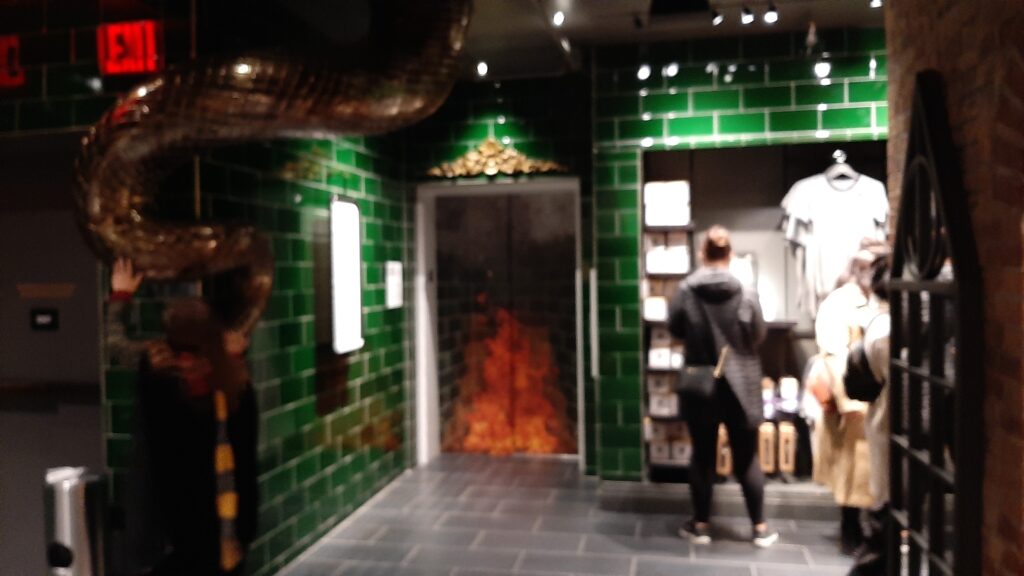 How long should I plan to spend in the Harry Potter store?
The store recommends planning at least 60 minutes. That will be longer if you are doing an experience there, and may be longer if you are shopping (versus just looking), and getting personalized items. Also if you want butterbeer or plan to use the restroom. We spent about 30 minutes there, which was enough time to peruse the store and see things (but we didn't get food/drinks or use the restroom because the line was too long).
The line for butterbeer and ice cream (and other treats) was not long while I was there. They have an area (below) to stand and eat, or you can take it outside, since this is by the exit. Look up while you're in there, as there is liquid running through the pipes.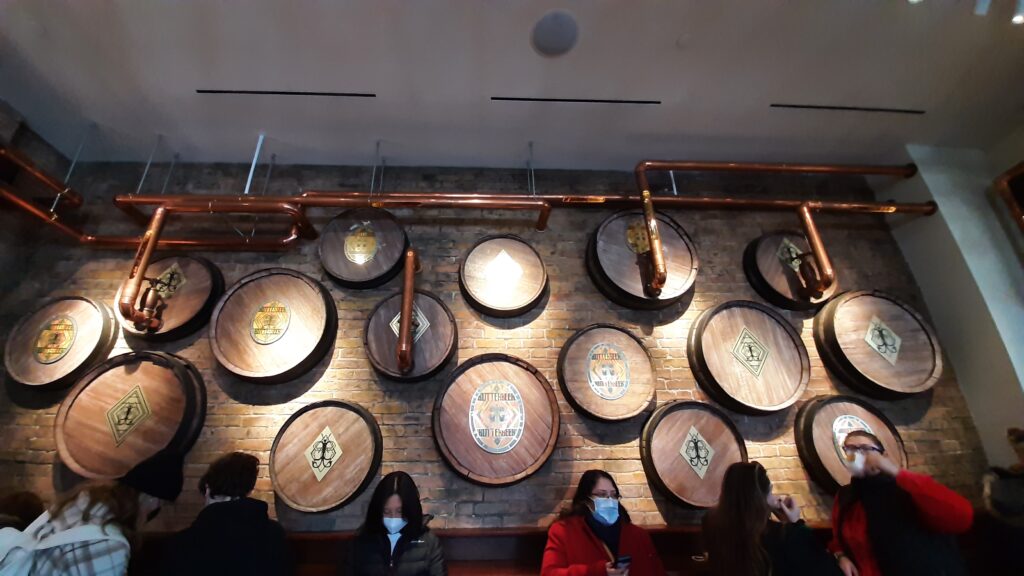 Getting tickets for the Harry Potter Store in NYC
Let's talk about the queue, because you may need to plan your NYC visit around the queue. They are currently using a virtual queue system, for which you need to SHOW UP IN PERSON and then scan a QR code. Sometimes the queue opens up 1-2 hours before the store opens, and sometimes the queue starts just as the store opens. If you check the Harry Potter store website, you can find out that information.
There look to be 2 entrances to the store, but one is actually an exit. If you try to go in, an employee will stop you, and let you know it's the exit. After scanning the QR code by the front of the store, you'll put in your phone number and it will tell you how many people are in front of you in line. When I scanned at 10:20 am on a Sunday, I was told there were 386 people ahead of me. They do not give an approximate return time, but will text you when you need to think about coming back, and then they'll text you that you can come back. You will need to screenshot or show them the green "ticket" on the link they send, to get in (and you'll have to go through a roped-off line first, though there may actually not be anyone in the line). You have one hour from the time your ticket turns green, to enter. If you're later, they don't guarantee entrance. I received notice to return around noon, though the ticket showed there were still 211 people in front of me.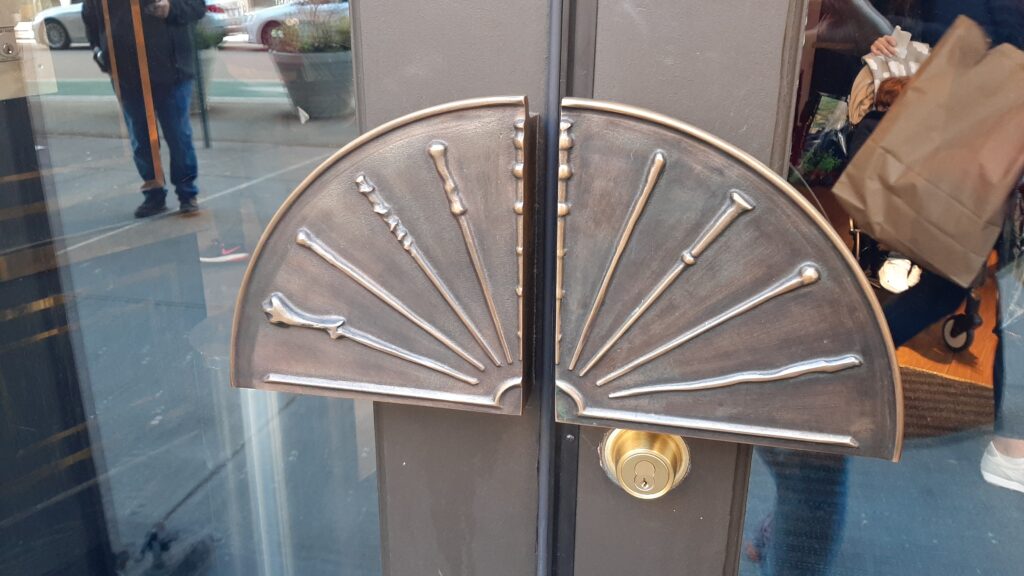 Where: The Harry Potter Store is at 935 Broadway, Manhattan (at 22nd Street, between 5th Avenue and Broadway)
Have you been to the store? To the virtual experience? What did you think? Share your tips in the comments section.
All photos are copyright Deborah Abrams Kaplan and cannot be reproduced or used without written permission.