My daughter and I loved Pitch Perfect, so when I heard about In Transit, Broadway's first a capella musical, I wanted to go. And naturally, I took her with me. The crew bringing you In Transit has some serious cred. The four writers in different combinations brought us Pitch Perfect and Frozen, and have a lot of a capella experience in other venues.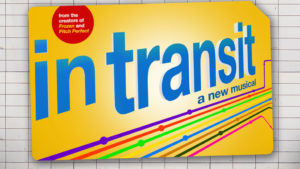 The Plot
The ensemble production of 11 New Yorkers includes several interconnected storylines:
-a NYC temp who wants to get her first Broadway role
-a down-on-his-luck Wall Street dude searching for a job (and his pride)
-a gay couple who is planning their wedding, but one partner's mother doesn't know he's gay
-a woman is getting over the breakup with her boyfriend and trying to move on
[ad name="Google Adsense"]
They tell you as the show starts that the singing/music is all by voice. Well, it sounded like there was some back-up from the sound system that the Boxman character uses. The beatboxer is a regular presence throughout the show, as a fixture in the subway and a narrator of sorts. His skills were amazing.
The set
They did a great job with the set. It's a subway set (not shockingly), with a track that runs down the middle. They put a conveyor belt in for the track, which is innovatively used to move subway seats as well as people on and off stage. They also had electronic signs, like the advertising boards you'd see in a subway or airport, that were brought out a few times to add more action to the set. That was impressive.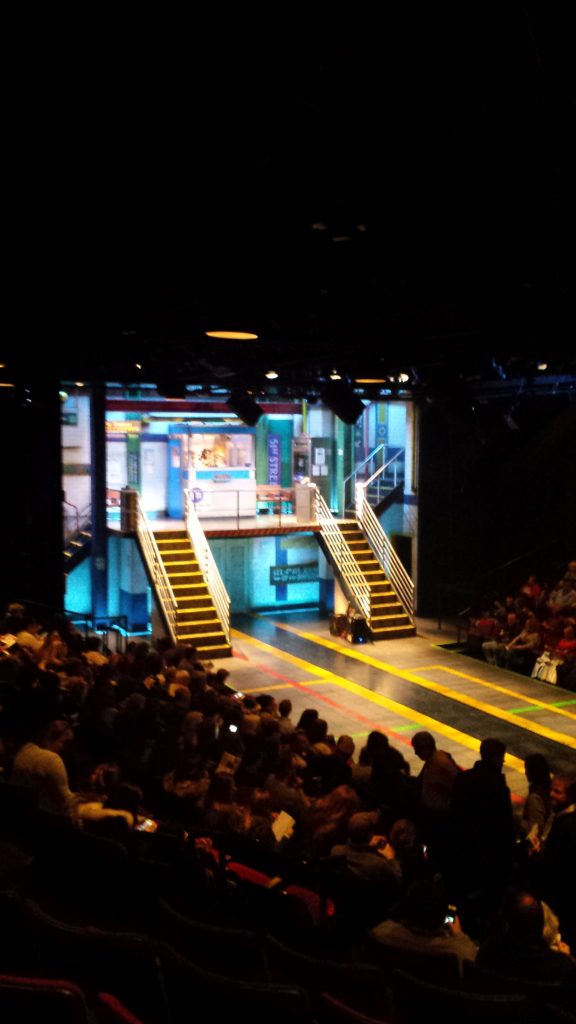 Is In Transit appropriate for kids?
I brought my 15 year old daughter to the show and was happy I did. However, I would not recommend the show for younger kids. I think the plot wouldn't be that interesting to them, and also there were some adult themes and language.
Did we like it?
We really enjoyed In Transit. The music and songs were good, we enjoyed the stories and the especially the singing and a capella aspect. While it was a perfectly pleasant show, it's not one I've thought much about since it was over. It's not one I'd put in my top list of recommendations for friends who can only see one or two Broadway shows on their trip here. We were glad we went, though.
If you go:
Tickets: In Transit has discount tickets available. See our Broadway for Kids page on how to score discount Broadway tickets.
The length: In Transit is about 90 minutes long, with no intermission. Get prepared when you arrive to wait for your will-call tickets (print them out ahead of time if you have the option), and also to get your bag checked. The lobby area upstairs is very small and very crowded.
My daughter said it felt like we were in the subway station waiting for the show. Not fun! You then go downstairs, where there's plenty of room (and a selfie backdrop).
Seating: Circle in the Square is a very small theater. If you saw Fun Home, you'll know that there aren't many rows of seats, so you'll have a good view no matter what. Of course it would be fun to be in the first few rows, as you're on the same level as the cast – and could easily reach out and touch them (don't do this!). We were in the last row of seats (yeah, I went for the "cheap" seats, even though I bought them and paid full price before the show came out). We were just fine with our view -maybe 10 rows up.