This post was written and is brought to you by Quicksales.
Traveling with kids can be a two-sided affair. It can be a really fun and interesting way to bond and entertain your kids but it can be extremely stressful and challenging if you're significantly unprepared! Hopefully on your next trip, it's more of the former than the latter. Preparation is the key when traveling with little ones, so here are some essentials to consider for your next family holiday: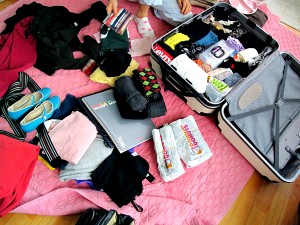 Backpack
If your child is big enough to carry a backpack, be sure to give them one as they will be thrilled to help carry the load.  This will hold all of their necessities—water bottle, camera, extra clothes—and of course toys! When selecting a good backpack, be sure that the size fits your child's stature and that it isn't too heavy especially if you're going to be out for an extended period of time. Another good tip is to check that the straps are broad and sturdy and that the weight is spread evenly across both shoulders.
If you're looking to save money, you can always purchase secondhand backpacks from online classifieds sites like www.quicksales.com.au.
As it's the new year, you might be able to get some great bargains from those wanting to sell unwanted items, or stores looking to get rid of old stock.
Water Bottle
When traveling, never leave your home or hotel without proper hydration! It's necessary for adults and children alike, especially if you spend most of your time outdoors. Plain water is the best way to stay hydrated, so try to avoid filling it with sugary drinks like soda or fruit juice which will only make you thirstier.
Travel Shoes
Appropriate footwear for your child is important. You'll want a pair that's geared towards walking through a variety of terrain because you never know where your feet might take you!  Ensure that the shoes that you select are comfortable and lightweight especially if you plan on walking and exploring. Crocs may look visually appealing with their bright colors and fancy shapes but they're no substitute for a shoe with good support and sufficient padding.
————————————————
[ad name="Google Adsense"]
————————————————
Camera
Lastly, you should always have a decent camera with you to document your memories and experiences while on vacation. A fun activity can be to entrust your child (assuming they're old enough) with a camera to allow them to capture scenes and objects from their very own perspective.  An inexpensive digital camera or an older model that you might have lying around in your attic should be sufficient. Here's a list of some of the best cameras for kids that are currently on the market.
Do you have any travel essentials that you swear by when traveling with kids?
This post is brought to you by Quicksales